Analysis
Expect changes, cuts in Pacific military realignment strategy
by
Erik Slavin
May 17, 2011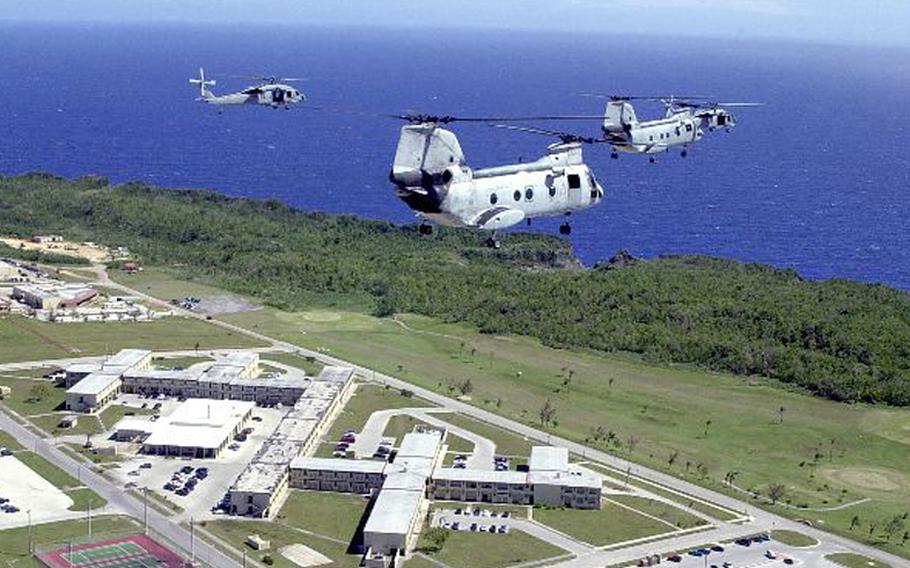 YOKOSUKA NAVAL BASE, Japan — The first thing to know about the $10 billion plan to move 8,000 Marines from Okinawa to Guam by 2014 is that all of the numbers in this sentence are either misleading or obsolete.
The cost is a years-old estimate based on a still-unfinished master plan. The troop figures represent only about one-third of the Guam population boom expected, which both Navy and local officials say would overwhelm the island territory of 180,000 if the project somehow finished on time.
Nevertheless, these numbers still represent the only official plans stemming from a 2006 U.S.-Japan roadmap agreement designed to lessen the impact of U.S. forces on Okinawa, where U.S. bases take up 20 percent of an island crowded with 1.2 million Japanese.
Last week, the roadmap was criticized as "unrealistic, unworkable, and unaffordable" by senators Carl Levin, D-Mich., John McCain, R-Ariz., and Jim Webb, D-Va., all of whom hold key positions on the Senate Armed Services Committee and carry enough clout to effect major changes to the Pacific defense realignment budget.
Their calls for change appear well-timed. As Japan reels from the cost of the March 11 earthquake and U.S. voters rage against mounting federal deficits, analysts and government officials say changes to the roadmap have gone from a possibility to an expectation.
"No one knows for certain how the buildup plans will change — not Congress, not the Obama administration, not the military," Guam Gov. Eddie Calvo in said a written statement following a Friday phone conversation with Navy Undersecretary Robert Work.
Calvo's statement added that he was told the Defense Department is reassessing all of its realignment plans in the Pacific to make them more cost-effective, on the heels of President Barack Obama's April announcement calling for $400 billion in defense cuts over the next 12 years.
The senators' statement last week kick-started debate on where those cuts could start in the Pacific. It also left Japanese officials in an awkward position.
In the absence of a new proposal from the Obama administration, Defense Minister Toshimi Kitazawa and other Cabinet members were left with no choice but to reiterate government support for the moribund roadmap.
"[The senators' statement] was a shock to the Japanese government," said Kazuya Sakamoto, professor of law and politics at the University of Osaka's graduate school.
However, Prime Minister Naoto Kan — if he remains in power amid public approval ratings hovering around 30 percent — could jump at the chance for renegotiation when his defense and foreign ministers meet with their U.S. counterparts this summer.
Japan has agreed to spend $6 billion to move the Marines to Guam, a figure it would like to reduce as it gears up to spend hundreds of billions for earthquake recovery, Sakamoto added.
For Japan, the thorniest part of any revised roadmap will be the relocation of Marine Corps Air Station Futenma. The base is surrounded by a large civilian population center on Okinawa, and fears of accidents have coupled with noise complaints to fuel regular protests since the 1990s.
The current roadmap calls for relocating the helicopter base to Camp Schwab, in the island's less populated north.
However, that idea is broadly unpopular with Okinawans and talk of it in Tokyo is politically treacherous. When Prime Minister Yukio Hatoyama admitted in 2010 that he wouldn't be able to fulfill his campaign promise of scuttling the Futenma relocation plan because of its importance to regional security, it collapsed his governing coalition and forced his resignation.
The three U.S. senators last week called for both countries to abandon the stalled relocation and move Futenma's assets to the Air Force's Kadena Air Base, and possibly make room for the helicopters by shifting some of Kadena's assets to Andersen Air Force Base on Guam.
Moving to Kadena has been rejected in the past on operational grounds by military officials, and proved no more popular among Okinawa's residents.
Kadena Town is part of an ongoing lawsuit calling for $544 million in compensation because of aircraft noise, and its residents also took part in a 2009 suit that resulted in a Japanese court awarding more than $68 million in compensation.
"The noise levels are beyond human endurance," said Hiroshi Toyama, mayor of Kadena Town. "On top of this, moving the Marine operations to Kadena? There is no way for us to accept such a proposal."
U.S. officials made the deal in 2006 to move the Marines to Guam only after the Japanese government agreed to U.S. wishes for the Futenma replacement. Without a plan for Futenma, the scope of the Guam buildup becomes even less certain than it is now.
The prospect of major changes to the buildup isn't a surprise to many Guam political leaders. Guam Senate Speaker Judi Won Pat says she has been watching Defense Department and political hesitancy grow in recent months through congressional transcripts.
Won Pat noted that during a March 17 meeting of the Senate Armed Services' readiness and management support subcommittee, Navy officials conceded that completing the move by 2014 would cripple Guam's infrastructure. At the same meeting Sen. Claire McCaskill, D-Mo., asked whether the whole project was due for a "time out."
Given that hesitancy, the three senators' statement last week came as little surprise, Won Pat said.
"It's hard for us to even plan, not knowing what [the federal government] is planning for us," she said. "I want to make sure they bring us to the table if they're going to downsize, get some input from us, and be up front about what it is they really want to do."
Stars and Stripes reporter Chiyomi Sumida contributed to this report.
---
---
---