Commandant: Marines permitted to wear KIA bracelets
---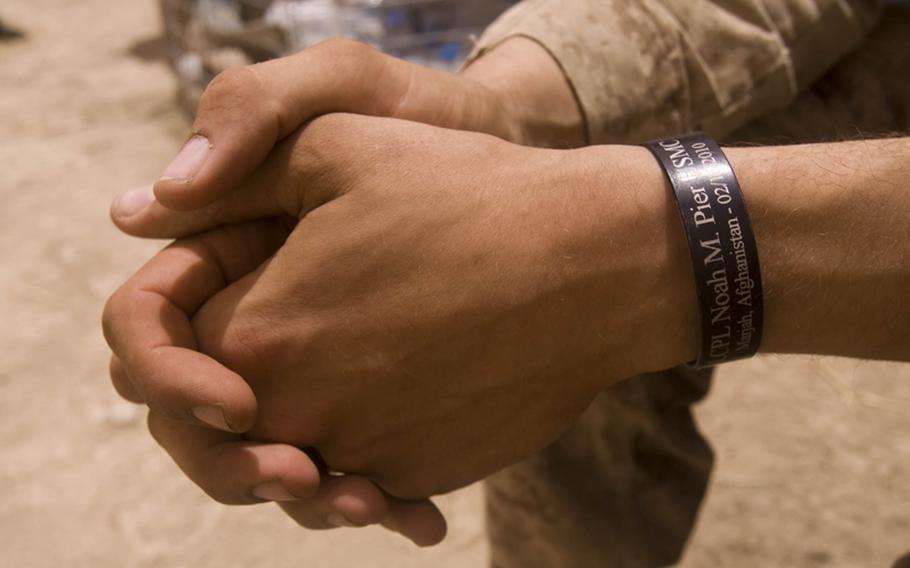 UPDATED: OCT. 18, 3:22 P.M. EDT
WASHINGTON — Following a public outcry, Marines can now wear KIA bracelets that honor fallen comrades, according to a Corps official.
The Marine Corps announced Tuesday that Commandant Gen. James Amos made the decision.
"We are acknowledging the close personal nature of our ten years at war and the strong bonds of fidelity that Marines have for one another, especially for those fellow Marines who we have lost," Amos said in a statement.
Amos visited Marines returning from Afghanistan on Monday at the Marine Corps base at Twentynine Palms, Calif., during which he talked to Marines about the bracelets, a Marine Corps official said. He also discussed the topic last week with senior leaders at a Marine Corps General Officer Symposium
The issue came to a head after troops told Marine Corps Times they were angry at a crackdown on wearing the bracelets. The items were prohibited by Corps grooming standards, which do not allow most forms of jewelry.
However, the grooming standards allow Marines to wear POW/MIA bracelets, which are nearly identical to the KIA bracelets. That prompted complaints that the ban on KIA bracelets was illogical and unevenly enforced.
The bracelets are common — President Barack Obama wears one — but they are particularly prevalent among soldiers and Marines, who often have multiple names inscribed upon them.
"This is the right move by the Marine Corps because wearing KIA bracelets is an important way to commemorate fallen friends," said Marine veteran Timothy Kudo, who now works for Iraq and Afghanistan Veterans of America. "Marines often joke that common sense is an uncommon virtue in the corps but today we've seen that's not true. Marine leadership knows that honoring our fallen brothers is at the heart of what it means to wear the Eagle, Globe and Anchor, and I'm glad they're not letting regulations get in the way of that."
Former Marine Corps Commandant Gen. Charles Krulak applauded the move.
"I think it's a positive decision in keeping with the age-old Marine Corps belief in honoring our fallen comrades," said Krulak, who served as commandant between July 1995 and June 1999. "I see it in no different status than the POW/MIA bracelet except in this instance we're honoring those who we know made the ultimate sacrifice.
"We don't leave our dead and wounded on the battlefield. We honor our dead and wounded and this is just a 21st Century way of honoring."
In addition to those lost in combat, many troops and veterans also honor those lost after returning home.
Marine veteran Bill Kibler wore one in memory of Lee Norton, a survivor of the 1983 Beirut barracks bombing, who committed suicide upon returning to the States.
"I would wear it with honor to raise awareness to PTSD and survivor's guilt," Kibler said. "I salute Gen. James Amos' decision to wear those bracelets of honor while in uniform."
---
---
---
---