Change of command at Camp Pendleton's 1st Marine Expeditionary Force
By
Jennifer Hlad hlad.jennifer@stripes.com
July 12, 2014
---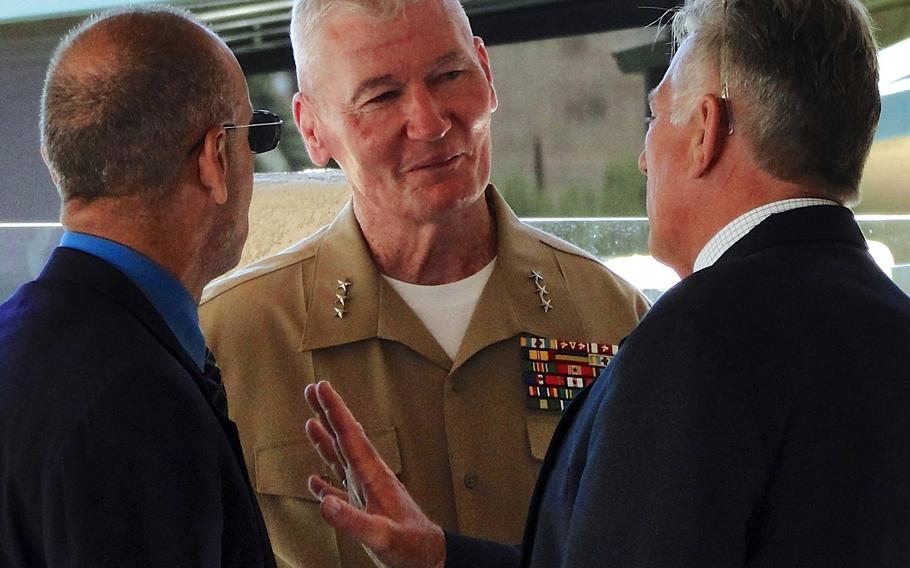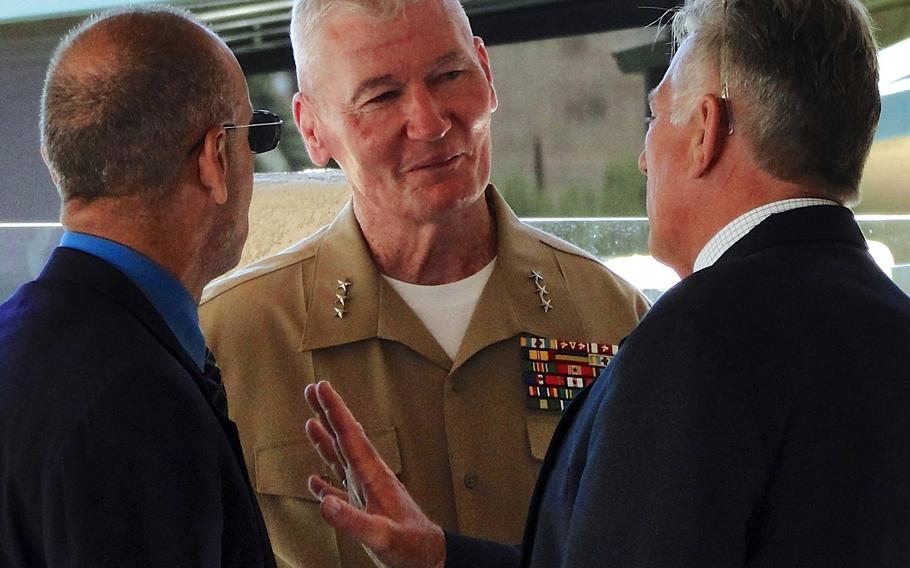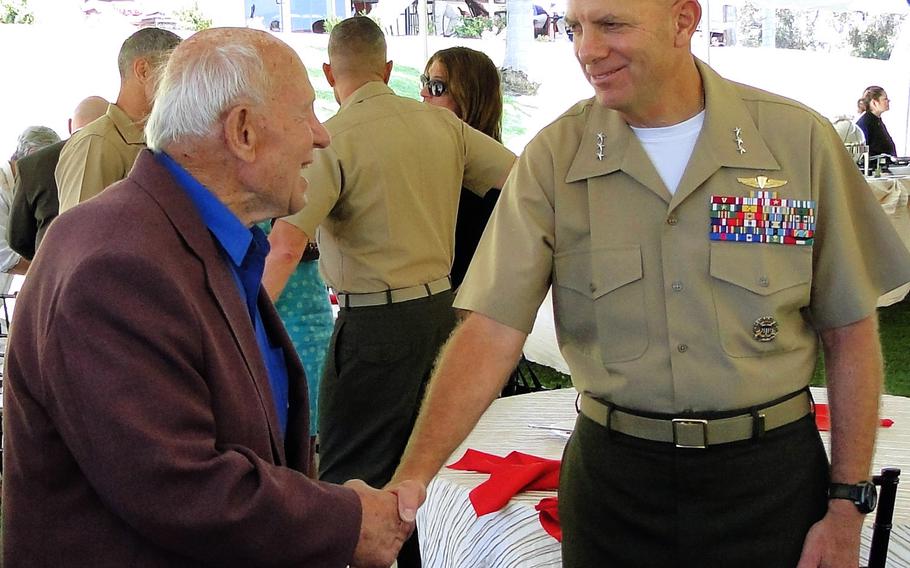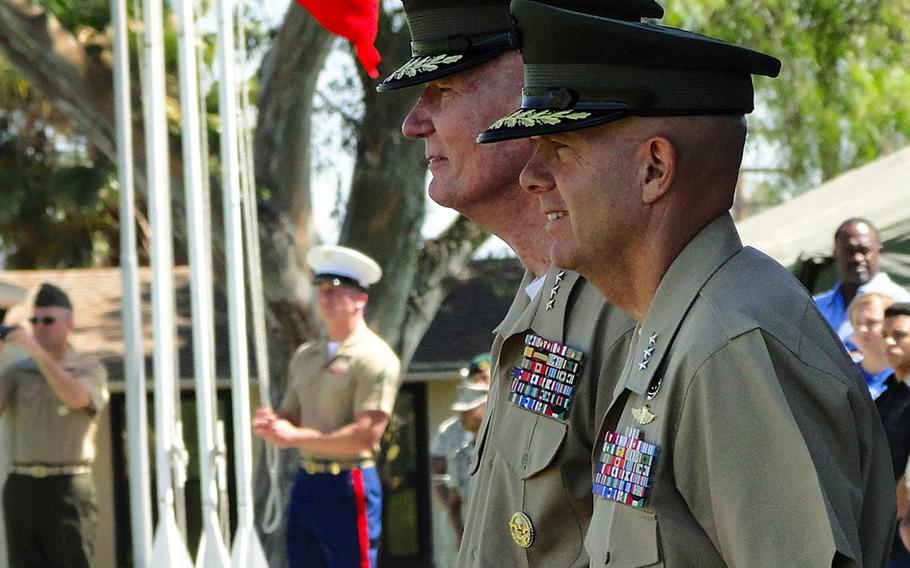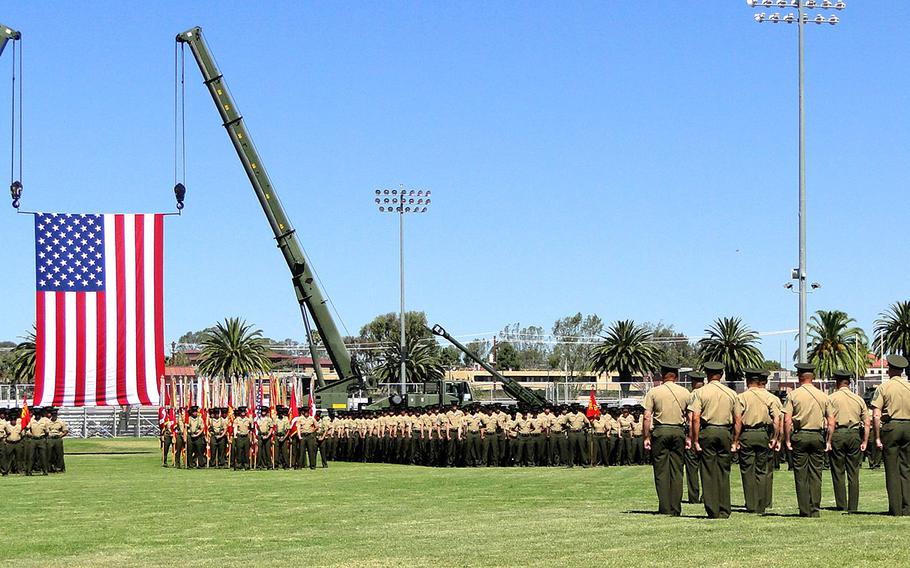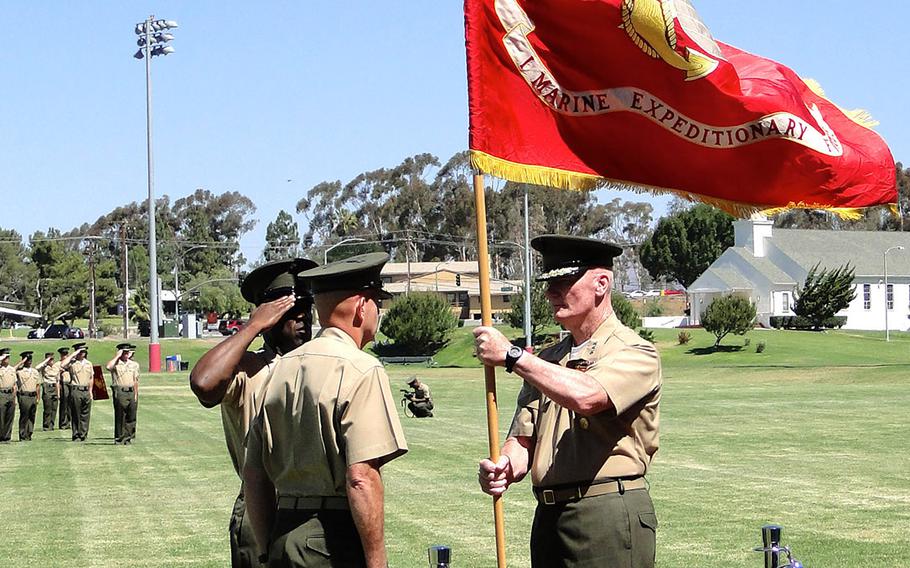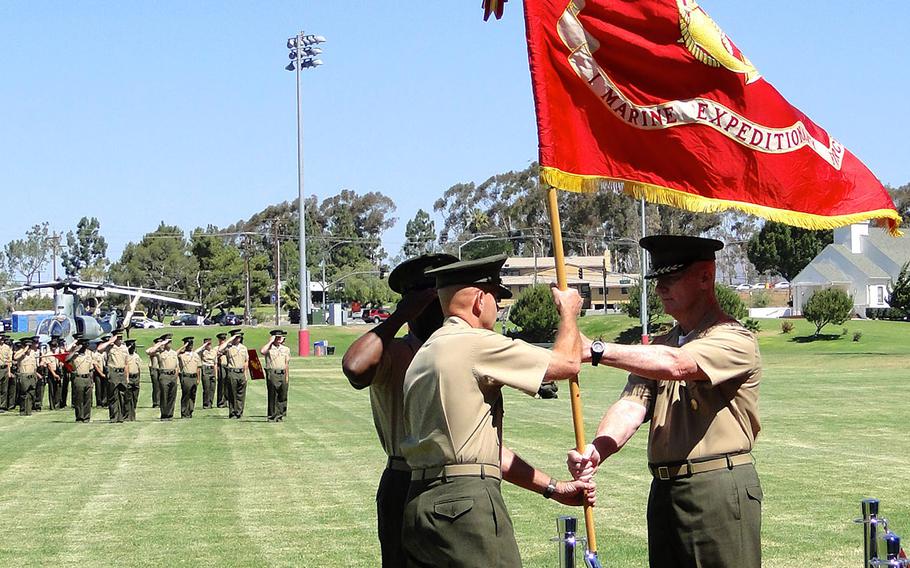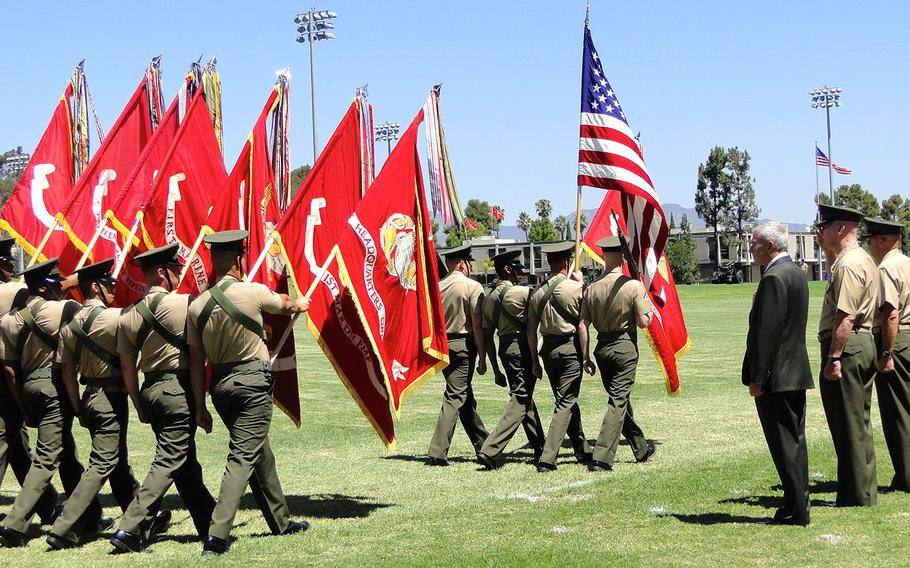 CAMP PENDLETON, Calif. — Just before passing the flag – and command – of I Marine Expeditionary Force to Lt Gen. David Berger, the man who has led the 52,000 Marines and sailors of I MEF for two years looked out on the hundreds of uniformed men and women standing a line of battle formation on the grassy parade field.
"You look magnificent out there," said Lt Gen. John Toolan. "Ooh-rah!"
"Ooh-rah!" the Marines shouted back, in unison.
Toolan leaves Camp Pendleton to take command of Marine Corps Forces Pacific; Berger comes to I MEF from the Marine Corps Air Ground Combat Center in Twentynine Palms, Calif.
Roughly 12,000 of the force's Marines and sailors are deployed in 22 countries around the world – including about 3,200 in Afghanistan, Toolan said. Berger's biggest challenge, the thing "staring in his face right now," is that he must also find forces to support the newly created special purpose Marine air-ground task force to deploy to the Central Command area of responsibility every six months.
"I think we can do it, but we've got to make sure that they're trained and ready," Toolan said, noting that the first SPMAGTF for that region, heading out this fall, will not be fully trained before it deploys because there wasn't enough time.
Toolan, who since 2003 has deployed twice to Iraq and once to Afghanistan, had the names of all the Marines and sailors who have died in Iraq or Afghanistan since 2002 listed in the back of the ceremony program. The list was 13 pages long. "The question comes, well, is it worth it?" he said during the change of ceremony. "It is. ... The mission was accomplished and that ground was sanctified."
Coming from Pendleton, Toolan told Stars and Stripes, he knows that Marines and sailors have been sent overseas time and time again -- something he plans to keep in mind as he makes decisions about engagements in the Pacific.
"I have to keep my aperture open as far as where the problems are… I have to be aware of what the draw is on resources of Central Command and [Africa command] and all the other boiling cauldrons," he said.
Though Toolan plans for the I MEF Marines currently in Afghanistan to be home by Jan. 1, he said the situation in Iraq has complicated the U.S. plans for stability, and what happens there "will have an impact on how we handle the future in Afghanistan."
"We thought we had the right guy in charge as the president, we thought maybe that the Iraqi security forces had a handle on security, but we saw how that in fact wasn't the case," he said. "We don't want a situation similar to that to happen in Afghanistan."
Berger, who deployed to Afghanistan in 2012 as the commander of 1st Marine Division (Forward), one of I MEF's subordinate units, said in a short speech that he knows there were a lot of choices for officers to lead the unit, and he feels privileged to be chosen.
He told the Marines and sailors he would give them his "very best."
Gen. James Amos, the commandant of the Marine Corps, said Berger is "the right man at the right time in history." "Buckle your seatbelts, you're in for a great ride," Amos told the Marines.
hlad.jennifer@stripes.comTwitter: @jhlad
---
---
---
---