All of Marine Forces Special Operations Command will be based in North Carolina by 2022, officials say
by
Caitlin Doornbos
February 13, 2020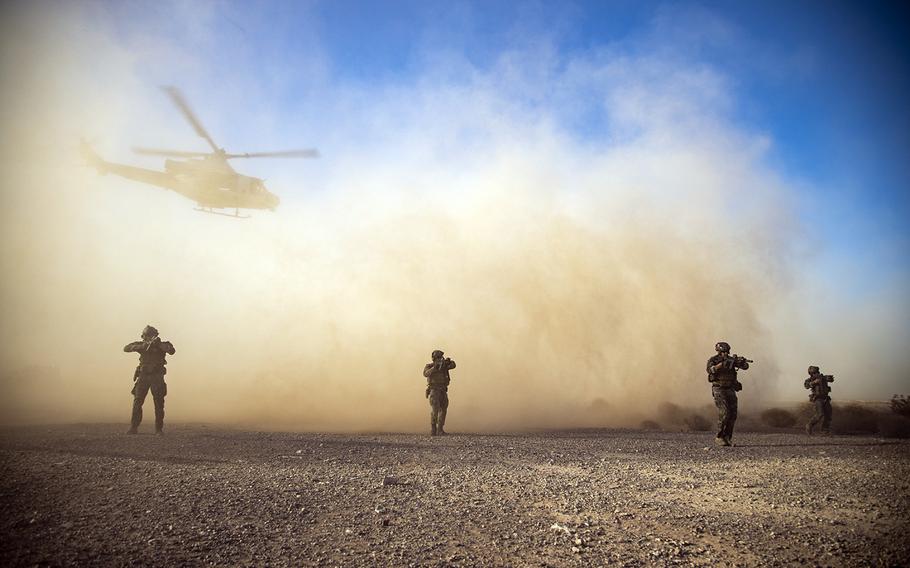 The Marine Corps will move its Raider battalions at Camp Pendleton, Calif., to North Carolina, the East Coast home of Marine Raiders, by 2022, officials announced Wednesday.
The move means all personnel with Marine Forces Special Operations Command will be based at Camp Lejeune in Jacksonville, N.C., according to a special operations command statement.
About 900 Marines, sailors and civilian employees attached to the 1st Marine Raider Battalion and the 1st Marine Raider Support Battalion at Camp Pendleton will start their moves in summer 2021, the statement said. They will join the 2nd and 3rd Raider battalions already based at Lejeune.
Locating its special operations battalions in one place will have "significant impacts to time and money," according to the statement.
The service will save about $55 million between 2021-26 by reducing housing allowances and the cost to move Marines and their families between duty stations, the Marine Corps Times reported Wednesday. Raiders will no longer need to make cross-country moves when switching units.
However, the move will leave the Pacific without a Raider unit as the service trains to meet a "great power" challenge from China in East Asia.
Marine Raiders are elite operators who must complete a rigorous, seven-month individual training course to earn their title. Marine Raiders earned fame in World War II, but the current command was created in 2006.
The cost-savings decision is in line with the 2018 National Defense Strategy's call on defense agencies to "build a more lethal force and reform the department for greater performance and affordability," Marine Forces Special Operations commander Maj. Gen. Daniel Yoo said in the statement.
The Camp Pendleton Raiders will move to Camp Lejeune in three phases to complement normal Marine Corps permanent change of station timelines and manage the population increase in the Jacksonville, N.C., area, according to the statement.
Camp Lejeune officials are working with area schools to plan for increases in student population "to ensure that all students will be accommodated effectively and receive a quality education," according to the statement.
The Marine Raider Training Center, which assesses and selects special operations candidates and trains designated Marines in individual, basic and advanced special operations, is also based at Camp Lejeune.
doornbos.caitlin@stripes.com Twitter: @CaitlinDoornbos