US Marines, Japanese troops brush up old partnership for a new Pacific era
By
Stars and Stripes
March 11, 2022
---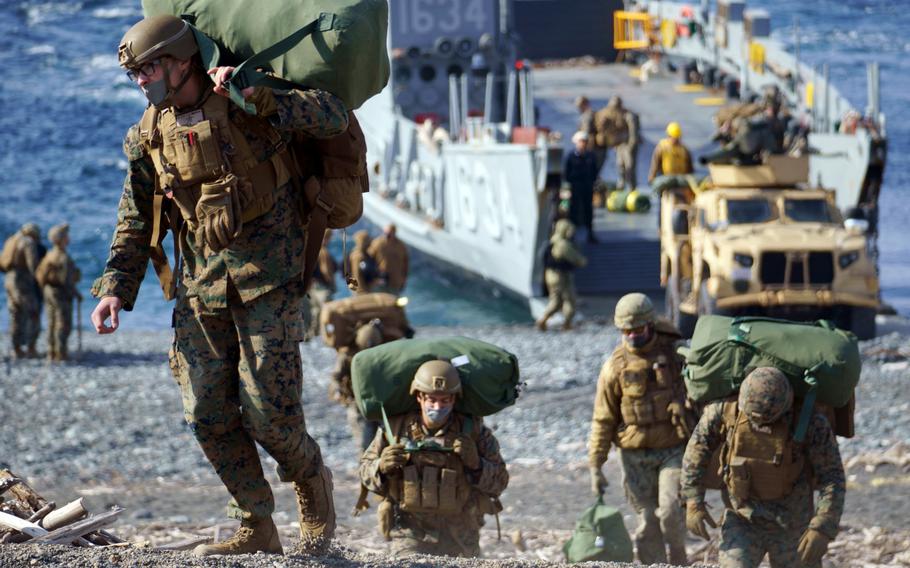 NUMAZU BEACH, Japan – U.S. Marines piled out of their landing craft and onto the rocky shore near Mount Fuji to simulate an amphibious landing Wednesday, part of monthlong exercises with their counterparts in the Japan Ground Self-Defense Force.
The landing exercise was a departure for the Marines, who for decades rarely visited the Numazu Beach Training Area at Combined Arms Training Center Camp Fuji, part of a 34,000-acre military reservation at the foot of its namesake mountain.
But that attitude is changing, along with the arms-length relationship the Marines held with their Camp Fuji neighbors, the Japan Self-Defense Forces. The two are rebuilding their relationship as China asserts a claim of dominance in the Indo-Pacific region.
"Before last year, we had really not been using this beach to train for about a 30-year period," Camp Fuji commander Col. Robert Bodisch told Stars and Stripes on Wednesday. "Last year, we started using the beach more – that was one of my lines of effort to try and modernize our training environment."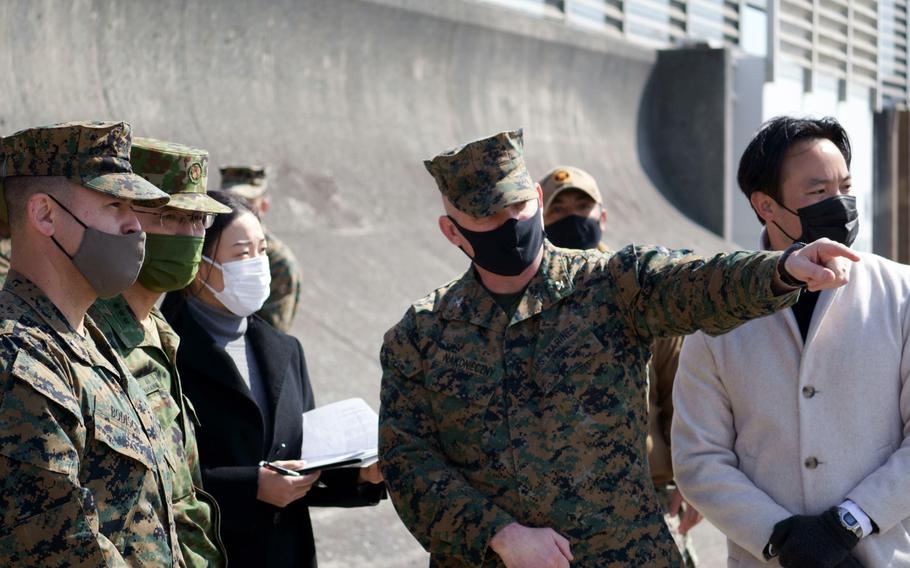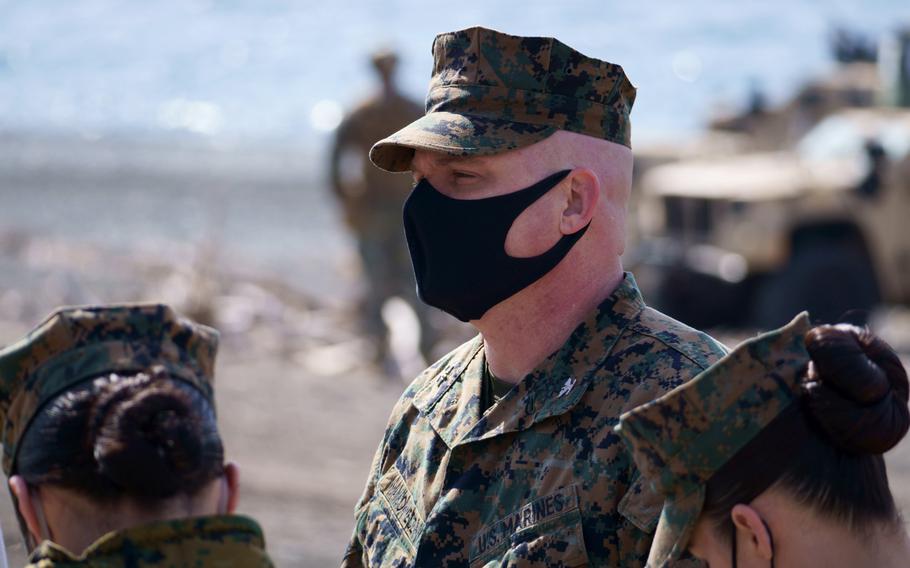 Bodisch, who took command of Camp Fuji in 2020, said modernizing Fuji's training regiments and building a closer relationship with the Self-Defense Forces are his primary goals.
"You might be surprised to find out that – in the 70 years that Camp Fuji has been there – we have rarely, if ever, done any bilateral training or exercises with the Japanese, even though we're surrounded by five other [Japanese] bases," he said.
The event, dubbed Maritime Defense Exercise-Amphibious Rapid Deployment Brigade, launched March 6 and is scheduled to conclude March 25. Along with the training and support units at Camp Fuji, the exercise players include elements of the III Marine Expeditionary Force and the Amphibious Rapid Deployment Brigade of the Ground Self-Defense Force.
On Wednesday, members of the 31st Marine Expeditionary Unit landed on the beach aboard a craft dispatched from the dock landing ship USS Ashland. Seven Joint Light Tactical Vehicles rumbled off the boat and stood watch over the Marines unloading their gear.
Col. Rikiya Kondo, commander of Japan's Fuji Training Center, stood nearby with a contingent of Japanese officers.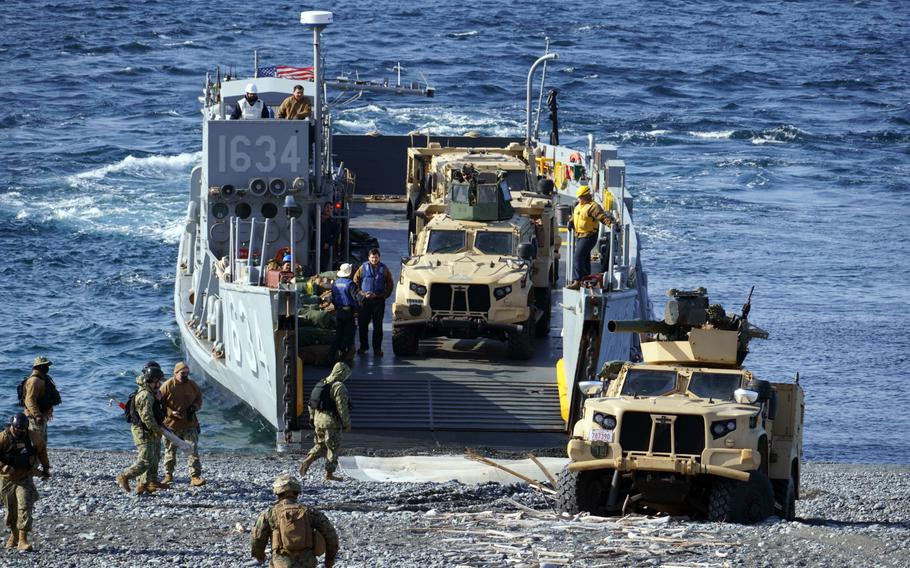 As the Marines maneuvered on the beach, Kondo told Stars and Stripes that he shares Bodisch's goal for a stronger relationship between their respective forces, one that will produce innovative practices.
"My understanding is that we need to challenge new capabilities in a totally new operating environment; this is something different from what I expected," Kondo said. "We need to create a new way of amphibious assault."
A close partnership also ensures strategic deterrence, particularly when demonstrating force-on-force exercises between the two nations, Kondo said.
Future Maritime Defense Exercises will include amphibious assaults, sniper training and helocasting – a maneuver in which Marines jump from a helicopter hovering just above the ocean's surface.
The exercise is also taking place simultaneously on Guam between a separate component of the 31st MEU and British Royal commandos, 31st MEU commander Col. Michael Nakonieczny told Stars and Stripes on Wednesday. He said the scale of the exercise is unique.
"This is part of something called Noble Arashi, which is broken into two parts – the part that's taking place here at Camp Fuji and there's also a part taking place in Guam," Nakonieczny said. "Everything that you're seeing here will be done in one form or fashion – in different, varying scales – not only here on mainland Japan, but in Guam as well."
Nakonieczny said the exercise helps the U.S. and its allies prepare for any threat or crisis in the region. Left unsaid at this level is where that threat may originate. The Defense Department, however, considers China its "pacing challenge" in the Indo-Pacific.
"So, any threat to that free and open Indo-Pacific is what we're prepared to respond to," Nakonieczny said.
---
---
---
---