Marines test 'backpackable' electronic warfare system on drone in Coral Sea
By
Stars and Stripes
October 25, 2021
---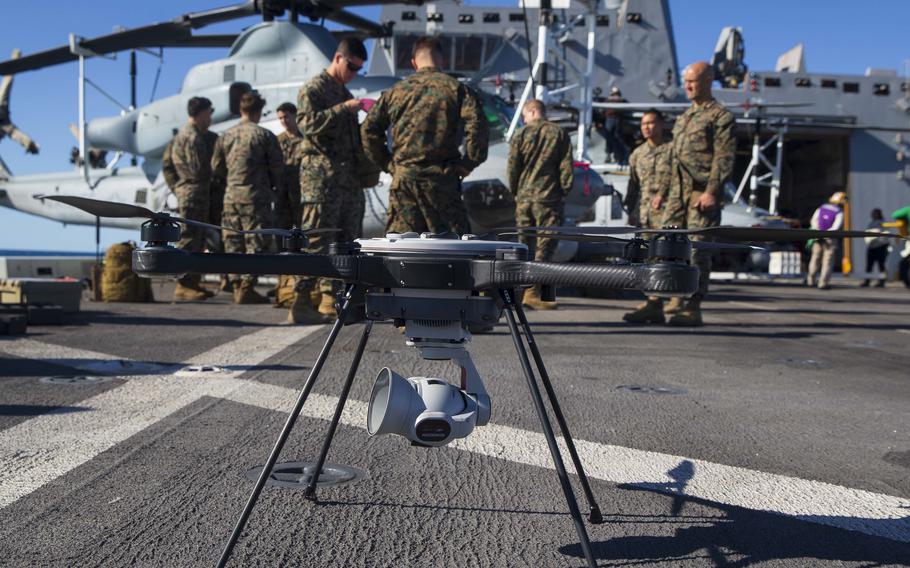 Marines aboard the USS New Orleans have launched a portable, electronic-warfare system on drones for the first time at sea, according to the Marine Corps.
A backpackable electronic attack module, or BEAM, uses its technology to detect the radio frequency of a specific threat, a hostile drone, for example, locate it and take it out, according to the Marine officer in charge of the 10 Marines and sailors taking part.
"It is set apart from other systems because of its ease of use," said Marine Capt. Jesse Schmitt, assistant intelligence officer for the 31st Marine Expeditionary Unit. A 31st MEU spokesman, Capt. Brett Lazaroff, provided Schmitt's responses to Stars and Stripes' questions on Oct. 8.
"A basically trained rifleman can be taught to use the system in the course of an afternoon, making it easily deployable alongside Marines in any climate and place," Schmitt said.
His team of 31st MEU radio experts, Puma drone pilots and sailors spent two days connecting nodes to drones and then launching them off the New Orleans' flight deck. The trial took place in July off Australia's northeastern coast in the Coral Sea, according to the Marine Corps.
The BEAM system works through nodes, which are devices that can create, receive, store and communicate information with one another. Three or more nodes form a network.
"Several nodes are networked together to create a web of sensors that can both detect and take action against hostile electromagnetic emitters," Schmitt said.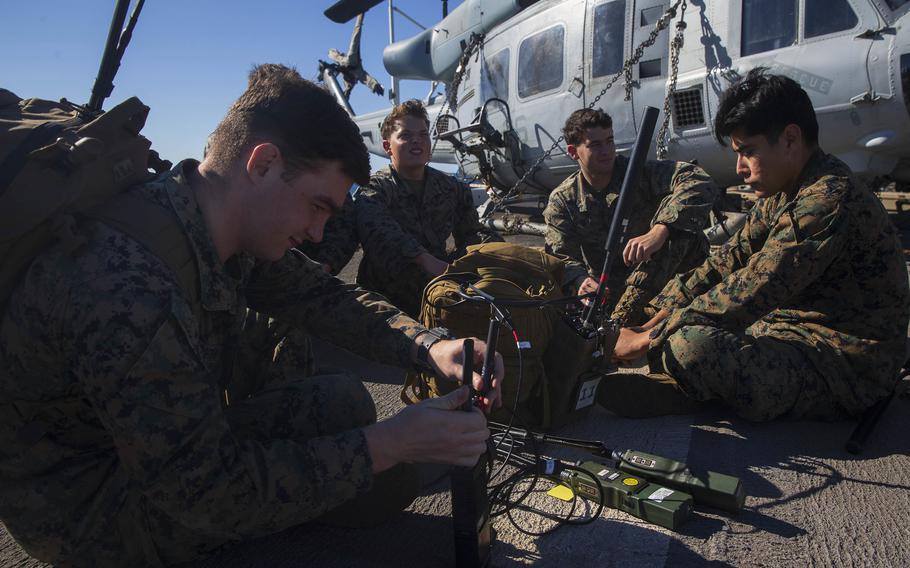 The Marines' BEAM uses three nodes that can be configured for specific battlespaces. Nodes attached to a Puma provide the Marines knowledge of their surroundings at sea and on land, according to Schmitt.
"The idea is you have three squadrons or platoons wandering around doing their assigned mission, and they are each carrying BEAMs with them, creating a network of sensors to aid situational awareness," he said. "If any of those nodes detects something, it will alert all of the connected BEAMs, and any of those BEAMs could choose to begin jamming the enemy if desired."
BEAM technology is not equipped with artificial intelligence, but its computer processing capabilities make it "pretty smart," according to an April article in Signal magazine.
The BEAM radios communicate with one another to "find the best formation to grab the most information about the enemy," Philip Root, a program manager at the Defense Advanced Research Projects Agency who helped developed BEAM starting in 2016, told Signal.
Root said Marines and Special Forces consider the BEAM system another team member rather than another tool.
"They would give the BEAM system the mission, and it would modify its behavior depending on the threat it saw and where they were in the mission, where it saw high-value targets," Root told the magazine.
Working aboard the New Orleans, Schmitt's team used BEAM on drones in coordination with a 36-foot, rigid, inflatable boat, "which was something that had never been tested before," he said.
The New Orleans is an amphibious transport dock ship homeported at Sasebo Naval Base. It supports aircraft and amphibious vehicles and transports Marines for deployments and training events.
"We wanted to ensure that the BEAM could feasibly be employed from a variety of platforms used in a littoral environment," Schmitt said.
DARPA began to explore BEAM along with other technologies, including artificial intelligence, Root told Signal in April.
The retired Army lieutenant colonel said his experience tells him the military may not want artificial intelligence systems that are superior to humans.
"That doesn't mean we shouldn't try to develop good AI," Root said in the article. "It just means that instead of trying to replace the wisdom and experience of the small unit commander, we should try to create AI that helps support the wisdom and experience of the most junior Marine on the team, and sometimes that junior Marine is a robot."
---
---
---
---