Infantry training more intense as Marines Corps makes major changes, commandant tells senators
by
Sarah Cammarata
Stars and Stripes
June 24, 2021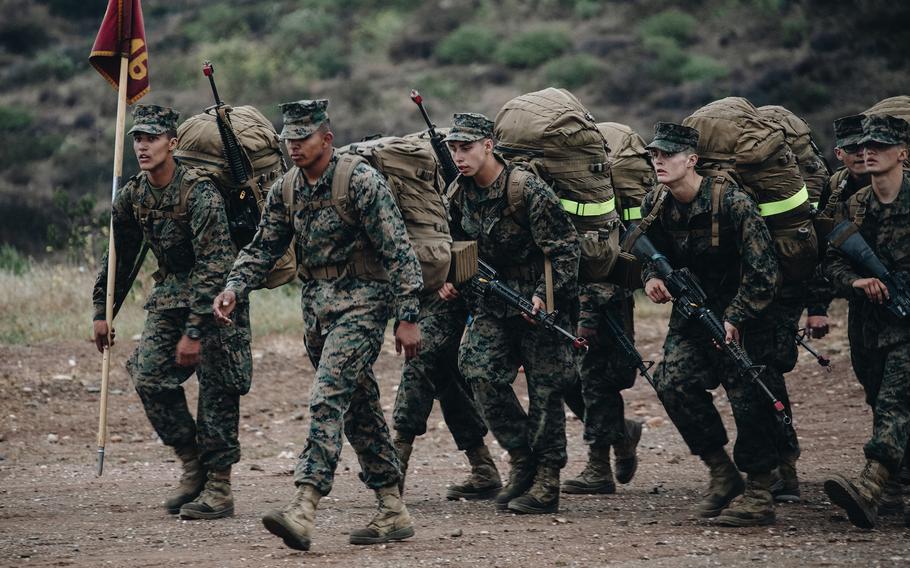 WASHINGTON — Training for new Marines will become more rigorous as troops start to conduct more complex operations in smaller units, the commandant told senators Thursday.
"Through [a Marine's] entry-level training to [his or her] first unit, we have to raise the bar because we're going to expect noncommissioned officers and junior officers to make decisions that two levels up, they make today," Gen. David Berger said during a Senate Appropriations Committee hearing on the Navy and Marine Corps budget for 2022.
Berger said junior leaders are going to have to make calls, especially in a high-threat environment, independent from their higher headquarters as the service is now more than a year into reshaping its force to better prepare for modern operations.
In March 2020, the Marine Corps announced its "Force Design 2030" plan that laid out sweeping changes, including cutting overall end-strength numbers from 186,000 in 2020 to 174,000 by 2030, divesting in tanks, as well as investing in rockets instead of conventional artillery.
Berger said the service is lengthening infantry training by 50% this year.
"It has to get them to another level. ... We have got to make sure one person has three skill sets," such as an individual who is a corpsman, a machine gunner and a sniper, he said.
"We will raise the bar in training to make sure that we can empower and train them to a level where they can make the decisions on the spot," Berger said.
Sen. Patty Murray, D-Wash., also pressed Berger to explain how the force design will affect operational tempo and how the service will support families during more frequent or longer deployments.
Berger did not provide specifics on how the service would support families when Marines are on extended deployments.
Twitter: @sarahjcamm