Coast Guard judging whether drones have place in service during monthlong Hawaii testing
by
Wyatt Olson
October 22, 2020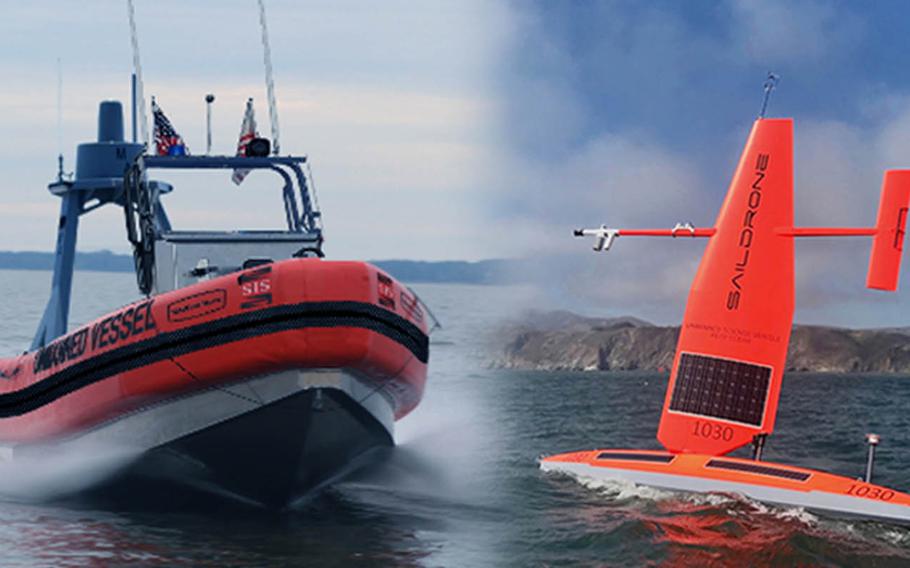 FORT SHAFTER, Hawaii — The Coast Guard is testing two types of unmanned surface vessels in waters near Hawaii to determine what role, if any, drones can potentially play in the maritime law-enforcement service.
The monthlong evaluation of autonomous vessels from the companies Saildrone and Spatial Integration Systems began Oct. 7 and is slated to wrap up Nov. 5.
"Our primary goal with this evaluation is to better understand this emerging unmanned surface vessel technology and really understanding how the Coast Guard might be able to use these sorts of systems in the future to accomplish our missions," Cmdr. Blair Sweigart, the demonstration director with the Coast Guard Research and Development Center in New London, Conn., said during a phone interview with Stars and Stripes this week.
Sweigart and four other personnel from the center are in Hawaii for the duration of the testing, while another five members of the testing team remain in Connecticut for remote monitoring, Sweigart said. Also involved are Hawaii-based Coast Guard members and personnel from the U.S. Navy and the National Oceanic and Atmospheric Administration.
"I think it's fairly obvious that there are areas where they will be useful," he said. "What we're really trying to understand is how these different systems will best support our different missions.
"The primary focus of our study here is low-cost maritime-domain awareness solutions."
The pair of drone systems being tested are quite dissimilar. Saildrone is based in California; Spatial Integration Systems has locations in Virginia, Maryland and North Carolina.
The low-speed Saildrone is a windfoil that is propelled only by wind and uses a solar panel for communications and navigation. It looks like a surfboard with an airplane wing jutting up perpendicularly.
"It is capable of long-duration deployments, like up to a year at a time at sea with no direct human intervention," Sweigart said. "So that's a great system for persistent presence in remote regions, providing long-term maritime domain awareness capability in places that we normally can't be."
The Spatial Integration Systems drone is powered by an inboard diesel engine and is similar to small boats used by the Coast Guard.
"Because it is dependent on fuel, it's not something that we're going to leave out, or that we would leave out, for extended periods of time," he said. "But it might be something that we could deploy off of one of our ships to a shorter duration — maritime domain awareness capability to augment our ongoing missions."
The Coast Guard's 14th District, headquartered in Honolulu, covers an astoundingly huge 14 million acres, including all of Hawaii, American Samoa, Saipan, Guam, Singapore and Japan.
"The challenges that we face here in Hawaii and throughout the Pacific region — especially within the District 14 area of operations — are unique," Sweigart said.
The use of drones could bring eyes to "areas that are typically dark to us," particularly on illegal fishing activity, he said.
The monthlong testing employs "operational vignettes" that mimic actions common to illegal activities on the high sea.
For example, a common practice in illegal fishing is the meeting of a smaller fishing trawler with a large "mothership," he said.
"A boat will be out catching fish and then will transfer that catch to a reefer, a larger mothership," he said. "And then they'll return and keep fishing – essentially overfish what should be their allowable catch.
"Can these [unmanned] vessels detect that sort of activity? Could they provide us with enough information that we think we might be able to prosecute?"
The testing is intended to provide Coast Guard leaders with an assessment of the capabilities and limitations of unmanned vessels, not to evaluate the two products for possible acquisition, he said.
"By looking at multiple technologies, we're really starting to understand how this new USV – unmanned surface vessel – technology could be used," he said. "We're using these to help the Coast Guard understand what the entire suite of capabilities USVs could bring to the table."
olson.wyatt@stripes.com Twitter: @WyattWOlson