Trump to award Medal of Honor to Green Beret for heroics in 2008 Afghanistan fight
---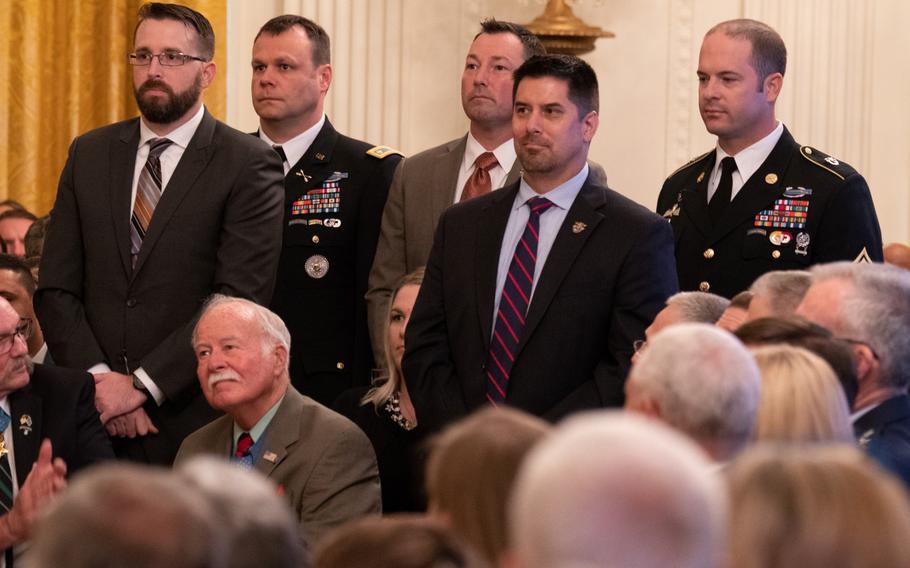 WASHINGTON — Army Sgt. Matthew O. Williams forded an ice-cold, waist-deep river and fought his way up a jagged, frozen mountain cliff to reach his wounded comrades as their mission to kill or capture a terrorist leader entrenched deep in the Afghan mountains fell apart.
Through a six-hour firefight deep in the mountains of eastern Afghanistan's Nuristan province on April 6, 2008, Williams continuously braved insurgent rocket-propelled-grenade, sniper and machine gun fire, evacuated casualties and established a critical fire position that allowed the entire team to escape alive. For his actions that day, Williams — now a master sergeant — will receive the Medal of Honor on Oct. 30 from President Donald Trump in a White House ceremony, Trump's administration announced Thursday.
"Sergeant Williams' actions helped save the lives of four critically wounded soldiers and prevented the lead element of the assault force from being overrun by the enemy," the White House statement reads.
The award, the nation's highest military honor, will be an upgrade of the Silver Star that Williams initially received for his actions throughout the fight that would become known as the Battle of Shok Valley.
Williams, who remains on active duty with 3rd Special Forces Group at Fort Bragg, N.C., will become the second soldier to receive the Medal of Honor for his actions during that battle. Retired Army Staff Sgt. Ronald J. Shurer received the medal from Trump on Oct. 1, 2018. His Medal of Honor was also an upgrade of the Silver Star that he was initially awarded for his actions in that battle.
The battle was among the most difficult that Williams has faced through a handful of combat tours in Afghanistan during his 14-year Army career, he said in an interview with Stars and Stripes in September 2018 ahead of Shurer's Medal of Honor ceremony
"Of course it's obviously one of the worst days," Williams said. "You see friends get injured. It worked out. Everyone came home alive, and everyone is doing good. But, definitely that's the worst one."
Williams was part of a Green Beret unit — Operational Detachment-Alpha 3336 — charged with penetrating a Hezb-e-Islami Gulbuddin terrorist group stronghold where American forces had never fought previously. The mission was to kill or capture a high-valued leader of that insurgent group.
The 12 Green Berets and about 100 Afghan commandos sensed problems from the mission's outset. The Chinook helicopters transporting them into battle could not land on the rocky terrain, Green Berets who fought that day recalled last year ahead of Shurer's award ceremony. They were forced to drop about 10 feet from the hovering helicopters and then scale a near vertical, 100-foot cliff to reach their target compound.
The fighting erupted almost immediately — heavy fire from rifles and machine guns and rocket-propelled grenades rained down on them from some 200 to 300 enemy fighters from positions overhead.
"It was just an onslaught of fire and explosions for a very long time," recalled Dillon Behr, a former Green Beret who was shot and injured on the mission. "Utter chaos."
When Behr and another Green Beret were injured and pinned down, Williams "heroically and with disregard for his own safety" led Afghan commandos across the river and up the cliff "under intense enemy fire," according to his Silver Star citation. He then set up a fire position for the Afghan commandos to engage the enemy before he braved a "gauntlet of heavy machine gun fire" to reach one injured Green Beret and render first aid.
Williams then evacuated the injured soldier down a 60-foot, near vertical cliff to be transported to safety by helicopters. During that effort, he killed two insurgents who attempted to reach the evacuation area, according to the citation.
After ensuring the injured Green Beret would survive, he led Afghan forces on a counterattack for several hours before helping load more injured troops into a helicopter and fighting off additional enemy attacks until the unit could be evacuated, the citation reads.
Like Shurer's Medal of Honor, Williams' upgrade came as the result of a Pentagon review ordered in 2016 of high-level, post 9/11 combat awards. In addition to the two Medals of Honor awarded the soldiers who fought in the Battle of Shok Valley, eight soldiers were awarded the Silver Star for their actions that day, the most battlefield valor medals awarded for a single action since the Vietnam War.
Williams, who has served at least four tours in Afghanistan and deployments to Africa since that firefight, said the mission might not have been a success but all of the Americans survived it. He credited the close bond of that Green Beret group for ensuring everyone made it out alive.
"When you have a really bad situation such as this one, the team coming together and executing and making sure that everyone got home … it speaks exponentially to our team, our team bond and how we operated together," he said last year.
dickstein.corey@stripes.com Twitter: @CDicksteinDC
---
---
---
---