Soldier who helped in Jessica Lynch rescue dies after Afghanistan attack
by
Audrea Huff
May 16, 2014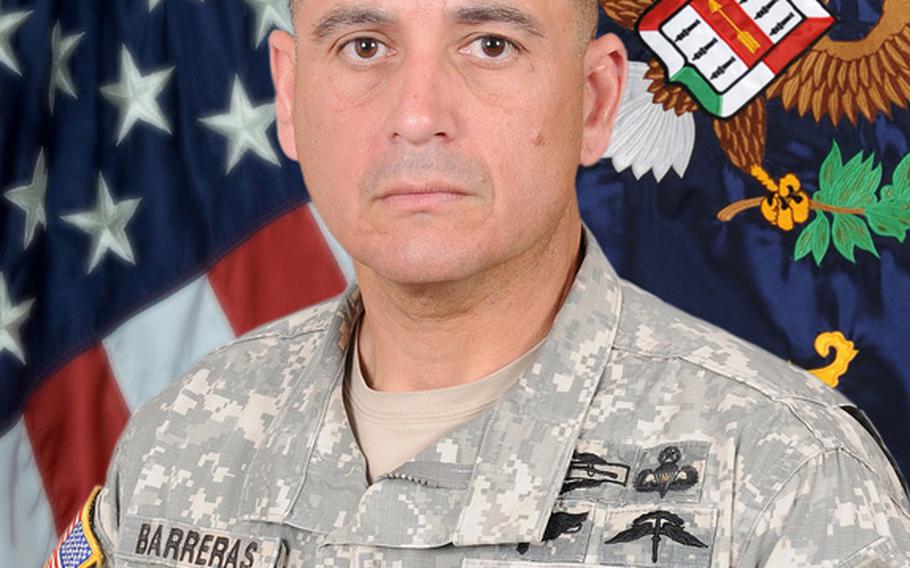 A Fort Bliss command sergeant major died at a Texas hospital a week after his unit was attacked in Afghanistan, the Defense Department said Thursday.
Command Sgt. Maj. Martin R. Barreras, 49, of Tucson, Ariz., died Tuesday at San Antonio Military Medical Center from wounds sustained when enemy forces opened fire on his unit May 6 in Herat province.
Fox News reported Friday that a friend and fellow Ranger said in an email that Barreras was the leader of the Army unit that conducted the successful rescue of Jessica Lynch from an Iraqi hospital. The friend said Barreras personally handed Lynch to another soldier to transfer her to the helicopter that evacuated her from the area.
And in a story on military.com, he is credited with advising the actors in the 2001 film, "Black Hawk Down."
Then-Sgt. 1st Class Martin Barreras was quoted as saying, "I want them to remember the sense of teamwork that is inherent to a Ranger organization and the amount of attention to detail that's required from every individual that is part of that team."
Barreras was assigned to the 2nd Battalion, 5th Infantry, 3rd Brigade Combat Team, 1st Armored Division, Fort Bliss, Texas.
"Command Sgt. Maj. Barreras was my friend and battle buddy," Lt. Col. Edward Brady said. "I've spent more time with him than my wife since I've taken command. I believe that I was the luckiest battalion commander in the Army to have him as my (command sergeant major)."
Barreras enlisted in the Marine Corps in 1983. Five years later, he enlisted in the Army as an infantryman and attended airborne school and the 75th Ranger Regiment Regimental Indoctrination Program at Fort Benning, Georgia.
He was assigned to the Ranger Regiment in December 1988, where he served for the next 22 years, Fort Bliss officials said.
Barreras completed several combat deployments to Iraq and Afghanistan. After the Ranger Regiment, he served as senior enlisted adviser of the U.S. Army Marksmanship Unit for three years from August 2009 to 2012.
In March 2013, Barreras was assigned as the senior enlisted adviser for the 2nd Battalion, 5th Infantry Regiment, and deployed to Afghanistan in December 2013.
Barreras is survived by a wife, two daughters and a son.
huff.audrea@stripes.com Twitter: @audreahuff
---
---
---
---