Report: Army officials did not understand their powers to oversee failing private military housing
by
Corey Dickstein
September 5, 2019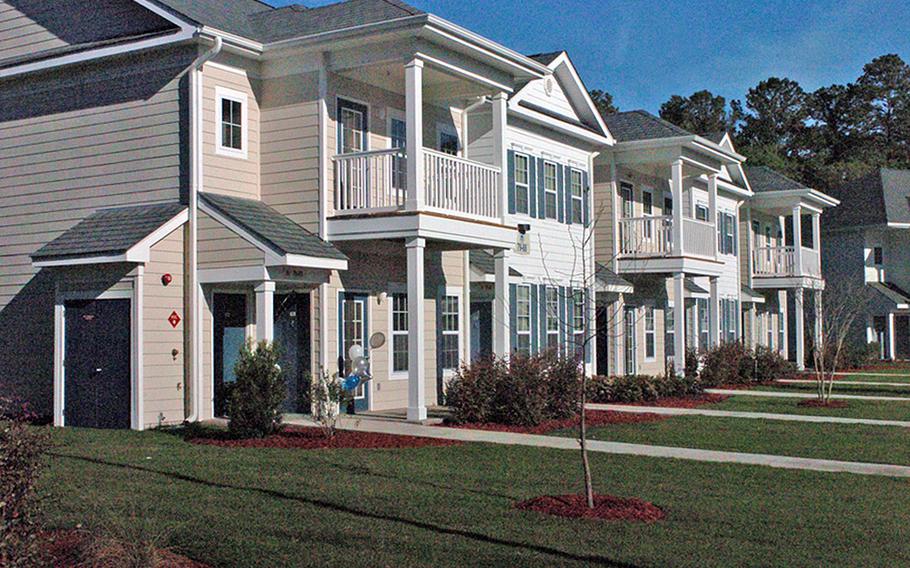 WASHINGTON — Top Army commanders and civilian leaders were not familiar with basic service policies governing their relationships with private companies running on-post housing, which contributed to the housing crisis at installations across the United States, an Inspector General's report released Thursday determined.
Senior commanders, commanding generals and civilian directors of public works departments at 48 Army installations in the United States reported they did not receive "adequate" training on their powers to oversee privatized military housing on their installations, according to the new Army IG report. Investigators said Army officials at only one of 49 installations that they surveyed demonstrated proper knowledge of their oversight authorities and responsibilities. Officials at the rest reported "general confusion and frustration" about those powers.
Meanwhile, the local managers responsible for running those housing units also were unfamiliar with the Army policies and regulations, according to the report, which was the result of a seven-month investigation that spanned the Army's largest posts across the continental United States, Hawaii and Alaska.
The IG probe was launched as news reports beginning late last year highlighted prevalent problems across private military housing, which are owned and run by private companies but sit on military installations. Problems included vermin infestations, rampant mold outbreaks, sewage leaks and slow maintenance response times. The IG found the Army and companies that run the housing have already taken initial steps to improve the situation, however it also recommended the Army implement additional actions to curb the issue.
IG investigators suggested the Army provide senior commanders clearer and more stringent authorities for oversight over the private housing on their installations. They also suggested the Army standardize policies on private housing across all of its installations, conduct periodic compliance inspections at those posts, and include measures to gauge life, health and safety compliance on reports from the private companies to the Army.
The IG investigation comes more than a month after a separate Army-ordered survey of family satisfaction with private, on-post housing showed dropping approval rates. Families reported a 74.6% approval rate, down about six percentage points from 2018. IG investigators — who separately surveyed 1,118 residents of privatized housing on those 49 Army posts — found an even lower approval rate with 68% of respondents reporting they were dissatisfied with their private housing experiences.
Residents reported troubles with communication with private housing managers, including difficulty figuring out how to file complaints or maintenance requests. Residents who were able to file complaints often felt they were later subjected to retaliation, retribution or reprisal from those companies, IG investigators said.
Residents also felt safety was not a priority for the companies running their housing. Residents at all 49 locations surveyed "believed the property management company placed the interests of affiliate companies ahead of life, health and safety."
At 48 of 49 locations, residents expressed concerns with environmental or safety problems — namely mold, lead paint, asbestos, water quality, open sewage and radon gas. In all, 1,078 of 1,404 IG survey respondents reported safety did not seem to be a priority for the companies running private, on-post housing.
And while families have been left frustrated by those concerns, they see few other options, according to the IG. Of 1,118 respondents to its survey — not every resident responded to every question — 712 said they would prefer to live off post, but financial considerations keep them in the private, on-post housing.
"At some remote or high-cost locations, residents often believed on-post privatized housing was their only option," the IG report stated.
Investigators said top Army leaders agreed with their findings and had committed to implementing their suggested changes.
The Army has already added 114 new employees across its installations to bolster housing staffs and added training to high-ranking commanders, said Richard Levine, an Army spokesman. The service is also establishing 24-7 hotlines for issues and standardizing work-order tracking programs.
"We continue to drive change and remain steadfast in holding ourselves and privatized housing companies accountable to provide safe and secure housing on our installations," Gen. Gus Perna, the chief of Army Materiel Command, said in a statement.
Lawmakers on Capitol Hill have also vowed to fix the problem. House and Senate versions of the 2020 National Defense Authorization Act, the annual law that sets military policy, have incorporated legislation aimed at addressing private military housing problems, and senior lawmakers have vowed severe repercussions if issues are not quickly solved.
dickstein.corey@stripes.com Twitter: @CDicksteinDC