Pentagon sending home some active-duty troops deployed near DC
by
Corey Dickstein
June 4, 2020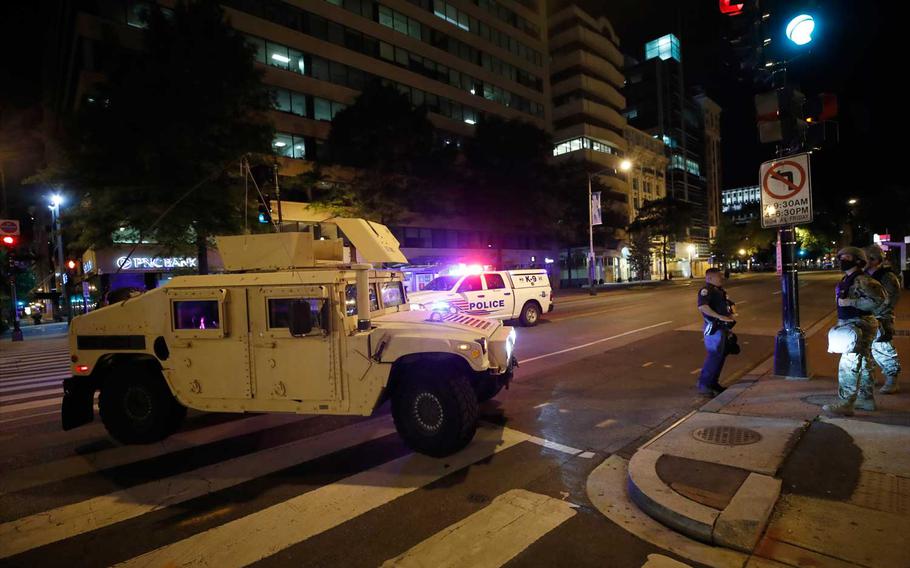 WASHINGTON — Defense Secretary Mark Esper on Thursday ordered a portion of the active-duty troops he had deployed to military installations on the outskirts of Washington, D.C., to return to their home base, defense officials said.
Esper sent about 700 soldiers with the 82nd Airborne Division back to Fort Bragg, N.C., after they had been rushed to bases near Washington on Monday and placed on alert to respond to civil unrest in the national capital if law enforcement and National Guard forces could not contain it, officials said. The soldiers — and some 900 military police from Bragg and Fort Drum, N.Y. — remained outside the city, as Pentagon officials repeatedly said they would prefer not to deploy them onto Washington's streets to help control the protests.
The troops could return to Fort Bragg as early as Thursday evening. The remaining soldiers were expected to remain near Washington for now, and would be sent home when conditions warranted, a defense official said. The troops have been housed at Andrews Air Force Base, Md., and at the Army's Fort Belvoir, Va., a U.S. official said. The officials were not authorized to discuss the movements publicly and spoke on condition of anonymity.
The move comes after a rollercoaster Wednesday that saw Esper order some of those 82nd soldiers, from the division's Immediate Response Force, home before reversing course after a White House meeting. An official said Esper agreed to leave the soldiers in place for at least another 24 hours, and he decided Thursday that they could be returned to Fort Bragg.
Esper on Wednesday said he did not support the use of active-duty troops in response to demonstrations that have spread across the country during the last two weeks and have sometimes grown violent. The move appeared to break with President Donald Trump, who had hinted at employing a rare presidential power to move federal troops onto American streets if governors and local law enforcement could not quell the protests.
The defense secretary's announced opposition to the use of active-duty troops did not go over well at the White House, several news organizations reported.
Esper instead said he preferred the use of National Guard forces in a role aiding law enforcement officials. Pentagon officials have said the Guard is better suited for that mission for a variety of reasons including their familiarity with working alongside local and state law enforcement officials.
In total, some 32,400 National Guard troops had been activated in 32 states and Washington D.C. to augment law enforcement amid the civil unrest, the National Guard Bureau said Thursday. In Washington, about 4,600 National Guard soldiers and airmen were supporting those operations. That includes almost 1,300 members of the D.C. National Guard and another 3,300 Guard troops from Florida, Indiana, Maryland, Missouri, Mississippi, New Jersey, Ohio, South Carolina, Tennessee and Utah, the Guard said.
dickstein.corey@stripes.com Twitter: @CDicksteinDC