Patriots with a calling to serve: Special Operations troops killed in Afghanistan remembered
by
Phillip Walter Wellman
February 11, 2020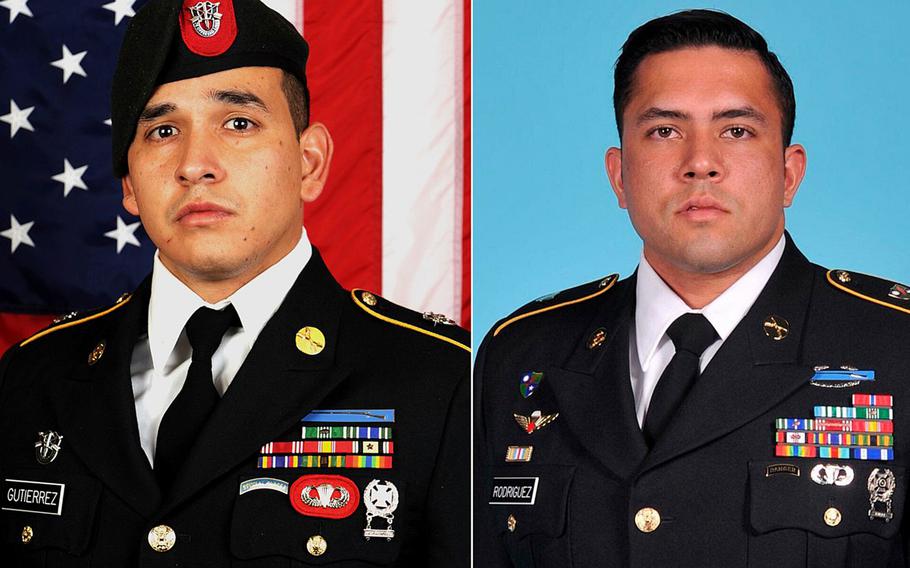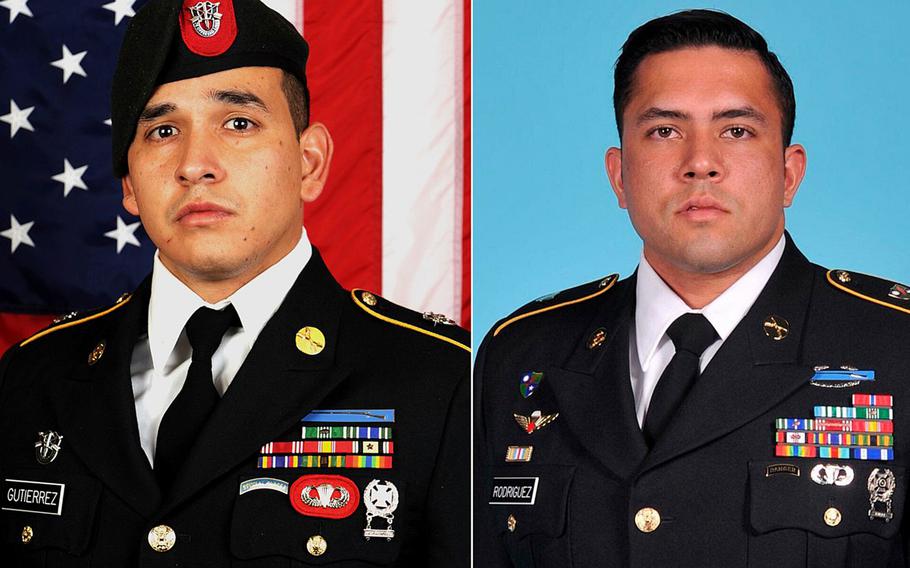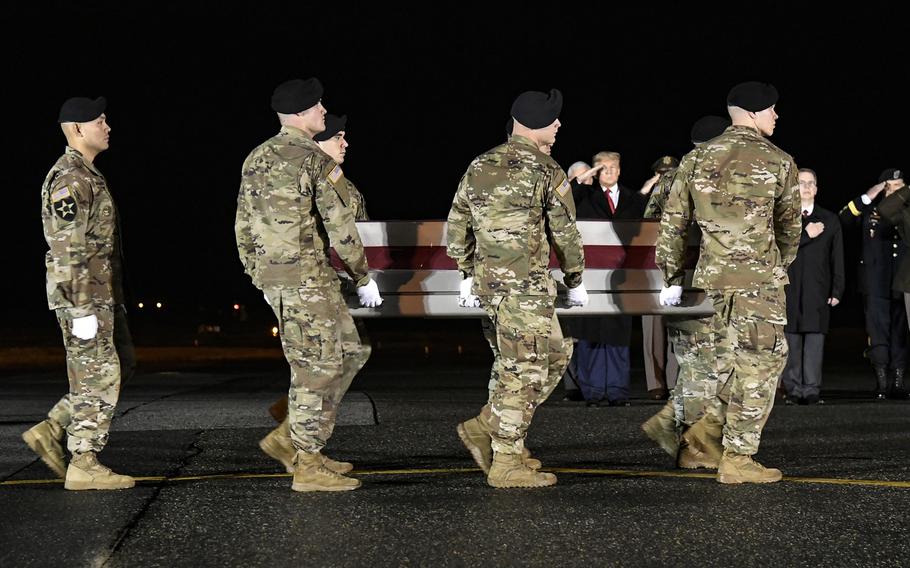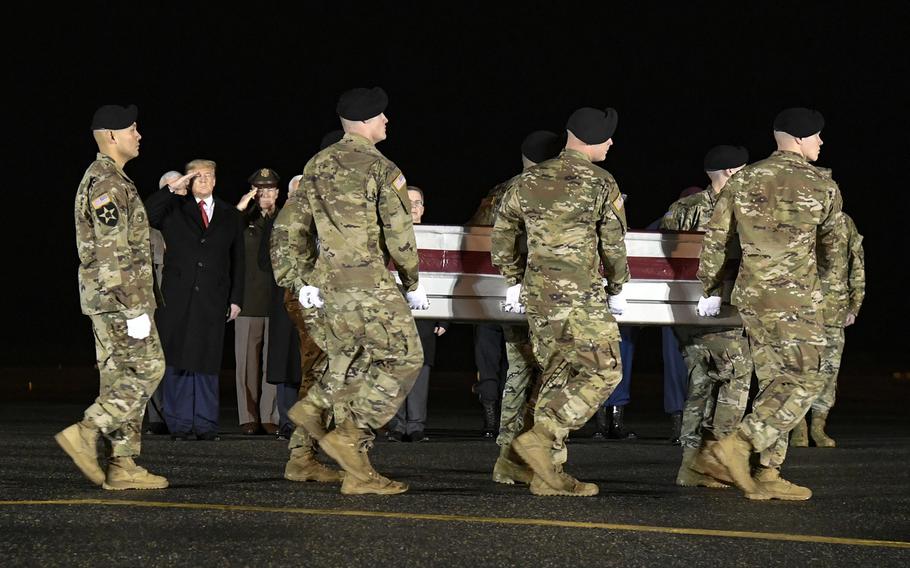 Two U.S. special operations soldiers killed in combat in Afghanistan last week were remembered by relatives and friends as patriots with a calling to serve their country.
Sgt. 1st Class Javier J. Gutierrez came from a family of service members and was "very, very patriotic," said his father, also named Javier.
Sgt. 1st Class Antonio R. Rodriguez "always put his men before himself," said Cody Hunn, who organized a fundraiser to support the slain soldier's family.
Both 28, the two men had served in elite units — Gutierrez in the Green Berets and Rodriguez in the 75th Ranger Regiment and then a special operations signals intelligence team supporting Special Forces.
They were assigned to 3rd Battalion, 7th Special Forces Group (Airborne) out of Eglin Air Force Base, Fla., when they were killed in an apparent insider attack in eastern Nangarhar province on Saturday.
The younger Gutierrez followed in the footsteps of his father, a Marine veteran of the Persian Gulf War, and his great grandfather, an Army Air Forces bombardier during World War II.
Gutierrez enlisted in the Army immediately after graduating from high school in San Antonio, Texas.
"He just had that calling in him," his father told the San Antonio Express-News. "I guess like that video game, Call of Duty, to serve the country."
A Special Forces communications sergeant, the younger Gutierrez deployed twice during his career, once to Iraq and once to Afghanistan.
"I think one of his main attributes was humbleness because he would just talk about it very low-profile, almost like it didn't mean anything," the elder Gutierrez told the local newspaper of his son's attitude toward being an elite soldier. "He just had a very calm side to him."
The Green Beret leaves behind a widow, Gabriela, and four children. A GoFundMe campaign set up to support his family described Gutierrez as "a stand-up brother, soldier, Green Beret, husband and dad." It took only one day for the GoFundMe campaign to collect more than its goal of $50,000.
A GoFundMe campaign to support Rodriguez's family also has surpassed its goal of $25,000.
The Las Cruces, N.M., native is survived by his widow, Ronaleen Rodriguez, his parents and his brother, Christopher, the fundraising page states.
"Rod took care of all of us, and now it's time to take care of those he loved in his absence," wrote Hunn, the organizer of the page. "Rod was a familiar face, both in and out of the U.S., whose personality radiated on those around him."
Like Gutierrez, Rodriguez enlisted in the Army after graduating from high school. After initial training and selection, he was assigned to 3rd Ranger Battalion, 75th Ranger Regiment. In 2018, he voluntarily reclassified as a cryptologic Spanish linguist.
He deployed to Afghanistan 10 times in support of Operation Freedom's Sentinel — eight times with the 75th Ranger Regiment and twice with 3rd Battalion, 7th Special Forces Group (Airborne).
"The world is diminished by this great loss," Michael Rodriguez, the President and CEO of the Global War on Terrorism Memorial Foundation — who is not related to the killed soldier — said of Rodriguez and Gutierrez's deaths. "I vow that I will never allow their names or the names of our fallen to be forgotten."
An Afghan soldier also was killed, and six other American service members and three Afghan soldiers were wounded when a man dressed in Afghan military attire opened fire on the U.S. and Afghan troops after a meeting with local leaders.
President Donald Trump and Vice President Mike Pence attended a dignified transfer ceremony of the two soldiers' remains at Dover Air Force Base, Del., on Monday.
wellman.phillip@stripes.com Twitter: @pwwellman