Now serving those who serve: Army food truck comes to Germany
by
Jennifer H. Svan
June 3, 2020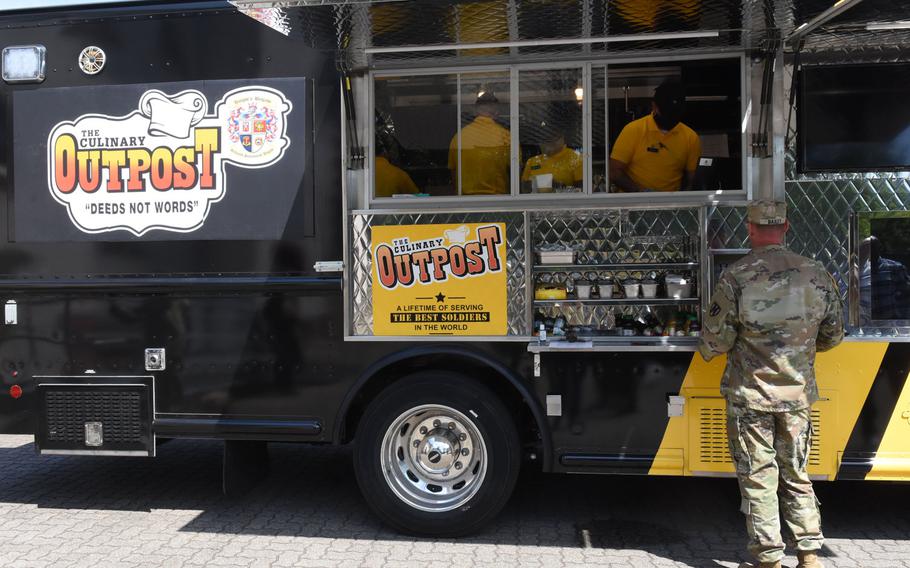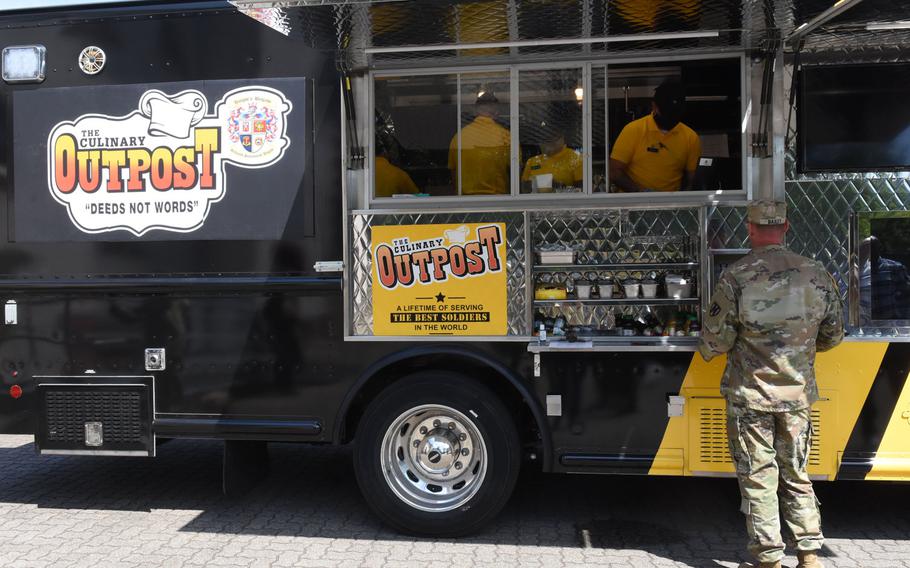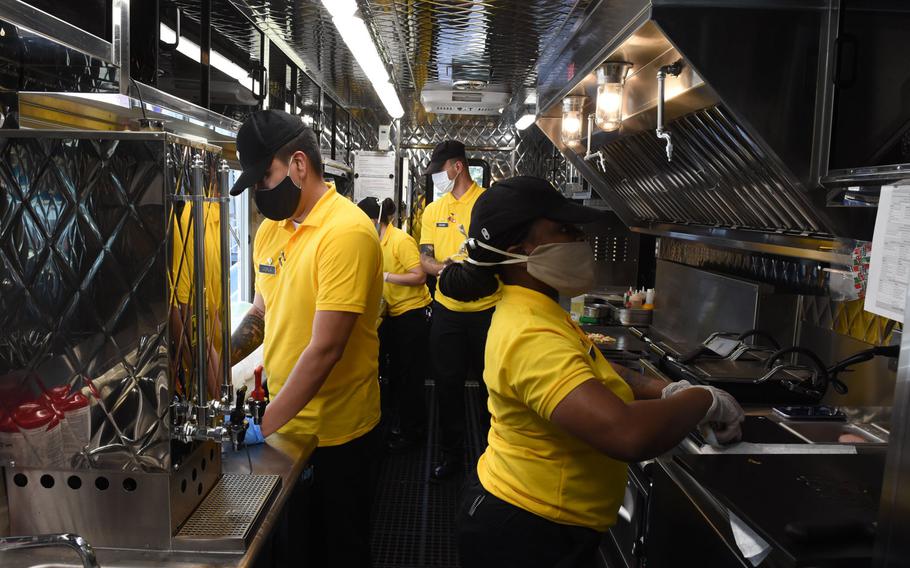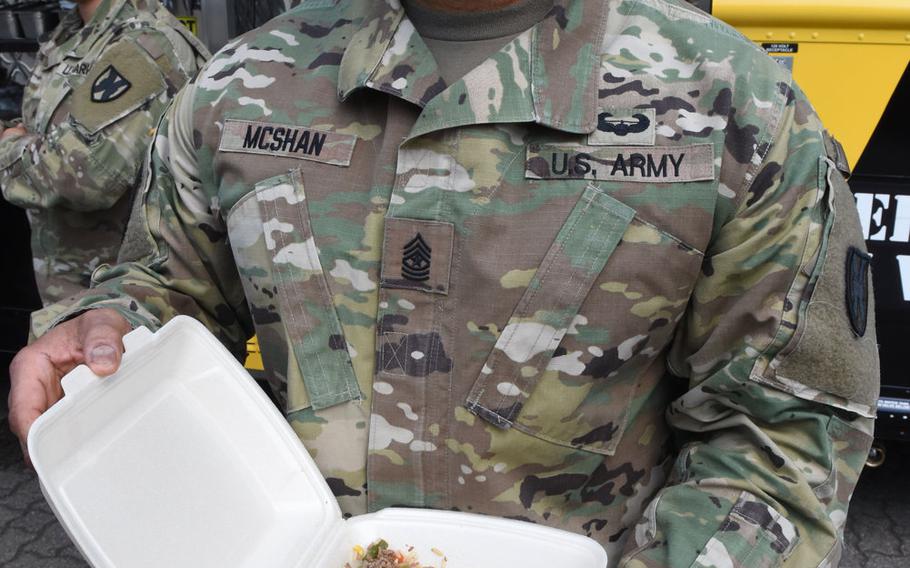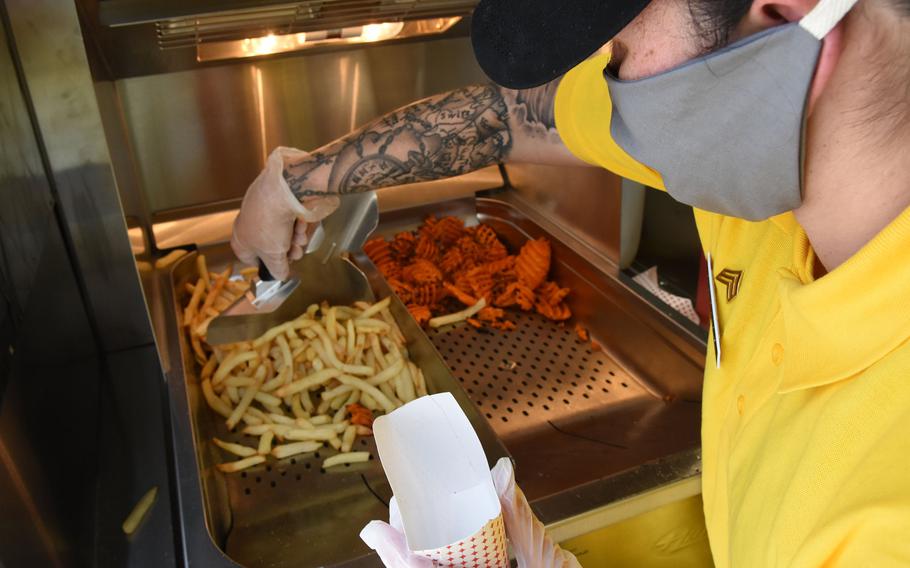 PANZER KASERNE, Germany — Shortly before 11:30 a.m. Wednesday, a custom-made kitchen on wheels decked out in Army colors pulled onto this small base on the east side of Kaiserslautern and began serving lunch.
Four Army culinary specialists manned the Culinary Outpost food truck, working with the same tools and ingredients as they use in Army dining facilities, but on a smaller scale. They also used some equipment unique to the truck, like an air fryer, which cooks sweet potato and french fries without hot oil.
The 21st Theater Sustainment Command food truck is the first to be shipped overseas to Europe and the seventh in the Army.
It began full operations this week, visiting Baumholder, Sembach and Panzer on different days, serving breakfast and lunch to up to 200 customers per mealtime. Landstuhl and Wiesbaden could be added to the truck's route in the future.
The mobile food service is intended for soldiers "that live in a food desert," said Chief Warrant Officer 3 Zachary Glathar. "If a soldier doesn't have a lot of time to run to the dining facility and get a break, the truck is available and close to him."
The Culinary Outpost is hard to miss, with its shiny black and gold exterior panels and magnetic Army signs that can be removed for security reasons when transporting the truck.
"It's like a DFAC on wheels, pretty much," said Sgt. Randy Schilinski, an Army personnel specialist on Panzer, referring to base dining facilities. "Considering I'm ordering the same thing I had the first time — a hamburger with Swiss cheese, bacon and onion — I like it."
Some of the truck's meals, such as the steak bowl with brown rice and mixed vegetables, are better than what the DFAC serves, said Pvt. Demari Lee.
But the biggest draw is convenience, said Lee, who doesn't have a car and hasn't had access to the shuttle that used to take soldiers from Panzer to the nearest DFAC at Kleber Kaserne, since it was canceled at the start of the coronavirus pandemic.
The Army began rolling out food trucks on bases in the U.S. about three years ago, officials said. Wanting to "have it sooner rather than later," the 21st TSC jumped ahead in the schedule and allocated funding for two trucks for Europe, Chief Warrant Officer 4 Felipe Cardozo said.
Each truck costs about $263,000 to build and ship to Europe, he said. The second truck is due to arrive in September and will serve posts in Bavaria.
The truck's schedule for the month is posted on the 21st TSC Facebook page.
It offers breakfast sandwiches, wraps and bowls in the morning, and stir-fry, burgers, paninis, wraps and sub sandwiches at lunch, along with a variety of sides, for the same prices as at the DFAC.
svan.jennifer@stripes.com Twitter: @stripesktown