More states sending National Guard troops to Wisconsin after week of upheaval
by
Steve Beynon
August 27, 2020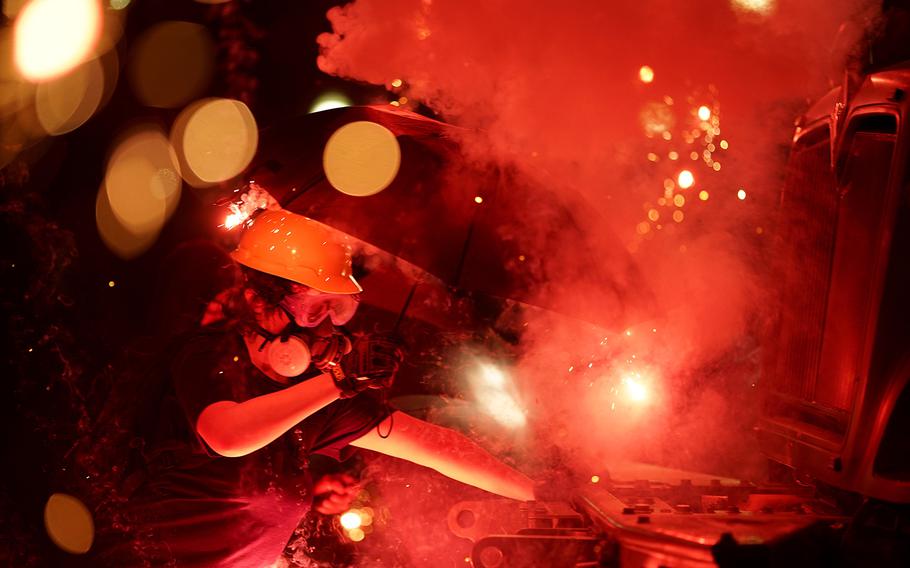 WASHINGTON — Wisconsin Gov. Tony Evers on Thursday requested additional soldiers from National Guard units in three other states to support police in Kenosha following a chaotic week in the city sparked by the police shooting of Jacob Blake.
Five National Guard military police companies — two from Michigan, two from Alabama and one from Arizona — will join the 500 Wisconsin troops already on the ground in Kenosha, according to Master Sgt. Michael Houk, a Guard spokesman. It was unclear Thursday exactly how many soldiers those states will send.
Blake, 29, a Black man, was shot in the back seven times Sunday as he walked away from police officers and is now paralyzed from the waist down, according to the family's attorney.
The shooting of Blake has led to a week of protests in Kenosha. Rioters in have set multiple fires and three people were shot — two fatally — in confrontations Tuesday night. Police took into custody a teen who is suspected to have been a gunman.
President Donald Trump tweeted Tuesday that the "Governor should call in the National Guard in Wisconsin. It is ready, willing, and more than able. End problem FAST!," despite the fact troops already have been deployed.
Soldiers in Kenosha are under state active-duty orders, not a federal status. The key to state deployment status is that the 1878 Posse Comitatus Act would not apply, according to the National Guard Bureau. The law prevents the federal government from using troops in a law enforcement capacity on American soil.
Without federal orders, pay for Guard members is limited and they are unable to accrue federal benefits such as the GI Bill and a full housing allowance. Troops also cannot seek disability compensation from the Department of Veterans Affairs if injured during their deployment and have to seek worker's compensation through their home state.
The state's military forces have had an especially busy year, said Capt. Joe Trovato, a Wisconsin Guard spokesman.
Wisconsin also has 1,000 troops deployed across the state providing coronavirus relief. Trovato said none of the troops used for the civil-disturbance mission was pulled from the virus mission. The state also has about 200 troops deployed in the Middle East, Afghanistan, and the Horn of Africa. Last week, nearly 200 soldiers with 1st Battalion, 128th Infantry Regiment returned from a yearlong deployment to Afghanistan and an additional 160 soldiers returned from a 10-month training mission in Ukraine.
Overall, the National Guard has had one of its busiest years ever, juggling overseas operations with multiple domestic crises including the coronavirus pandemic, multiple instances of civil unrest across the country, and natural disasters.
In early June, the Guard's coronavirus missions and its response to racial-justice demonstrations increased the number of troops deployed to a peak of 75,000 soldiers and airmen. It marked the largest domestic use of the Guard outside of a war scenario.
As of Monday, 20,600 National Guard troops are deployed for coronavirus-relief missions. In addition to coronavirus- and protest-related missions, there are 2,400 Guard troops along the U.S.-Mexico border and about 28,000 deployed overseas, according to the National Guard Bureau. More than 6,400 National Guard troops in Texas and Louisiana responded this week in the hours after Hurricane Laura made landfall along the Gulf of Mexico coast as a dangerous Category 4 storm.
beynon.steven@stripes.com Tiwtter: @StevenBeynon
---
---
---