Moose wanders onto Fort Carson, spotted near car wash before being relocated to wilderness
by
Rose L. Thayer
September 22, 2020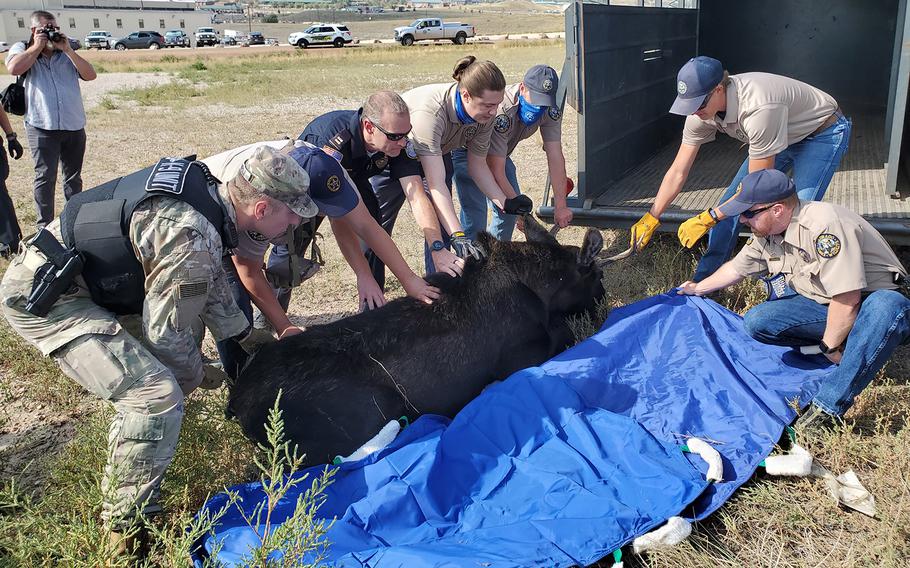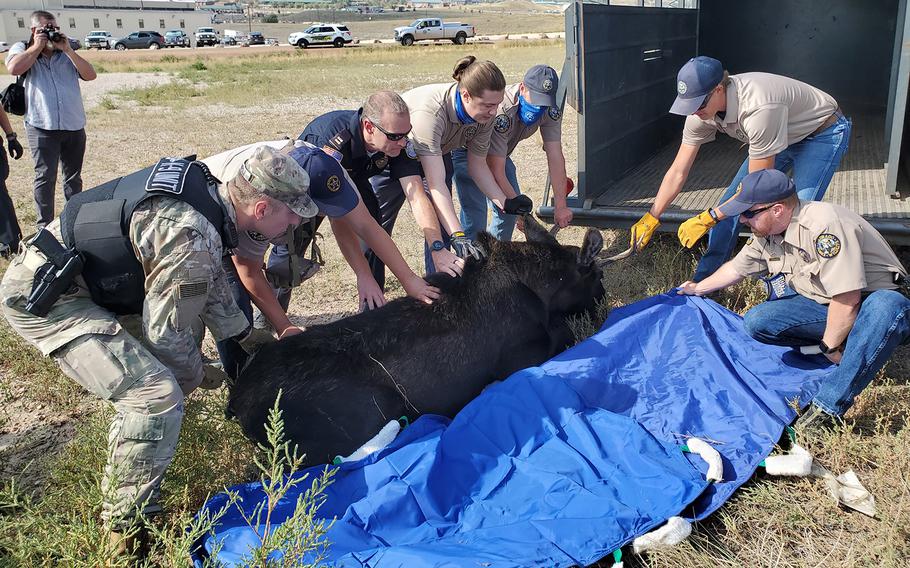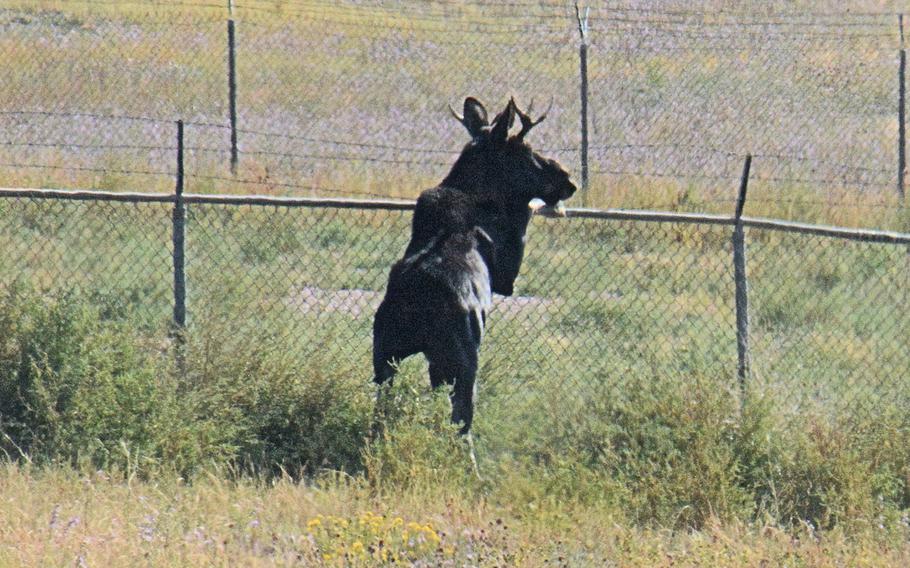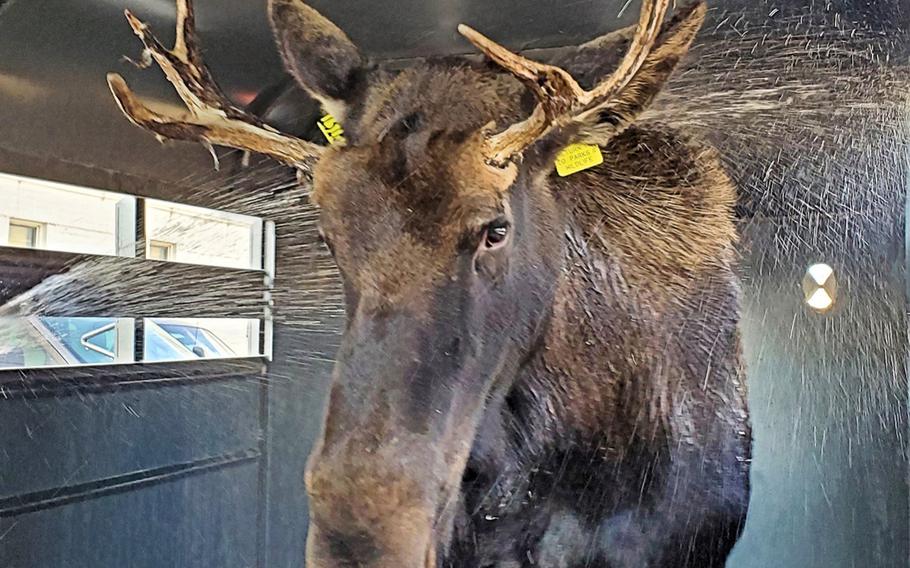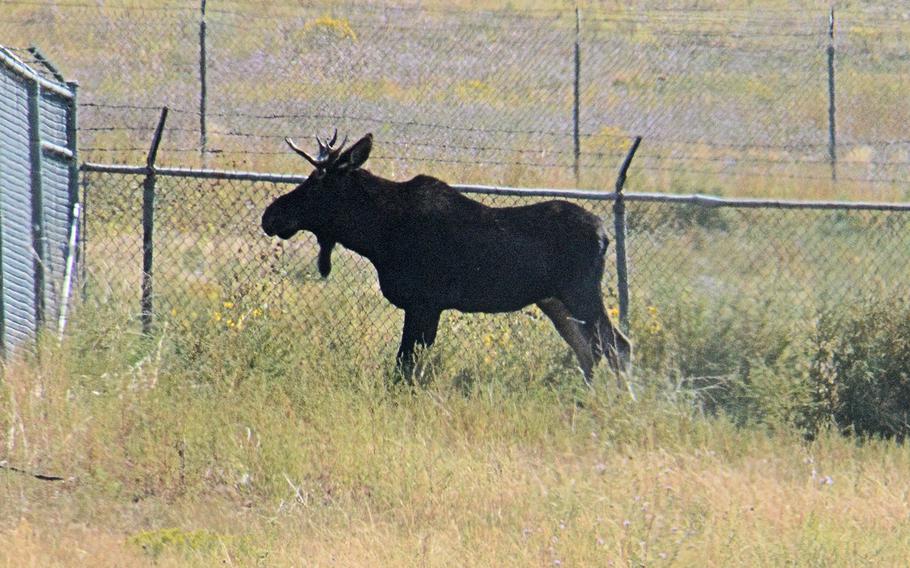 A bull moose wandered into a populated area of Fort Carson on Monday, passing a shoppette, a car wash and a Dunkin' Donuts before Colorado wildlife officials captured the 700-pound animal and moved it to its natural surroundings.
The moose was first sighted near the intersection of O'Connell Boulevard and Magrath Avenue on the base near the convenience store, the Mountain Post Car Wash and the Dunkin' Donuts, said Paul Everett, conservation officer with the Fort Carson Police Department.
"It's exciting for the public to think they can get a glimpse of moose. But we also urge extreme caution around moose," said Bill Vorgin, spokesman for the southeast region of Colorado Parks and Wildlife. "They are powerful, dangerous animals. You don't want them in a densely populated area."
A moose sighting can be rare, but this is the third or fourth sighting reported at Fort Carson this summer. However, it's the first to require removal, he said.
Colorado moved about a dozen moose from Utah in 1978 to reintroduce the species to the area, Vorgin said. Officials now estimate about 3,000 live in Colorado and primarily are located along the Front Range region, which stretches in Colorado from Pueblo to Fort Collins.
"If you see a moose, observe it from a great distance," he said. "A moose can hop into the bed of a truck. So you need to get inside a vehicle or a building. You do not want to get anywhere near a moose."
Fort Carson is located within the city of Colorado Springs, and moose, which tend to stay near water, often travel along Monument Creek and end up in populated areas. Everett said there is an "abundance of large and small wildlife on the installation," and many factors play a role in how they should be treated, including the time of year and the animal's condition.
"Some of these animals can be large, unpredictable and dangerous and could cause severe injuries or worse. The general information we share with soldiers, family members and visitors is first to stay away, second report it to authorities and give as much information as possible and third, as long as safely possible, keep eyes on the animal until conservation officers arrive," Everett said.
A Colorado Parks and Wildlife team were sent to Fort Carson to trap and remove the moose, which they tracked to an area behind the Logistics Readiness Center in the northwestern edge of the base. There, the animal was blocked from leaving the base by a chain link fence topped with barbed wire. It made several attempts to jump the fence, but ultimately chose not to and did not hurt itself, Vorgin said.
The team used a tranquilizer on the moose to load it into a trailer and bring it back to a mountain wetland. After it woke up, the moose received a bath to calm its nerves.
"Moose love the water. It was a hot day in the mid to upper 80s, so the bath was soothing. It calms them down, cools them off and prepares it for trip up to the mountains," Vorgin said.
He estimated the moose found Monday to be about 2 years old. A fully grown adult moose can reach up to 1,200 pounds and can be quite temperamental, he said. They are particularly triggered when they see dogs, because the pets can resemble wolves.
Thayer.rose@stripes.com Twitter: @Rose_Lori