Lt. Gen. Pat White takes reins of Operation Inherent Resolve
by
Chad Garland
September 14, 2019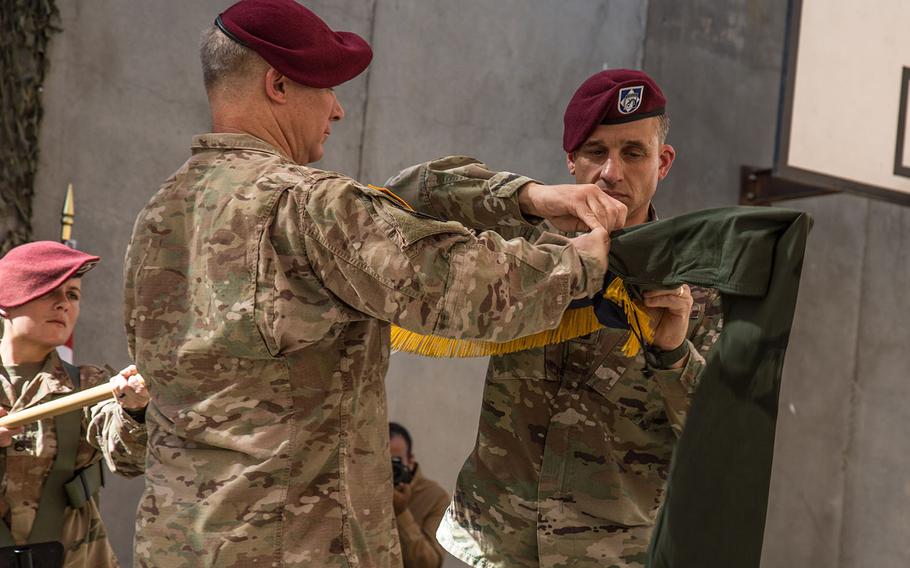 The latest leadership turnover within the U.S.-led coalition battling Islamic State militants in Iraq and Syria brings continuity, more than change, officials said, as a veteran of the campaign returns to command its next stages.
Lt. Gen. Pat White assumed command of Operation Inherent Resolve from Lt. Gen. Paul LaCamera in a ceremony in Baghdad on Saturday.
White commands the Army's Fort Hood, Texas-based III Armored Corps, and LaCamera leads the service's XVIII Airborne Corps based out of Fort Bragg, N.C., both of which have been trading off command of the coalition for the past several years.
Both headquarters have "created an unstoppable momentum" in the anti-ISIS fight, said Marine Gen. Kenneth E. McKenzie, head of U.S. Central Command, who presided over the ceremony.
"Despite the leadership changes, the campaign moves on without pause, and that is by design," McKenzie said, as quoted in an a statement.
LaCamera had assumed command of the coalition last September and led the alliance of 76 countries and five international organizations during a period that included the ouster of the terrorist group from its last stronghold in Syria this March.
"The milestone date of 23 March … marked the end of ISIS control of any physical territory, the culmination of a five-year fight, with ISIS reduced to an underground organization," McKenzie said, praising LaCamera and the XVIII Airborne Corps headquarters for "tremendous progress" in Iraq and northeastern Syria. Since then, ISIS's "aspirations for a global caliphate [were] laid to rest."
In the past five years, Operation Inherent Resolve and its Iraqi and Syrian partners have regained control of more than 40,000 square miles of territory. But the terrorist group has continued to fight as an insurgency and remains a threat to the region, officials and observers have said. The group has carried out assassinations, kidnappings and crop-burning in both countries since the collapse of its territorial regime.
During LaCamera's tenure, the coalition trained nearly 60,000 Iraqi and Kurdish security forces troops to secure the region, Inherent Resolve said in a statement.
LaCamera thanked servicemembers and coalition partners for their dedication to the mission.
White assumes command at a challenging time amid heightened tensions with Iran in and other regional tensions.
Earlier this week, a series of billboards bearing the slogan "Death to America - Death to Israel" reportedly had popped up in the Iraqi capital, where the coalition is headquartered, a message from Iran-backed proxy groups in the country who have carried out recent attacks targeting U.S. facilities there.
A series of mysterious airstrikes in recent months have targeted the bases and weapons of pro-Iranian militia groups in Iraq. Though the strikes have been blamed on Israel, Iraqi political figures aligned with the Shiite militias have said they hold the U.S. responsible and have echoed Tehran's calls for the Washington to pull its forces from the region.
Meanwhile, in northeastern Syria, the U.S. is working to improve relations with its neighboring ally Turkey, which has long protested American support for a Syrian Kurdish-led force that Ankara considers terrorists, but which the U.S. has trained and relied on in the anti-ISIS fight.
U.S. and Turkish forces recently began conducting joint ground patrols of a buffer zone to allay Turkey's fears and prevent its threatened invasion of the area to clear Kurdish fighters from its border.
White had previously commanded Inherent Resolve's land component from July 2017 to March 2018, from the final days of the nine-month battle for Mosul and through the period when Iraq declared ISIS defeated on its territory.
"It's amazing to come back and see the amount of progress that both the security forces and the country of Iraq and eastern Syria region have gone through," he said. "It takes leaders [across the coalition] to make it happen, but more so, it's our young men and women that are out on point right now."
garland.chad@stripes.com Twitter: @chadgarland