Klosinski takes command of key Rheinland-Pfalz garrison as Edwards heads to Pentagon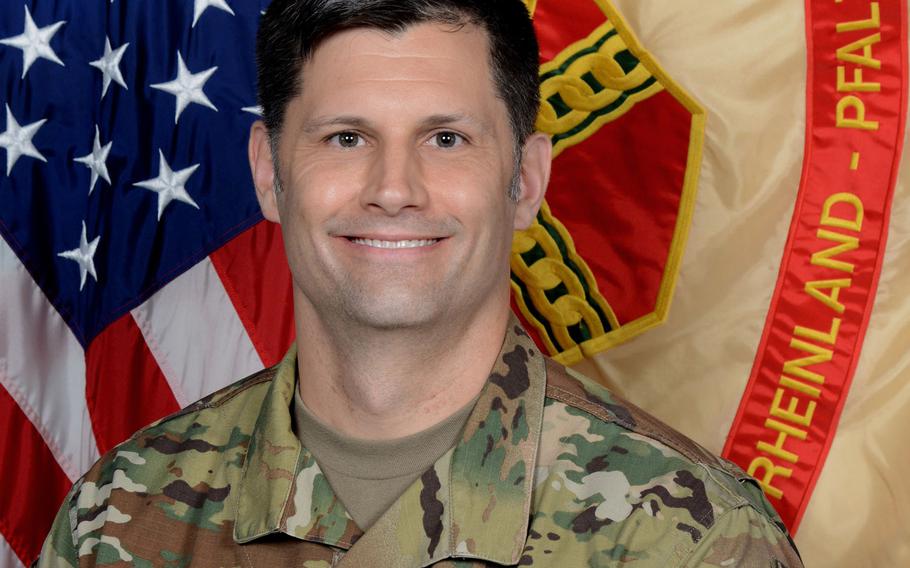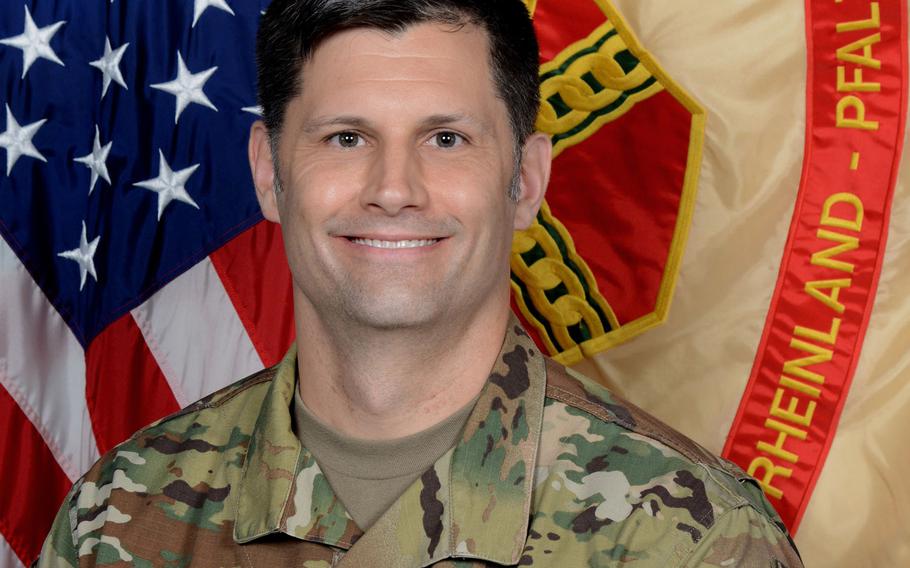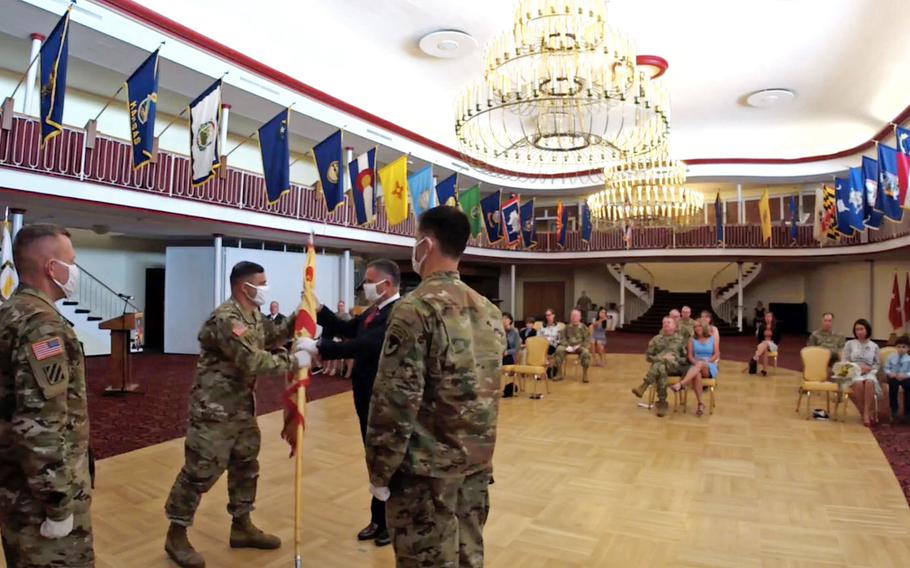 Stars and Stripes is making stories on the coronavirus pandemic available free of charge. See other free reports here. Sign up for our daily coronavirus newsletter here. Please support our journalism with a subscription.
KAISERSLAUTERN, Germany — Col. Vance J. Klosinski took command Wednesday of U.S. Army Garrison Rheinland-Pfalz from Col. Jason T. Edwards at a ceremony marked by coronavirus precautions, including social distancing, face masks and a predominantly virtual audience.
As friends and relatives — including Edwards' father, who served as a door gunner in Vietnam from 1967 to '68 — watched from the U.S. via Facebook Live, Klosinski received the garrison colors from Tommy Mize, director of Installation Management Command-Europe and host of the change of command ceremony.
"You're the right person to take the mantle of this great garrison and continue to lead it forward," Mize said to the new commander, who came to the garrison from the Special Operations Command Interagency Partnership Program, in the Washington, D.C. region.
A native of Wisconsin, Klosinski began his military career as an infantry platoon leader with the 10th Mountain Division. He later qualified as a Special Forces officer and has been assigned to the Pentagon, Army staff and special operations commands.
His deployments have taken him to Bosnia-Herzegovina, the Philippines, South Korea, Thailand, Iraq, Afghanistan and "numerous other countries across Asia," Mize said.
He succeeds Edwards, who in his two years in Kaiserslautern "masterfully commanded ... one of the most critically important garrisons in our entire Army," Mize said.
"With an enormous footprint covering dozens of Army installations across two states, co-located with Ramstein Air Base, and with responsibilities extended east out to the shores of the Black Sea, USAG Rheinland-Pfalz is a power projection platform and the logistics heartbeat of this entire theater," Mize said.
The outgoing commander was also praised for the role he played in stemming the spread of the coronavirus in the garrison community.
By shuttering nonessential businesses and ensuring that the military community complied with restrictions and hygiene rules imposed by German officials, Edwards helped to ensure that "COVID-19 has virtually been eliminated from this community" in the space of four months, Mize said.
"Community members are now conditioned to comply with the prevention measures and we've been able to reestablish most of the nonessential services we had to close," he added.
Edwards' next assignment is at the Pentagon, where he will serve as chief of the enlisted division and deputy chief of staff for Army personnel.