Fort Hood soldier found shot dead miles from his vehicle burning near Texas base
by
Rose L. Thayer
May 20, 2020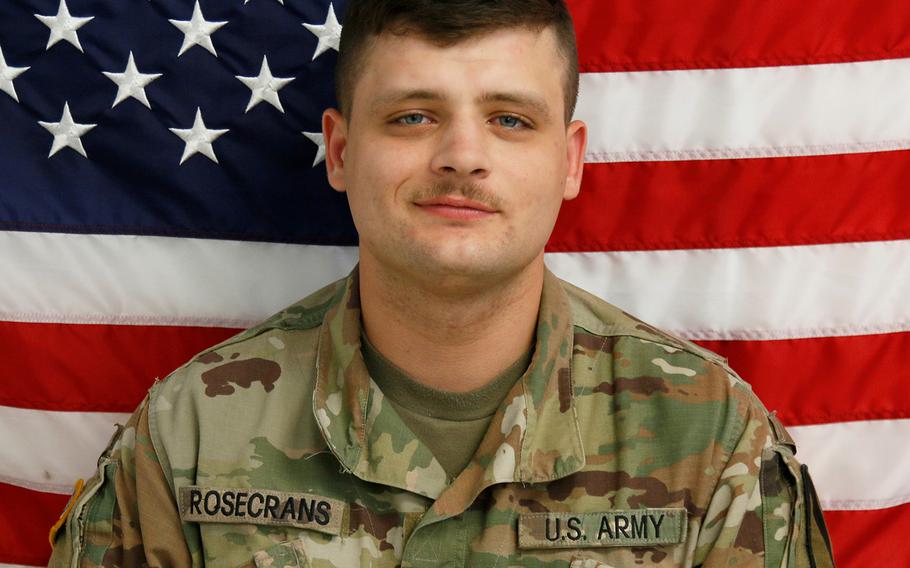 AUSTIN, Texas — A Fort Hood soldier was found shot dead Monday morning on a residential street in the small town of Harker Heights minutes before police received a call about his vehicle burning miles away just outside the central Texas Army base, according to local law enforcement and service officials.
Pfc. Brandon Scott Rosecrans, 27, was identified Tuesday as the victim by the Harker Heights Police Department, which is investigating his death as a murder, according to a news release from Police Chief Phillip Gadd.
Police received a call at about 10:17 a.m. Monday about a body lying on the side of the road in the 2100 block of Fuller Lane, said Lawrence Stewart, a police spokesman. The area is about 12 miles southeast of Fort Hood.
At 10:30 a.m. Monday, the Harker Heights Fire Department responded to a call about a burning vehicle in the 2500 block of Jubilation Drive, Stewart said. It is a residential street, but the area where the vehicle was located is wooded and about 4 miles from Fuller Lane.
Police said they were able to identify Rosecrans and determine he died from a gunshot wound. The burning vehicle, an orange 2016 Jeep Renegade, belonged to Rosecrans, according to the news release from police that indicated Rosecrans was found inside his vehicle.
No arrests have been made as of Thursday and police continue to investigate concurrently with an arson investigation by the town's fire marshal. Army Criminal Investigation Command also is investigating.
Rosecrans, who is from Kimberling City, Mo., entered the Army in May 2018 as a quartermaster and chemical equipment repairer and has been assigned to the 3rd Armored Brigade Combat Team, 1st Cavalry Division since November 2018, according to a news release from Fort Hood.
"Command Sgt. Maj. Ryan McLane and I would like to express our deepest regrets to the family and loved ones of Pfc. Brandon Rosecrans," said Col. Kevin Capra, the 3rd Brigade commander. Rosecrans' awards and decorations include the National Defense Service Medal and the Army Service Ribbon.
The Harker Heights Police Criminal Investigation Division is asking anyone with information about this murder to call them at 254-953-5400 or Crime Stoppers at 254-526-TIPS [8477]. Submit information online at www.bellcountycrimestoppers.com. All information is confidential and anonymous and tips leading to an arrest are eligible to receive a reward up to $1,000 in cash.
Fort Hood has more than 36,000 active-duty personnel and the base is home to III Corps, an armored headquarters, and its largest unit, the 1st Cavalry Division.
thayer.rose@stripes.com Twitter: @Rose_Lori