Former Army commander pleads guilty to charges of bigamy, adultery, fraud
By
montgomerym@estripes.osd.mil Nancy Montgomery
June 10, 2012
---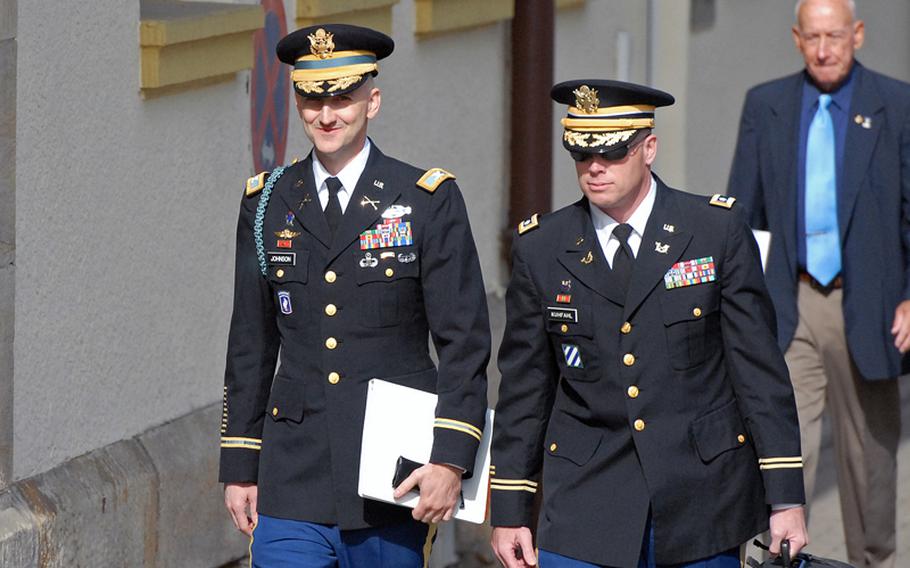 KAISERSLAUTERN, Germany — The former head of the 173rd Airborne Brigade Combat Team, Col. James H. Johnson III, pleaded guilty Sunday to charges of bigamy, adultery, fraud and conduct unbecoming an officer in connection with an illicit affair with an Iraqi woman he met on a 2005 deployment.
On the first day of his court-martial in Kaiserslautern on Sunday, Johnson pleaded guilty to 15 counts, or specifications, and not guilty to six others. Six more were dismissed.
Those he pleaded guilty to included: fraud; violation of lawful regulations by misusing government vehicles, cell phones and a travel card for personal purposes; making false official statements; conduct unbecoming an officer and a gentleman; adultery; wrongful cohabitation; and bigamy.
Johnson, who took command of the 173rd in 2008, was fired in March 2011 after an Army investigation found he had misused a variety of government resources, apparently to woo the Iraqi woman and provide aid to her family, who had moved from Iraq to the Netherlands by 2008.
Authorities alleged in the charge sheet that Johnson had repeatedly visited the family, taken trips and falsified receipts and vouchers for government reimbursement. He allegedly misappropriated tens of thousands of dollars on a "cultural adviser" contract for the woman's father.
The most serious charges Johnson pleaded guilty to — the ones with the harshest penalties — involved the cultural adviser contract. According to his pleas, he had the Army pay some $74,600 for contracts that he knew were false and fraudulent. Johnson said he put in for travel expenses, when there was no travel, and phone consultations that did not take place.
Johnson also admitted to various violations of Article 134, including adultery, wrongful cohabitation and bigamy.
"It did have a detrimental effect on the unit in that I was subsequently relieved of command," Johnson said. "My action committing adultery violates our Army values."
He also said he knew he was not legally divorced when he married the woman by proxy and that "I'm sure there are certain people who knew I was still married to my estranged wife and would question my morals and values."
Army officials began investigating Johnson when his wife and mother of the couple's two children sent them an email in January 2011, after she said she learned that her husband was living with the Iraqi woman. By then, the Johnsons had both filed for divorce.
The marriage occurred while Johnson was under criminal investigation, after the Army had removed him from command and moved him from Vicenza, Italy, to Heidelberg.
All told, the guilty pleas could bring a maximum punishment of 54 years and four months of confinement, according to court officials. A conviction also could result in dismissal from the service, total forfeiture of pay and allowances and a fine. But court-martial panels have broad discretion in sentencing and he also could be sentenced to no confiment.
Sitting in the gallery was Johnson's estranged wife, Kris, and the couple's two children. Johnson's mother and father, a retired lieutenant general, also attended. The two sets of relatives did not speak to each other in the courtroom.
Johnson also pleaded guilty to another charge — an order in October to have no contact with Haveen Al-Atar. Johnson told the court "she was living with me; she really had nowhere to go."
The judge questioned Johnson on whether he understood that the no-contact order had been lawful and detrimental to good order and discipline.
"Was this order arbitrary and capricious?" the judge asked.
"I believe it was unreasonable," Johnson said.
This line of questioning was repeated several times until, finally, the charge was dismissed.
The trial continues Monday.
---
---
---
---