Faster, meaner Apaches allow pilots to control drones during battle
by
Seth Robson
November 2, 2011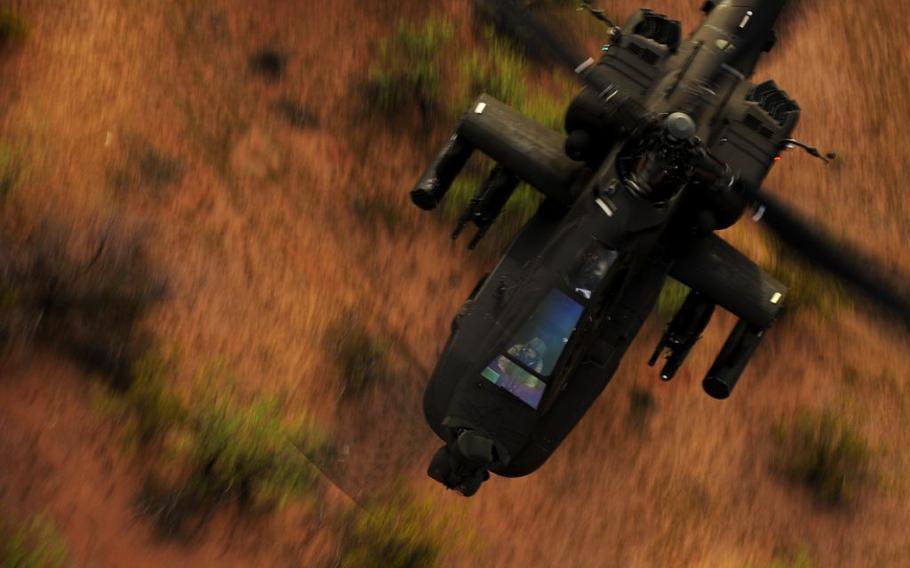 YOKOTA AIR BASE, Japan – Crews piloting the latest version of the Army's Apache attack helicopter will be able fly faster and higher, all while controlling unmanned aircraft during battles, according to Army officials.
The first of nearly 700 new or upgraded AH-64D Longbow Apache Block III helicopters that the Army is acquiring under a near $700 million deal with Boeing are set to roll off a production line on Wednesday, according to Sofia Bledsoe, a public affairs officer with Program Executive Office Aviation.
"Upgrades to the aircraft include a more powerful engine and drive train, composite rotor blades that provide more lift… (and) Unmanned Aircraft System (UAS) control, which means the pilot can now control the flight path, weapons systems and sensors on a [drone]," Bledsoe said in an email.
The Apache will be the first aircraft where the pilots will be able to control drones, according tp Lt. Col. Dan Bailey, an Apache pilot who is the Army's project manager for the new attack helicopter.
"It's going to make a significant difference on the battlefield," Bailey said.
Crews flying the older Apaches often communicate with drone operators by radio during missions, said Bailey, who flew Apache missions in Iraq from 2006 to 2007.
"A [drone] operator would talk us through what he was seeing, such as a building where insurgents were shooting from," he said, "but a picture is worth 1,000 words."
Crews in the new Apaches will be able to see the same video that a drone operator sees on their screens. They will even be able to take control of a drone to fly it to way points and zoom its cameras and sensors in on targets, he said.
"We can use the [drone] as a remote sensor to identify hostiles," he said. "That [drone] is now part of our Apache but it is forward where we might not want to be. I think it is going to be a huge game changer for the Army."
The new Apache will be able to operate at 6,000 feet carrying a full mission payload with a combat speed of 164 knots – 20 knots faster than the Army's current fleet of attack helicopters, Bledsoe said.
According to Bailey, the "Block III" — which will include some completely new helicopters and hundreds more that incorporate components from the current Apache fleet— is the third evolution for the aircraft, which was first fielded in the mid-1980s.
The new drive system, returns the aircraft's performance to what it was in its early days, before the Army loaded it with 3,000 to 4,000 extra pounds of high-tech equipment, he said.
"There are places in Afghanistan that the (current) aircraft can't fly," Bailey said. "With the upgrades we will be able to go to those places where the enemy tends to hide from us."
Many of the upgrades on the Apache involve the latest computer systems. Bailey said, adding the processing power of the systems on the Army's older attack helicopters is at capacity.
"It (the new Apache) has an open architecture that allows us to put new sub components onto the airframe and adapt it to whatever enemy we are fighting," he said.
The aircraft has been designed to allow the Army to add new components as technology evolves meaning it will likely be in service as late as 2040, he said.
---
---
---