Congressman continues push for records of Ranger School classes with women
---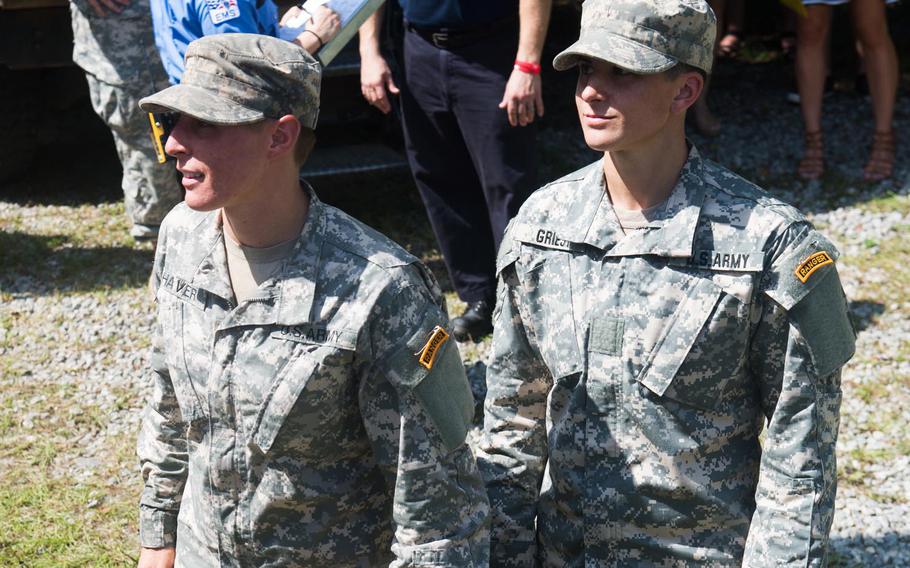 (Tribune News Service) — An Oklahoma congressman has sent a second letter to the Secretary of the Army demanding access to Ranger School records for the classes that have involved female soldiers.
Republican Rep. Steve Russell, an infantry battalion commander who is Ranger qualified, has continued his quest as a third woman prepares to graduate from the Army's most demanding combat leadership school Friday at Fort Benning, Ga.
In a second letter to Secretary John McHugh dated Oct. 7, Russell said he is concerned that some of the documentation he has requested has been destroyed.
"I was somewhat puzzled by the Army officials informing me that many of the documents I am requesting might not be delivered as they may have been shredded," Russell said in the letter his office provided to the Ledger-Enquirer upon request.
"I stated in our meeting that I believed if this is the case, then it would certainly complicate the ability to ascertain the information necessary and determine whether the military members' allegations were substantiated, or if we can lay this to rest."
Among the documents he requested were patrol grade sheets, spot reports, phase evaluation reports and sick call reports, all "with Ranger Instructors' comments for each and every phase to include every recycled phase and class."
Russell also requested peer evaluations and "a complete breakdown of each female candidate's recycle history and dates for each phase."
Russell's initial request to McHugh came on Sept. 15, less than a month after Capt. Kristen Griest and 1st Lt. Shaye Haver made military history by becoming the first women to graduate from the school, which was established in 1951 and was a critical step for many who have risen to key Army leadership positions. A third woman, Maj. Lisa Jaster, will earn her Ranger tab on Friday at Fort Benning's Victory Pond.
Army officials have not commented on Russell's claim that some documents may no longer exist. Retired Command Sgt. Maj. Dennis Smith, the top non-commissioned officer at the Airborne and Ranger Training Brigade from 2009 until May 2012 when he retired, said it was standard practice to destroy documents after a class graduated.
"After a class leaves, we never hang onto the patrol records or peer reviews," Smith said. "The only thing we keep is the green card, which is the official record."
Smith compared the green card to a college transcript that would include how the graduate performed in peer evaluations, how many patrols were graded and if they passed or failed the patrol. Students get at least two chances to pass patrols during phases at Fort Benning, the north Georgia mountains and the Florida swamps.
The green cards on every student to pass Ranger School are stored in a vault at Fort Benning.
"You would not have enough room to keep all of the reports and papers," Smith said. "Those records are destroyed once the class graduates."
Smith, who was involved in more than 25 Ranger School classes in which his duties included helping the commander make decisions on which students were offered chances to repeat phases or were dropped from the school, said it would have raised questions for him if the records had been maintained.
"In my mind, it would have been shady if they would have kept the paperwork because they have not kept it for every other class," he said.
Russell did not say why he was pursuing the information in his initial letter to McHugh. The congressman's communication director, Daniel Susskind, last month when the first letter leaked to the media, said this: "Our office recently received information from some people with the Ranger School who alleged they were not held to the same standards. We asked for the records to make sure that all of the people who passed the course deserved to pass it."
Russell's only public comment came in a Sept. 23 Facebook post in which he said he was making the request, in part, because "no one wanted to touch this issue."
"The records request on the recent Ranger classes that included females is to investigate serious allegations that are being made by members of the military," Russell wrote.
Russell's office has declined to say who is making those allegations. A former Ranger instructor, Michael "Bubba" Moore, said in a recent Ledger-Enquirer interview he provided information and potential sources to Russell's office after they contacted him.
The Army responded to Russell's initial request in a letter from McHugh on Sept. 24 that requested additional time to provide the congressman with the information he requested. On Sept. 25, top-level Army officials, including Maj. Gen. Scott Miller, commander of the Maneuver Center of Excellence at Fort Benning, met with Russell in Washington, D.C.
"I have asked the Chief, Legislative Liaison to compile as many of the documents as we can legally provide," McHugh wrote. "As you know, we must balance the privacy requirements of our Soldiers with our desire to be as responsive as possible to your request."
Russell has declined multiple interview request from the Ledger-Enquirer. The congressman is currently out of the country and will not have a comment until next week, Susskind said Wednesday.
The initial story about the congressman's letter was first reported on People magazine's website. The story about Russell's most recent letter was also first reported by People on Tuesday.
©2015 the Columbus (Ga.) Ledger-Enquirer. Distributed by Tribune Content Agency, LLC.
---
---
---
---