Competition tests Army's missile warning crews
by
Wyatt Olson
December 12, 2011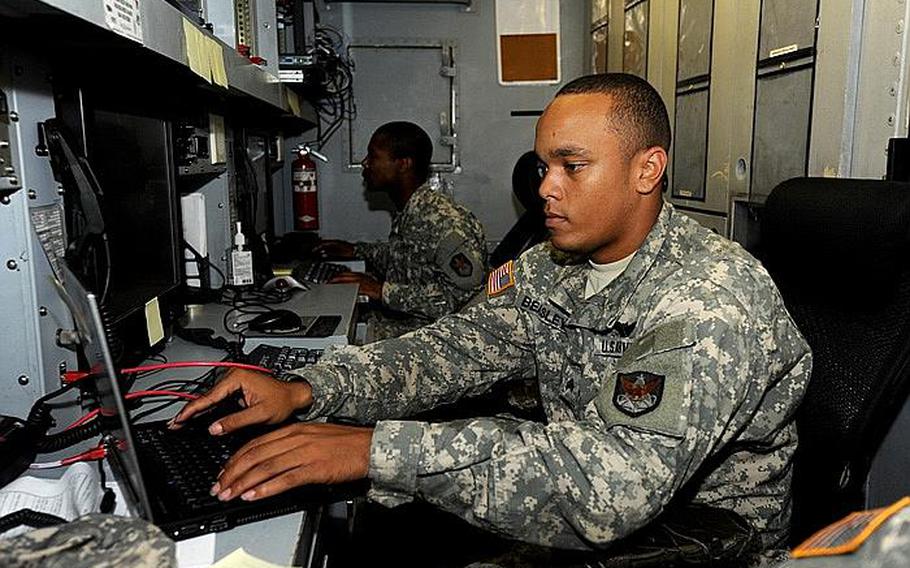 YOKOTA AIR BASE, Japan — Imagine your job is spending 12-hour shifts dealing with a hysterical Chicken Little.
That, in essence, is what the dozen-or-so soldiers face each day while ensconced in the missile warning shelter at the Army's Joint Tactical Ground Station at Misawa Air Base.
Around the clock, three-person crews gaze at computer screens crowded with thousands of "heat signature" dots that might or might not represent missile launches.
On any given day, the computerized warning system – dubbed "Brenda" by the soldiers who live with her panicky ways – announces a missile alert based on those dots 100 to 150 times, according to Maj. Christopher Turner, the commander of the JTAGS visiting from Colorado Springs headquarters.
"Of those, maybe one or two are actually missile launches," said Turner, whose command oversees the Misawa station as well as units in South Korea, Germany and Qatar.
The Asian JTAGS are part of ballistic missile defense shield being developed by Japan and the United States with an eye toward North Korea. JTAGS are an early warning system for troops on the ground, but information about a missile launch is also immediately processed at the Space and Missile Defense Command in Colorado Springs. The command tries to "determine who fired it and what kind of missile it was, based on not just our data but also intelligence on the ground and satellite intelligence," Turner said.
Turner was recently in Misawa to test his crew's ability to winnow out Brenda's false alerts as part of the annual Best Missile Warning Crew competition, which wrapped up last week. The competition presents crews with complex, simulated missile alerts based on actual past events, with false data thrown in to keep things interesting.
Operators look at heat intensity, acceleration, trajectory and point of origin in determining whether it's a threat.
"The system will constantly tell you things are happening when they're actually not because it has to be an overly aggressive system to be effective," said Spc. Bryan King, 24, who has played a role in the Misawa station winning the competition the past two years.
This year, the title of best crew went to a team at Osan Air Base, South Korea. Delta Crew from Charlie Detachment beat out 15 similar sized teams located in South Korea, Germany, Qatar and Japan, the Army announced Friday.
The thousands of heat signatures are created by everything from ships at sea to oil refineries, as well as electron particles in space that cause false positives in satellites.
When the system declares a missile alert, an evaluator reviews the data on the missile track, and the crew chief makes the final decision whether it's valid. Most times, it isn't, and the few that are verifiable missiles are likely non-threatening, such as a satellite launches.
If it were an actual attack, the station would send out a warning that gives troops located at the projected target two to five minutes to find shelter.
"It takes a lot of attention to detail to pick out the trademarks of a missile," Turner said.
Stars and Stripes reporter John Vandiver contributed to this story.