Army's new night vision goggles let soldiers shoot around corners
by
Rose L. Thayer
September 26, 2019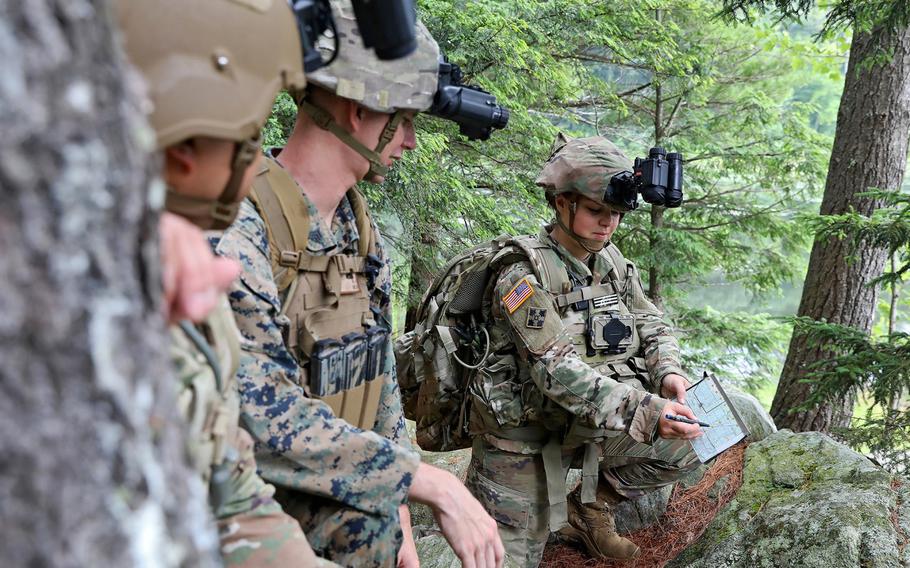 Soldiers at Fort Riley, Kan., were the first to begin training on the Army's newest night vision technology — a goggle-binocular that offers improved visibility in smoke and dust, operates without ambient light and even allows soldiers to shoot around corners.
More than 640 of the new enhanced night vision goggle-binoculars and its partner weapon sights known as the Family of Weapon Sight-Individual were in the hands of cavalry scouts and infantrymen in 2nd Armored Brigade Combat Team, 1st Infantry Division, who spent this week in an introductory course and weapons qualification with the new device.
Sgt. Maj. of the Army Michael Grinston visited Fort Riley to discuss the fielding of the new goggle, saying Wednesday that they are providing soldiers with a tool that they need to improve the combat effectiveness of a nine-soldier squad.
"It increases their survivability, their lethality and I'm proud to be a part of it," Grinston said.
The goggles are the first to offer soldiers capabilities during the day and night, and they have two viewing tubes that attach to a soldier's helmet and flip down for viewing. Weighing about 2.5 pounds, the goggles offer a fused display comprised of an image intensifier and thermal imagery in a binocular design. This offers better depth perception than a monocular design and a clearer image than older night vision devices, according to a news release about the goggles. It has about a six-hour battery life from a battery pack that attaches to the back of the helmet.
In a presentation about these capabilities, members of Program Executive Office Soldier team, the Army entity known as PEO Soldier that prototypes, procures and fields new equipment, explained improved goggles mean soldiers will be able to see better in smoke and dust, see about 1,500 meters, which is farther than they can shoot with precision, and have information on the location of allies displayed through the goggles from their mapping system so they do not have to look down.
The goggles augment reality so allies on the map appear on the display as the soldiers look at their surroundings. Because the new night vision works without ambient light, all this can occur in tunnels, buildings without windows or on a cloudy, starless night.
A remote attached to a soldier's weapon allows him or her to toggle between viewing modes and displays — again keeping the soldier's eyes on the battlefield. One setting allows the soldier to view what is visible through the sight on their weapon, so the soldier could stand protected behind a wall, point their weapon out and see around the corner. The new weapon optic weighs about 1.2 pounds.
Sgt. 1st Class Brion Baker, technical adviser for the Soldier Lethality Cross Functional Team, said he sees the digital magnetic compass as something that he would have found extremely helpful on any of his previous four deployments. He has been on four deployments, split evenly between Iraq and Afghanistan.
"Paired with the [mapping system] and augmented reality, you're no longer stopping to do map checks," he said. "I could just put on my goggle and select my way point. It's going to cut stops and cut down on the time it takes to get to an objective."
The details and capabilities of the goggles were tested through "touch points" with soldiers. These were opportunities for soldiers to test and try the equipment to offer feedback, which was turned around on the next version of the goggles, sometimes within a week. This fast-paced feedback loop ultimately sped up the 18-month process of fielding the device, which was a collaboration between PEO Soldier and Army Futures Command, as well as the Marine Corps.
Brig. Gen. David Hodne, director of the Futures Command's Soldier Lethality Cross Functional Team, said the touch points also helped clear the generational differences between young soldiers and senior leaders.
"We've now put out a heads-up display that is providing a lot more real-time information," he said. "Generationally, my views on some of the data is different than young kids."
When testing the goggles with Marines, Hodne said he asked one young Marine whether there was too much data on the screen.
"That young Marine actually asked for more information in his goggles," he said. "We might not have gotten it just right for soldiers without that."
Along with the goggles, 150 updated helmets were delivered to 2nd Brigade. These new helmets are 5% lighter than the helmets soldiers wear now and offer better protection for ballistic and blunt impacts, said Lt. Col. Ginger Whitehead, a product manager with PEO Soldier.
"My charter is to continue driving the weight of personal protective equipment down," Whitehead said. "How do I make soldiers more survivable but also lighter?"
Instead of drilling holes to attach chin straps, the outer materiel of the helmet was built up to create a place to attach items. Any holes drilled into the helmet increase vulnerability, she said.
Already working on the helmet, her team collaborated with the goggles team since the two items needed to work together for soldiers. The helmet's creation took about 18 months — a process that was sped up to meet the timeline of the goggles, Whitehead said.
Reducing weight for the soldier was a driving factor in much of the design of all the equipment fielded this week. Batteries add significant weight so anytime battery life could increase, it allows the soldier to carry fewer batteries.
"On past deployments, if I wanted some kind of thermal observation, I had to have a different bag with about 20 batteries or so to make it last for a 24-hour operation," Baker said. "Now, the entire system that was in a bag is on my body."
With the new equipment fielded, soldiers of 2nd Brigade spent Monday and Tuesday in the classroom learning about how to use and maintain everything. Wednesday and Thursday were designated for qualifying their weapons with the new goggles and its optic, said Maj. Bryce J. Gatrell, a brigade spokesman.
Futures Command influence doesn't end here and neither does the feedback soldiers are likely to have once they begin training on the new equipment.
"It'll be a continuous feedback loop," said Brig. Gen. Tony Potts, program executive officer for PEO Soldier. "Soldiers will use equipment in ways that we didn't even imagine it would be used when it was designed and built.
"We want them to use this in every way that makes them better, more lethal and gives them an advantage over their adversary," Potts added. Lessons learned from this equipment will be taken back to the cross functional teams and considered for future designs.
thayer.rose@Stripes.com Twitter: @Rose_Lori