Army helo pilot hits flying milestone
---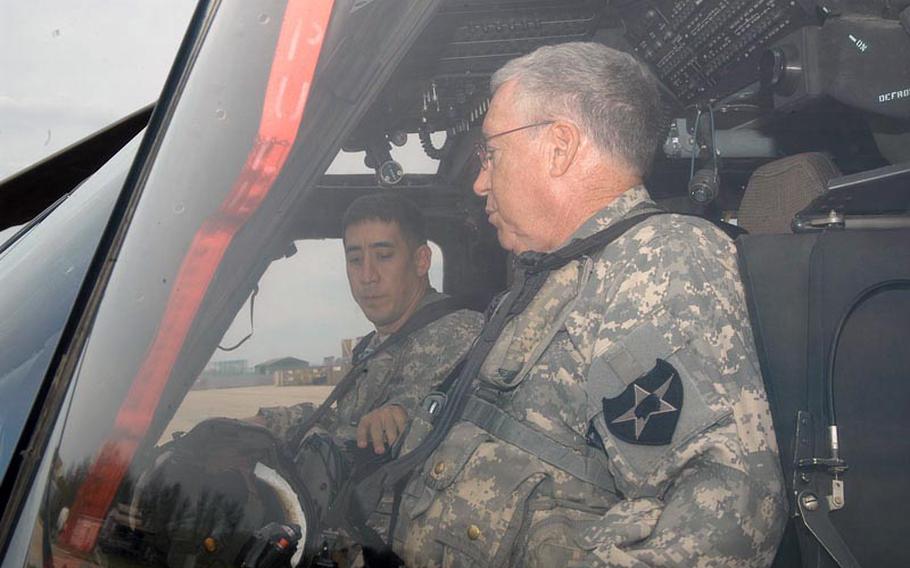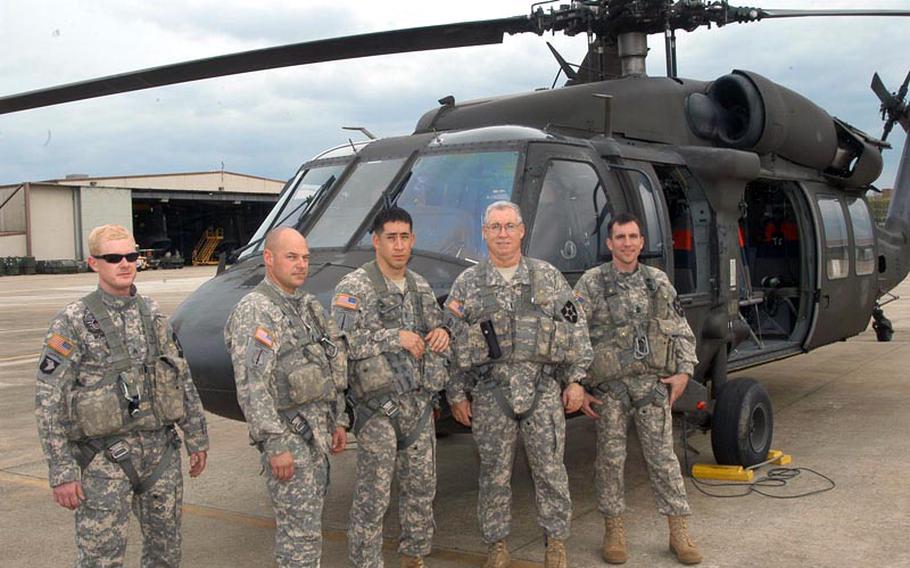 CAMP HUMPHREYS, South Korea — As a helicopter pilot with more than three decades of experience, U.S. Army Chief Warrant Officer 4 Dave Lilly has been in some dangerous situations, perhaps none worse than a 1989 mission in Panama.
The Black Hawk he was flying "took some combat damage," he said, forcing him to fly about an hour back to base without "some of the rotor system."
"A small thing — the rotor blades," he said with a laugh.
Despite the close calls over the years, the 57-year-old said he never considered hanging up his helmet, which led this week to him passing a significant milestone in the world of rotary wing pilots — 10,000 hours of flight time, the equivalent of almost 14 months off the ground.
"Any pilot that's had any kind of flight time has had those (dangerous situations) … some mechanical issue, something combat-related," Lilly said. "That never crossed my mind — to quit — at any time."
Asked why he has spent so much of his 25-year military career in the air, he said, "You've heard that old story, you've got to do something that you love and that's it. I love flying.
"When you get up there in the air, no matter how bad a day you were having down here, you get up there … and the world looks different," he said. "Obviously, there's some high-stress flying. But, (most of the time) it's just very relaxing."
Lilly — who calls Brentwood, Tenn., home — joined the Army in 1972 as an air traffic controller and eventually ended up going to flight school, graduating in 1980.
After 24 years in the Army, Lilly retired, but continued to fly for the military for another 13 years as a civilian contractor.
Last summer, he re-joined the Army and became a battalion standardization instructor pilot with the 2nd Infantry Division's 3rd General Support Battalion, 2nd Aviation Regiment, 2nd Combat Aviation Brigade based in South Korea, where one of his responsibilities is flying VIPs around.
As he prepared Tuesday for a roundtrip flight between Camp Humphreys and Yongsan Garrison to transport a couple of generals, during which he would pass the 10,000-hour mark, Lilly tried to put the milestone into perspective.
"If you took me out of this picture, and it was me here looking at somebody else (doing this), it's huge," he said. "It's a pretty phenomenal number for a rotary wing pilot. It's a pretty staggering number.
"Post-Vietnam-era flight times have not been good for pilots on active duty," he said. "With a lot of the cutbacks …from Vietnam through Desert Storm, there really wasn't a need for a lot of flight time. We can keep all the pilots adequately trained with less hours so we're saving dollars not spending them on … all the high dollars that an aircraft requires."
Brig. Gen. Timothy Edens, the assistant division commander for support and the senior ranking aviator in the 2nd ID, said less than 5 percent of Army aviators reach the 10,000-hour mark.
Lilly's milestone flight was made even more unusual by the fact that his co-pilot was his 34-year-old son Mike Lilly, a chief warrant officer 2 and fellow Korea-based Army pilot in the 2nd Combat Aviation Brigade.
While father and son had flown together before, the elder Lilly said, "This is a phenomenal big deal for me on a personal level."
Usually, he said, "It comes down to why would we want to put both of us in the same cockpit at the same time. There's a little risk there. But, with this one, I want him with me."
After his father passed the 10,000-hour mark en route to Seoul, Mike Lilly said serving as his co-pilot for the flight was "a big deal to me," adding that in his more than a decade as a pilot he has only met two others who have spent that much time in the air.
Mike Lilly said he did not set out to follow in his father's flight suit, but becoming a pilot just ended up being the best career move for him and his family.
Dave Lilly is not so sure his son's career choice was happenstance.
"Obviously he's been living the military lifestyle, and he has always gone to work with me," the elder Lilly said. "He's been exposed to this his whole life, and he just wanted it I guess."
Among the relatives living in South Korea with the pilots are Mike Lilly's 12- and 7-year-old sons, both of whom have vowed to grow up to be military pilots.
"Yep, the bug's bit (them), too," Dave Lilly said.
---
---
---
---