Army deploys more medical troops after Hurricane Hanna to aid coronavirus fight in Texas
by
Corey Dickstein
July 29, 2020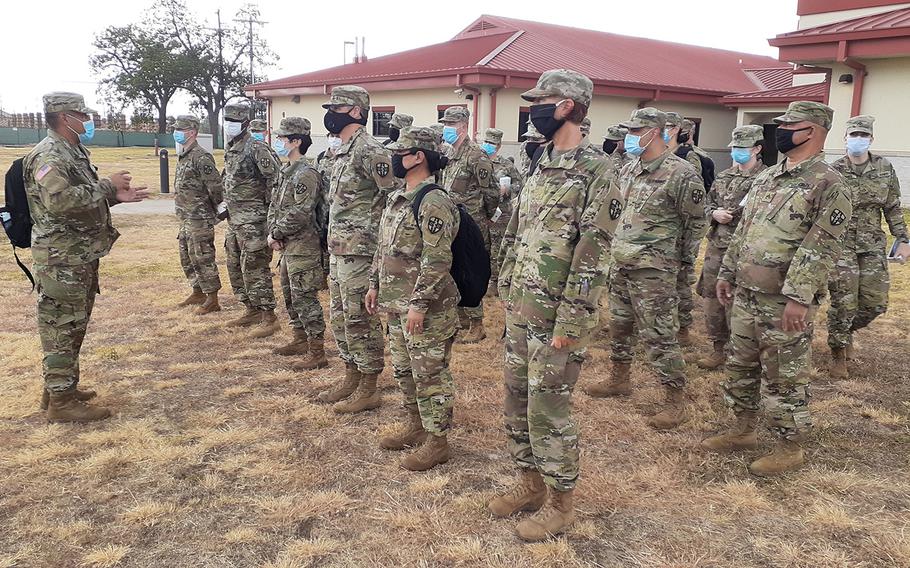 Stars and Stripes is making stories on the coronavirus pandemic available free of charge. See other free reports here. Sign up for our daily coronavirus newsletter here. Please support our journalism with a subscription.
WASHINGTON — The Pentagon on Wednesday said it sent more than 250 Army medical troops to five Texas hospitals to bolster their coronavirus response capabilities as the state struggles with the highest rates of infections in the nation and the aftermath of Hurricane Hanna.
U.S. Army North sent three Urban Augmentation Medical Task Forces, or UAMTFs, of Army reservists to southern Texas hospitals in the Rio Grande Valley and the Coastal Bend region in the state's eastern region, officials said in a statement. Urban Augmentation Task Forces are 85-soldier units made up of Army doctors, nurses and medical support personnel built to work side-by-side with civilian medical professionals in hospitals overwhelmed by the ongoing pandemic.
The troops were deployed at the request of the Federal Emergency Management Agency, said Lt. Gen. Laura J. Richardson, U.S. Army North commander. They arrived in coastal, southern Texas after Hurricane Hanna, the first Atlantic Ocean hurricane of the 2020 season, made landfall there on Saturday as Category 1 storm, causing flood and wind damage across the region.
"We are committed to assisting those in need as part of the whole-of-nation response to the [coronavirus] pandemic and in support of FEMA," Richardson said in a statement.
The new deployment marks a second influx of medical troops into Texas hospitals in recent weeks. There are about 580 active-duty and reserve troops now deployed into hospitals in that state. The Defense Department sent three active-duty UAMTFs and five Navy medical units to Texas hospitals throughout San Antonio and Houston in mid-July. The Pentagon has also sent military medical professionals to California in recent weeks.
Those troops, like military medical teams that deployed to coronavirus hot spots in New York, New Jersey and Louisiana in the spring, have been working in hospital intensive care units, emergency rooms and clinics alongside civilian medical officials to treat coronavirus patients, officials said.
Army North said the first UAMTF left San Antonio on Monday for its new deployment, splitting into two teams to work in two hospitals in Texas' coastal region — CHRISTUS Spohn Hospital Corpus Christi-Shoreline in Corpus Christi and DeTar Hospital Navarro in Victoria.
The other two UAMTFs deployed Tuesday.
One unit was sent from Nashville, Tenn., to southeastern Texas' Harlingen and split into teams assigned to Valley Baptist Medical Center-Harlingen and Harlingen Medical Center. The third unit deployed from San Diego to Edinburg, Texas, just west of Harlingen. It will begin work Thursday at DHR, a hospital in that city, Army North said.
Texas in recent weeks has seen large increases in recorded coronavirus cases, including a record high on June 15 of 10,791 new active infections, according to state health data. Infection rates appear to have leveled off somewhat in recent days, that data shows, but the state saw 8,342 new cases on Tuesday. As of Tuesday, Texas health officials reported 5,877 had died in their state of the coronavirus since the pandemic began in March.
Army officials have said other medical units have been on alert to deploy if requested by FEMA. So far in July, only Texas and California have requested military medical troops deploy to help in the coronavirus response.
dickstein.core@stripes.com Twitter: @CDicksteinDC