Alaska-based soldiers arrive in Korea for 9-month rotation
By
Armando R. Limon limon.armando@stripes.com
June 12, 2014
---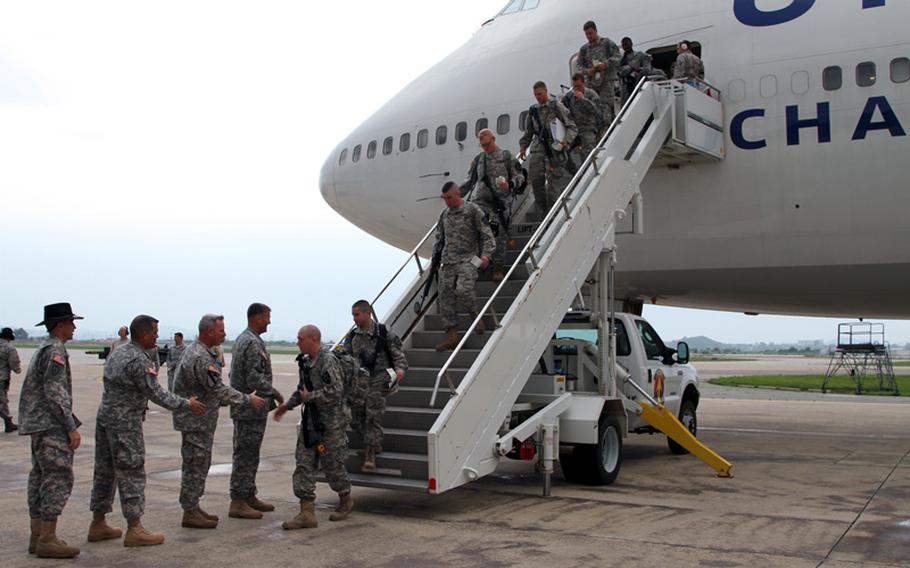 OSAN AIR BASE, South Korea — More than 300 combat aviation brigade soldiers arrived at Osan Air Base on Tuesday, a continuation of efforts to maintain a strong U.S. military's presence on the peninsula.
Members of the 16th Combat Aviation Brigade's 6th Squadron, 17th Cavalry Regiment will replace soldiers from 4th Squadron, 6th Cavalry Regiment with a transition ceremony later this month, according to the 2nd Infantry Division.
It's the second rotation of U.S. forces from the States to come to South Korea this year. Some 800 members of the 1st Battalion, 12th Cavalry Regiment from Fort Hood, Texas, arrived in January for a deployment to Camps Hovey and Stanley, both north of Seoul.
That unit brought about 40 M1A2 Abrams tanks and 40 M2A3 Bradleys, which will remain in Korea for follow-on rotations, Army official said. Similarly, the Fort Wainwright, Alaska-based aviation unit that arrived this week will crew 30 OH-58D Kiowa Warrior helicopters already in country, the 8th Army said in a statement.
U.S. officials have described the rotations as a "strictly defensive" movement designed to increase readiness and strengthen U.S. and South Korean capabilities.
The U.S. military has maintained a force level of 28,500 in South Korea since 2008, when it halted a long-term drawdown to 25,000 troops at Seoul's request. Because such deployments are considered a temporary duty assignment and not a change of duty station, its personnel are not counted toward U. S. Forces Korea's strength capacity, Eighth Army officials said in January.
In a country where the presence of U.S. troops remains a sensitive topic and officials take pains to portray routine military exercises as non-threatening to the North, South Korean officials have also been reluctant to address the U.S. troop levels.
During its rotation, the 6-17th will fall under the 2nd Combat Aviation Brigade, 2nd ID officials said.
The 4-6th Cavalry Regiment is scheduled to return to Joint Base Lewis-McChord, Washington, during the next couple of months.
---
---
---
---