Adventurous, exemplary, special: 173rd Airborne Brigade memorializes soldier who died while hiking
by
Nancy Montgomery
October 16, 2020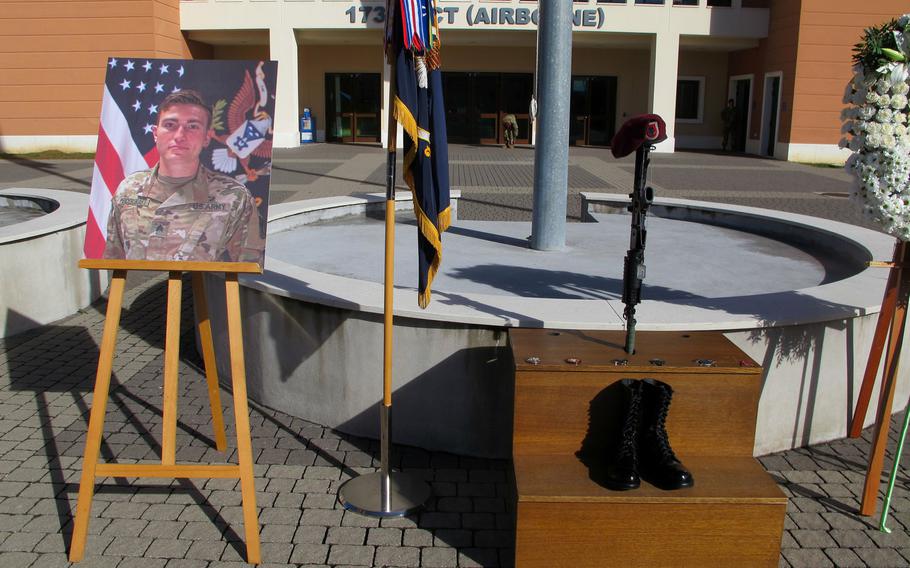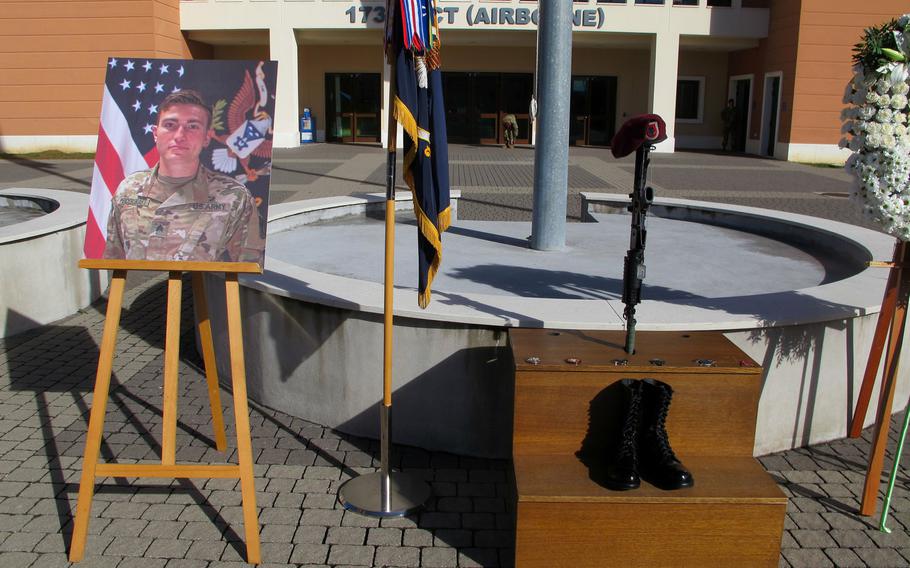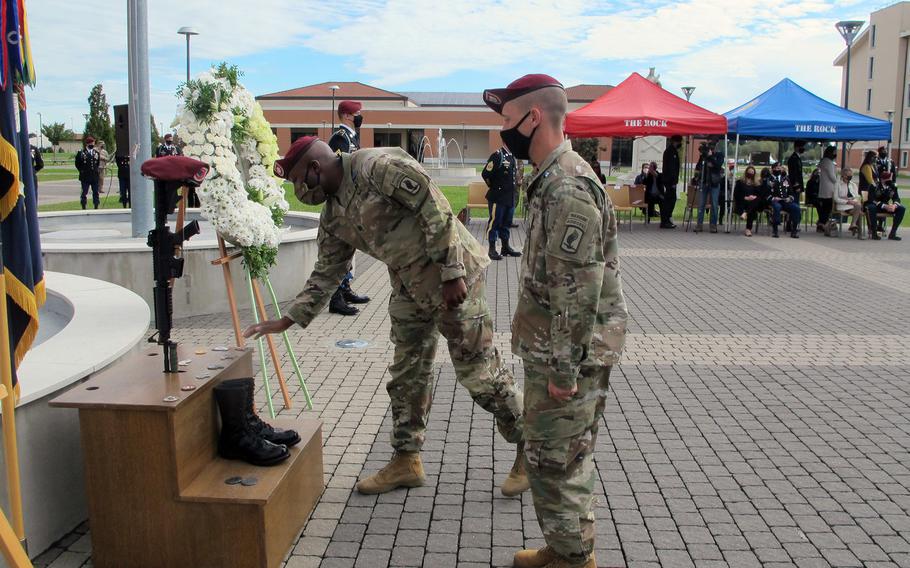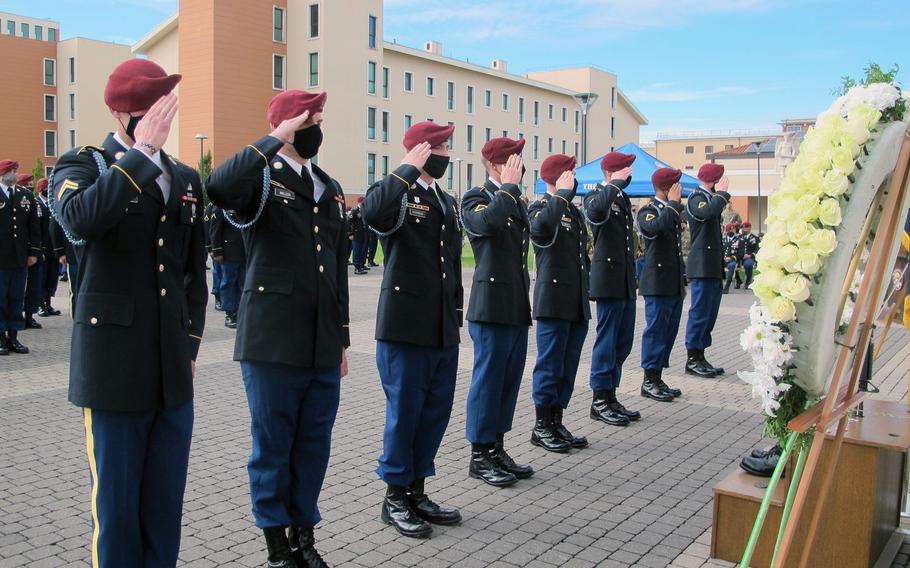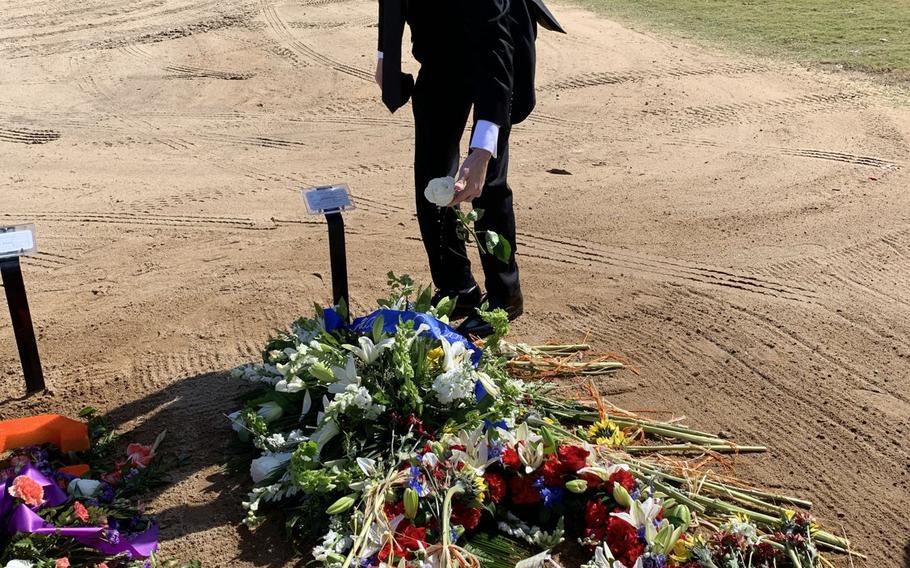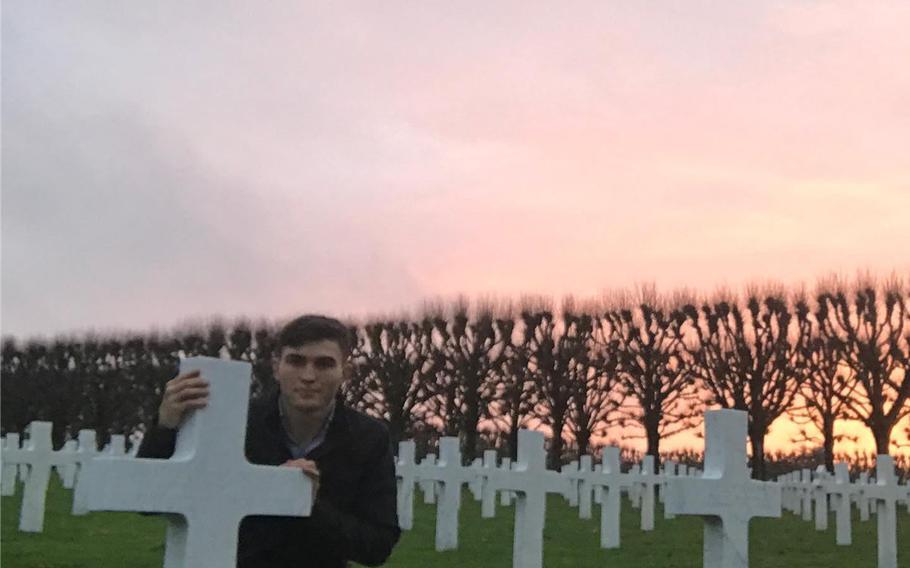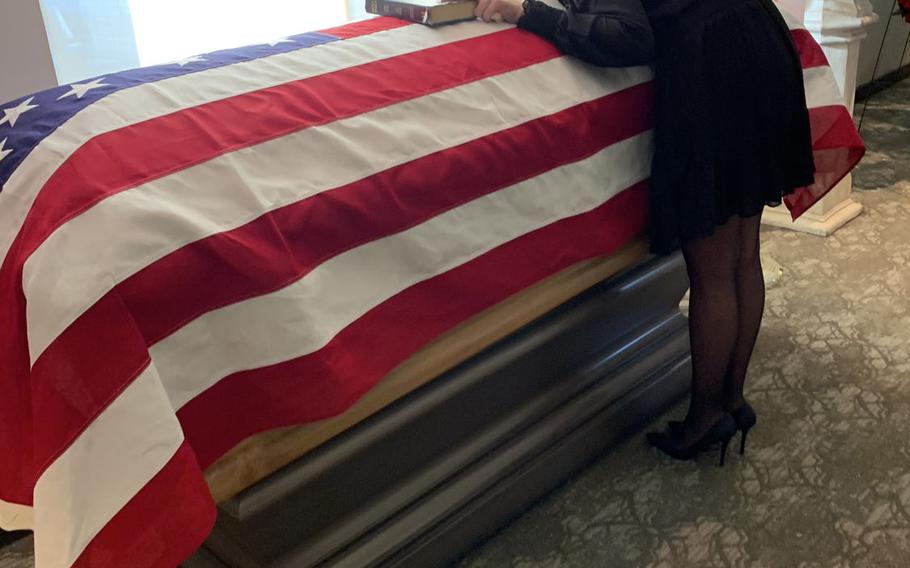 VICENZA, Italy — The 173rd Airborne Brigade honored an adventurer, warrior and "special young sergeant" in a memorial ceremony Friday.
Sgt. Cade Pendergraft died Sept. 19 after he fell into a ravine while hiking the popular Road of 52 Tunnels, a World War I mule trail carved into Monte Pasubio, a mountain about 30 miles northwest of Vicenza. He was 24.
"For as long as I have been battalion commander, people have been wanting to tell me about him," said Lt. Col. Derek Noel.
Company commanders and battalion executive officers all told him "I had to meet this special young sergeant," he said.
Pendergraft was operations sergeant for Headquarters Company of the 2nd Battalion, 503rd Infantry Regiment, typically a position held by someone two ranks higher than him, Noel said.
He was smart, driven and curious about the world, and had "a fearless ability to go to the corners of the globe with just a backpack and a smartphone," he said.
Sgt. 1st Class Anival Espino recalled his first conversation with Pendergraft. It was one of several, he said, that left him speechless.
"I said, 'Sgt. Pendergraft, is there a reason you're so happy right now?'
"He said, 'No, Sergeant. Is there a reason you're not so happy right now?' "
Espino said he walked away, pondering why he was not happy like Pendergraft.
A bugler, a bagpiper and troops in dress blues rendered honors in front of Pendergraft's rifle, boots and beret at Friday's outdoor ceremony, held in front of brigade headquarters on Caserma Del Din. His family could not attend because of coronavirus travel restrictions.
Pendergraft was from Fontana, Calif., and joined the Army in 2015.
He came from a long line of military men going back to the Revolutionary War, when Capt. John Duncan commanded a rifle battalion, his mother Christina Levering Duncan told Stars and Stripes.
His maternal grandfather, Col. Joseph Gray Duncan III, graduated from the U.S. Military Academy at West Point in 1938 and served during World War II. His great-grandfather, Capt. Joseph Gray Duncan Jr., was killed on the third day of the final Allied offensive of World War I that stretched along the Western Front and is buried at the Meuse-Argonne American Cemetery in France.
"These were Cade's idols," his mother said.
Pendergraft researched his family line and spent his free time while based in Italy seeking out locations where they had fought. He often visited his great-grandfather's grave.
"Cade was part of that collective family history and was passionate and obsessed with military history and our family's role in it," said a cousin, Charlie Bunting, who himself served three tours in Iraq as a clandestine operations officer attached to Delta Force, collecting intelligence on hostages.
Pendergraft's girlfriend, Emma Jaglowski of London, whose grandfather and great-grandfather served in the Polish military in World War II, described him as "spontaneous, kind and not afraid to show his emotions."
"He was unlike any other guy I've met," she told Stars and Stripes by phone.
Pendergraft is also survived by his brother, Blake Duncan, who lives with their mother in Fontana; his father and stepmother, Stephen and Ingrid Pendergraft; brother Spencer and sister Emily, of Simpsonville, S.C.; three grandparents; and numerous aunts and uncles.
He joined the 173rd Airborne in December 2018 after serving with the 1st Infantry Division and deploying to Poland for contingency operations. He deployed again to Romania in 2019.
Those at Friday's memorial spoke of the unfathomable tragedy of the death of someone so vital and promising. Chaplain Adam Langley said the best that could be done was to strive with others, together, for "good grief."
"That as we journey through our grief, as we stare death in the face, we might come out the other side a deeper person because we have been down in the depths of despair and know what it is like. Perhaps most important of all, we come out better to help others."
Pendergraft's body was repatriated to the U.S. early this month. He was laid to rest on Oct. 7 at Fort Jackson National Cemetery in Columbia, S.C.
Stripes reporter Karin Zeitvogel contributed to this report.
montgomery.nancy@stripes.com Twitter: @montgomerynance