Russian anger at Lithuania puts spotlight back on US troops in NATO battlegroup near Suwalki Gap
By
Stars and Stripes
June 21, 2022
---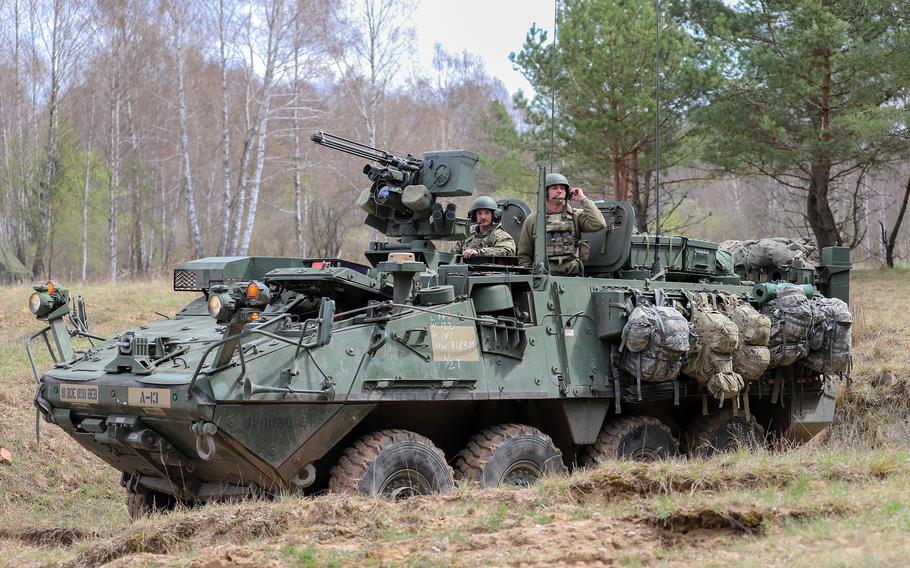 Kremlin threats of retaliation against NATO ally Lithuania for instituting a transit ban over the weekend that affects Russia's exclave of Kaliningrad could have serious implications for several hundred U.S. soldiers positioned in nearby northeastern Poland.
For years, security analysts have feared that in the event of a crisis with Russia, Moscow could seal off the Baltic states from the rest of NATO by seizing the Suwalki Gap, a vulnerable choke point that connects Poland to Lithuania.
In response to such concerns, NATO established multinational quick-reaction battlegroups. One of them, based about 50 miles from Kaliningrad, is manned by roughly 800 U.S. soldiers and a few hundred troops from other countries.
On Monday, the Kremlin lashed out at Lithuania for imposing a ban on rail transit across its territory of certain goods that are subject to European Union sanctions, calling the decision unlawful. Items such as steel, coal and alcoholic beverages are affected.
"We pointed out in this regard that if the transit of goods between the Kaliningrad region and the rest of Russia through Lithuania is not fully restored, Russia reserves the right to take action to protect its national interests," the Foreign Ministry said in a statement.
Russia did not specify what retaliatory measures it was considering, but the threats have put a renewed spotlight on the Suwalki Gap.
NATO did not immediately respond Tuesday to a question about whether steps are being taken to enhance the unit's ability to mobilize.
But at a summit of alliance heads of state next week in Madrid, NATO is expected to approve plans that will bolster the alliance's eastern flank.
Lithuanian officials have downplayed concerns about an imminent Russian attack over the ban, saying Russian forces already have their hands full fighting in Ukraine.
"We are not particularly worried about Russian threats," Laurynas Kasciunas, chairman of the Lithuanian parliament's national security and defense committee, said as quoted by The New York Times. "The Kremlin has very few options for how to retaliate."
Kasciunas added that an attack is "highly unlikely because Lithuania is a member of NATO. If this were not the case, they probably would consider it."
Kremlin spokesman Dmitry Peskov described the situation as "more than serious."
"This decision is really unprecedented," he said. "It's a violation of everything."
Lithuania said the transit ban was imposed in conjunction with EU sanctions.
On Monday, the EU's top diplomat, Josep Borrell, confirmed that the ban was not a unilateral action, saying "the accusation against Lithuania that it is implementing Lithuanian sanctions is false, pure propaganda," according to news reports.
Isolated from mainland Russia, Kaliningrad uses trains to get goods into the territory by crossing Belarus and Lithuania. In recent years, Russia has built up its defenses in the exclave, where nuclear capable missiles are based.
According to a NATO fact sheet, Battlegroup Poland operates on a "nearly ceaseless training schedule" to ensure that it is ready on short notice and up to the task of deterring enemies.
---
---
---
---