Patriot missiles down drone target from Palau with assist from Lightning II
By
Stars and Stripes
June 16, 2022
---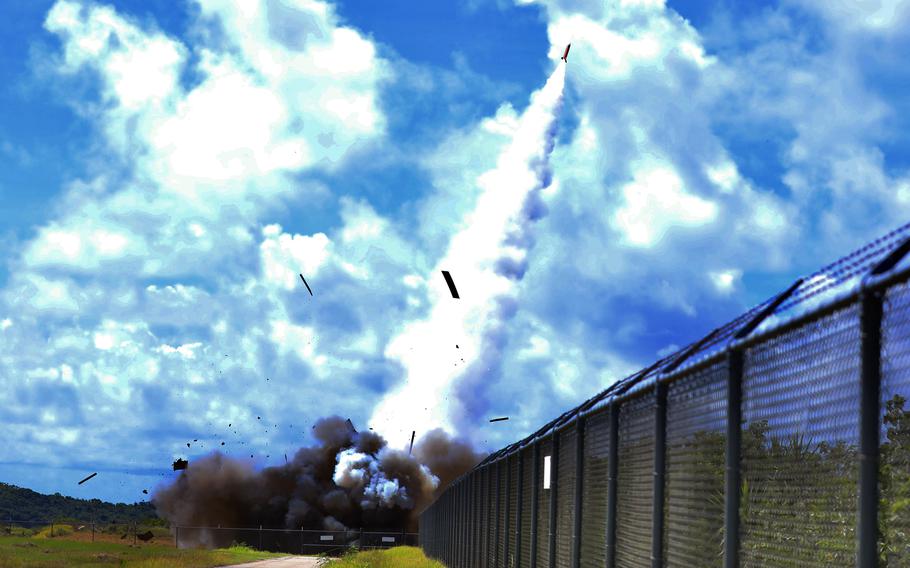 A U.S. Army Patriot missile defense system and an Air Force F-35A Lightning II aircraft combined Wednesday to shoot down a dummy cruise missile over the Pacific, according to an Army spokesman.
The drill marked the first time a Patriot system had been fired from the island nation of Palau, and the first time a Patriot had combined with a stealth fighter for a live-fire drill outside of testing in the U.S., according to Maj. Nicholas Chopp, a spokesman for the Hawaii-based 94th Air and Missile Defense Command.
"The launch occurred as planned, with a successful intercept of a simulated cruise missile target at approximately 10:00 a.m. local time," Chopp said in an email from Palau on Wednesday.
Two PAC-2 Patriot interceptors engaged the target, which was launched from Palau and traveled out to sea before turning 180 degrees and flying back towards the island, he said.
"The target was a cruise missile surrogate target — basically a drone built to look and perform like a cruise missile," Chopp said by phone later that day.
The target was shot down just over 20 miles from the island at an altitude of 10,000 feet using radar data provided by an F-35A assigned to the 354th Air Expeditionary Wing, which also launched from Palau, Chopp said.
Okinawa-based soldiers from 1st Battalion, 1st Air Defense Artillery Battalion operated the Patriot system on the island, he said.
Patriots have engaged targets using data from Navy destroyers equipped with the Aegis Combat System, but the Palau drill was the first time they had worked with an F-35A, he said.
"The ability to extend the range that Patriot can detect and engage threats provides an entirely new capability to the joint force and increases our ability to defend a free and open Indo-Pacific," he said.
The live-fire exercise was part of this month's Valiant Shield drills involving 15 surface warships, including a pair of U.S. aircraft carriers, as well as approximately 200 aircraft and 13,000 service members, Chopp said.
The Navy moved the Patriot system to Palau, the Air Force brought the PAC-2 interceptors by Air Force C-17 Globemaster III aircraft and the Marine Corps provided engineering and integration support, he said.
Three F-35As have been operating on Palau during Valiant Shield, which wraps up Friday, the Air Force said in a news release Monday.
"We're here to promote a free and open Indo-Pacific region and operating out of Palau makes it possible to accomplish that goal," 356th Expeditionary Fighter Squadron F-35A pilot 1st Lt. Joshua "Super" Novick said in the release.
"We have a great relationship with Palau so it's awesome to be able to come here and work with them to build our relationship with one of our allies in the region."
---
---
---
---