'It's not human': Army brings combat robotics closer to battlefield during field testing in Germany
By
Stars and Stripes
June 10, 2022
---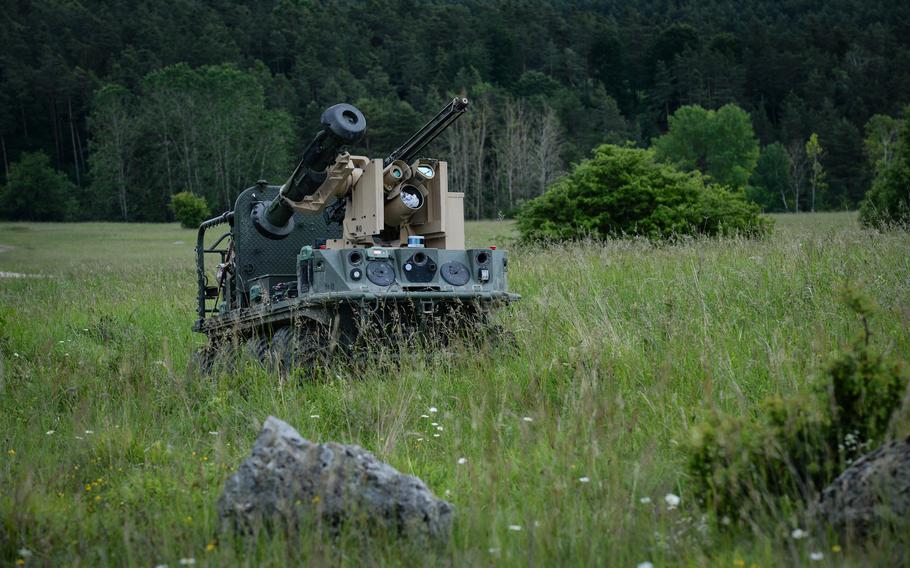 HOHENFELS, Germany – The new robotic ground vehicle called Project Origin made its multinational debut at a training exercise this week with more than 5,000 troops from across Europe.
The unmanned vehicle is being used at the Army's Joint Multinational Readiness Center for Combined Resolve 17, a recurring exercise designed to test the ability of troops to operate effectively in a complex battlespace with ground, air and cyber assets, according to the Army.
"We came out so we could expose the vehicle to multinational partners and U.S. forces," said Todd Willert, a leader of the Origin program. "We do that so soldiers not only see the capability, but so they can fight and defend against it. Across the world, armies are developing robotic platforms with lethal payloads. We as a coalition need to know how to fight against that."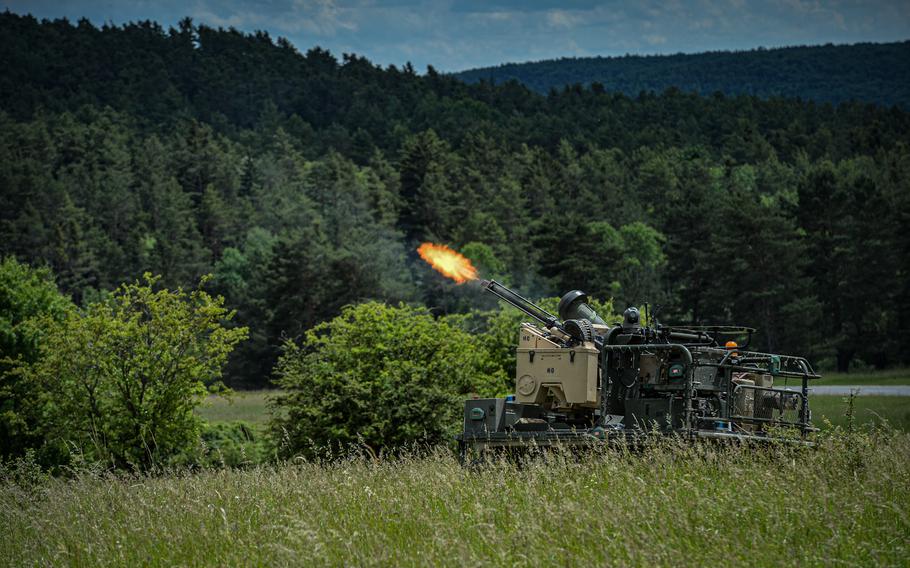 About the size of a small car and equipped with an electric engine and four axles, the Origin moves through the terrain without a driver on board and features sensors and attachment kits with a M240 machine gun, .50-caliber mounted weapons and an anti-armor Javelin missiles.
During the exercise's open combat portion, soldiers coordinate, maneuver and execute freely within a more than 61 square mile training ground, or "the box." The Origin vehicle was used by soldiers of 1st Battalion, 4th Infantry Regiment to challenge conventional operating plans and train on how to react to autonomous military vehicles in combat, said Sgt. 1st Class Joshua De Palma, a scout platoon sergeant with the unit.
"We used the weapons-capable platform in various ways, from traditional reconnaissance to attack and harass enemy troops and to test their defenses," De Palma said Wednesday during a presentation on the exercise grounds. "It was interesting to see troops react to seeing it for the first time in simulated combat. They didn't know what they were dealing with."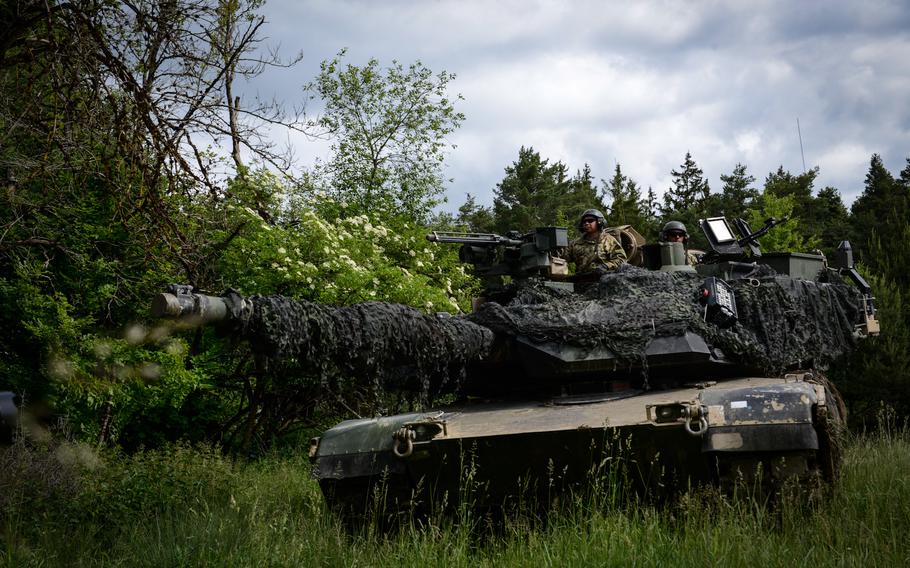 Combined Resolve 17 is a major test of the combat capability of the Army's 1st Armored Brigade Combat Team, 3rd Infantry Division, which deployed to Germany in February as Russia launched its invasion into Ukraine.
The Fort Stewart, Ga., soldiers were joined in the training by troops from Belgium, Bosnia and Herzegovina, the Czech Republic, Estonia, Greece, Italy, Kosovo, Lithuania, Moldova, North Macedonia and Poland.
During one of the simulated assaults, radio traffic between some troops accentuated how they were surprised by the Origin, Willert said.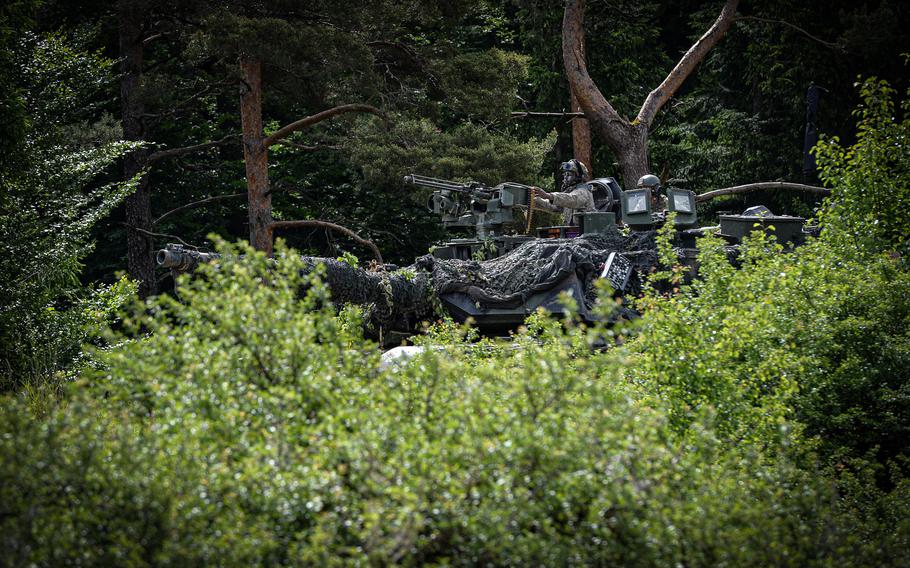 "We heard one of the soldiers say 'It's not human!'" he said. "They are fighting something that doesn't eat, doesn't sleep and they need to figure out how to fight that with new tactics."
Much like unmanned drones operated by the Air Force, the Project Origin vehicles require a remote driver and a sensor or weapons operator. Origin is controlled remotely by a specialist with chest-mounted control units that look like rugged template computers paired with joystick controllers.
The resemblance to consumer technology is not lost on the developers and its intuitive handling is part of the design, Willert said.
"Working with the young soldiers here has been absolutely great," he said. "They are very adaptive to the technology and take to it very quickly."
The vehicles can also be controlled by sight and a wireless handheld joystick – or with a carabiner-attached tether kit that allows the fully loaded vehicle to follow a single marching soldier effortlessly in the field with a clip to their belt. The Origin can also move using pre-programmed waypoints.
The vehicles are a prototype creation of the U.S. Army Combat Capabilities Development Command's Ground Vehicle Systems Center in Warren, Mich., the military's research and development facility for advanced technology in ground systems.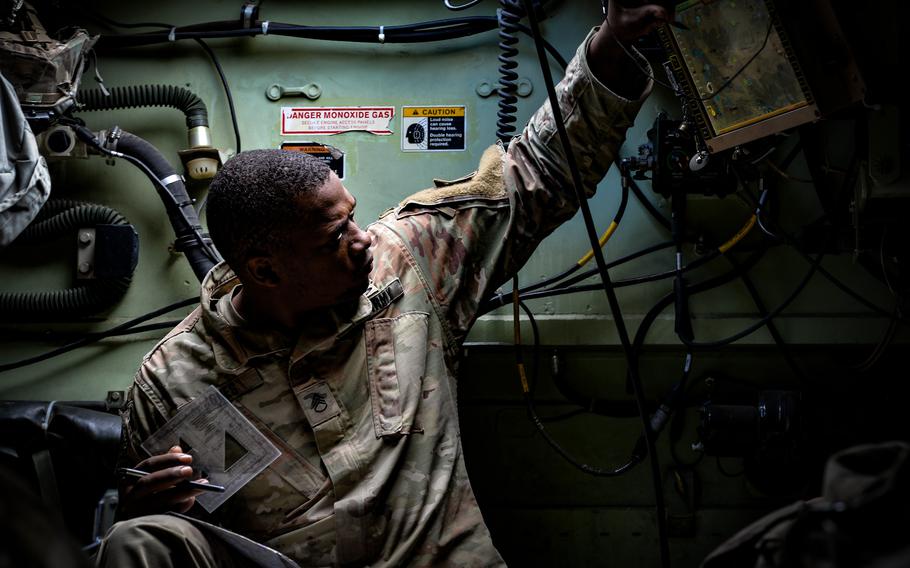 Project Origin has been making its rounds, and changes are made to the vehicle after each exercise brings new feedback from soldiers in the field, including most recently with 1st Special Forces Group at Dugway Proving Ground, Utah.
"The vehicle can nearly go anywhere," Willert said. "We've tested it in the desert, in the snow, in the jungle. Germany's terrain is also incredibly challenging and a good testing ground as well. It's got forests, steep hills, mud and narrow trails and we wanted to see how the vehicle and the software does in this environment."
By bringing the vehicle into the field for hands-on testing by troops, Willert said it allows his team of engineers to use feedback on technology and vehicle capabilities to help build successive prototypes.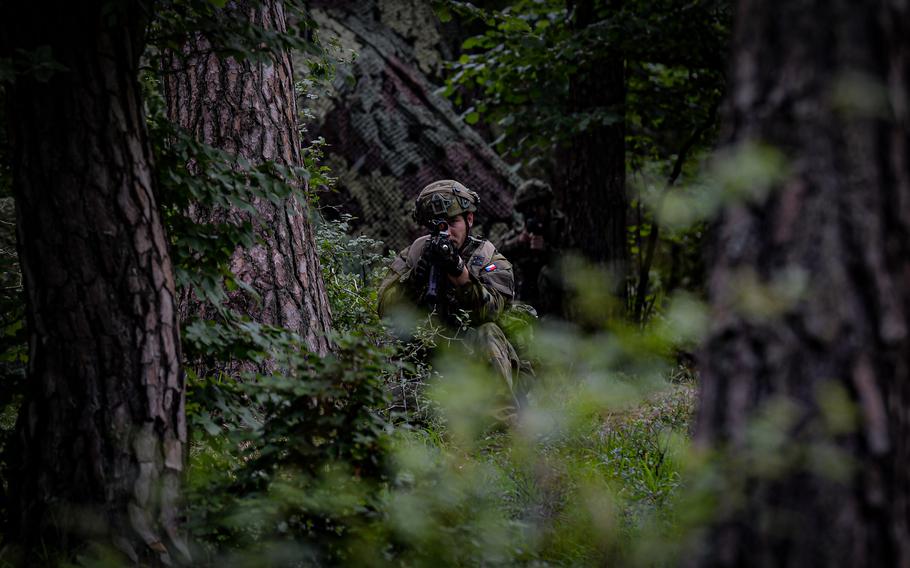 Origin vehicles being demonstrated now offer a variety of modular attachment kits that transform its functions. It includes various camera sensors that enable remote operators to have 360-degree awareness all around the vehicle and map the area around the vehicle to avoid obstacles, Willert said.
When more visibility is needed, a mast-mounted camera can be extended above the Origin, or a tethered drone can be used to get an aerial view of its surroundings -- launched and powered from the vehicle without human hands.
"Everything on the vehicle has been soldier approved and put on because they've asked for it," Willert said. "Robots will never replace soldiers. They augment them and it gives them increased capabilities."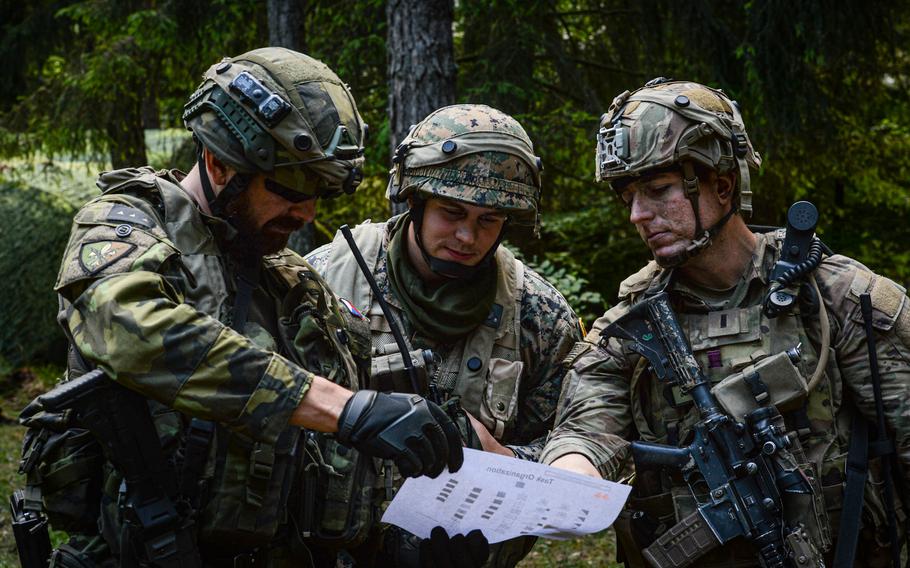 But the robot vehicle offers more than guns.
During maritime operations, an attachment kit can allow the vehicle to become fully amphibious. A remotely operated trailer hitch enables it to tow and drop loads in the field, and a backhoe attachment turns it into a construction vehicle.
A full-sized smoke machine can provide enough smoke to cover a football field under the right wind conditions, concealing and obscuring troop movements from enemy fire.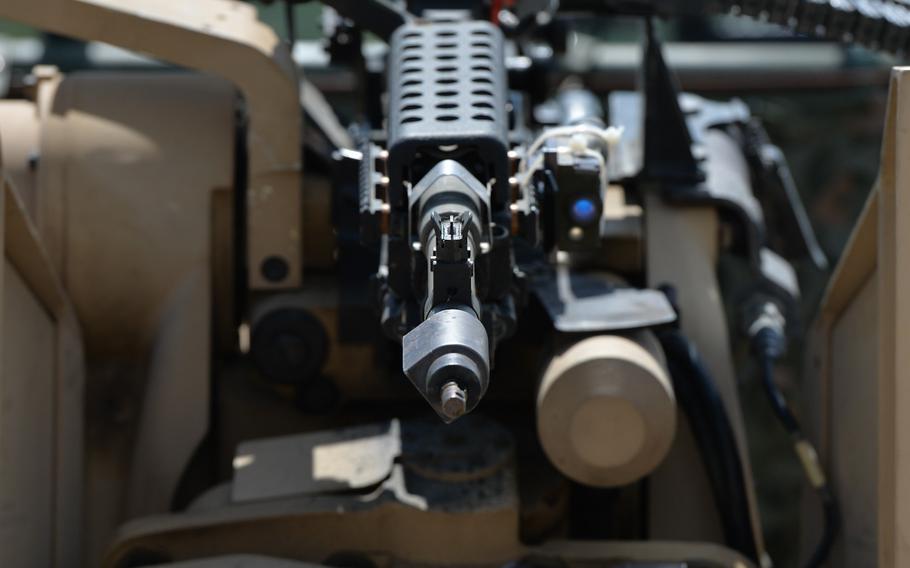 "The vehicle has been a lot of fun, is easy to use and brings great capabilities to the fight," said Spc. Christopher Gerlach, a scout with the 1st Battalion, 4th Infantry Regiment. "It provides a lot of smoke cover quickly and allows us to carry heavier weapons and equipment to the fight, which puts us at an advantage."
After Combined Resolve 17 concludes June 19, the Origin will continue training operations in Germany at Grafenwoehr Training Area, where they will undergo capabilities and live-fire training.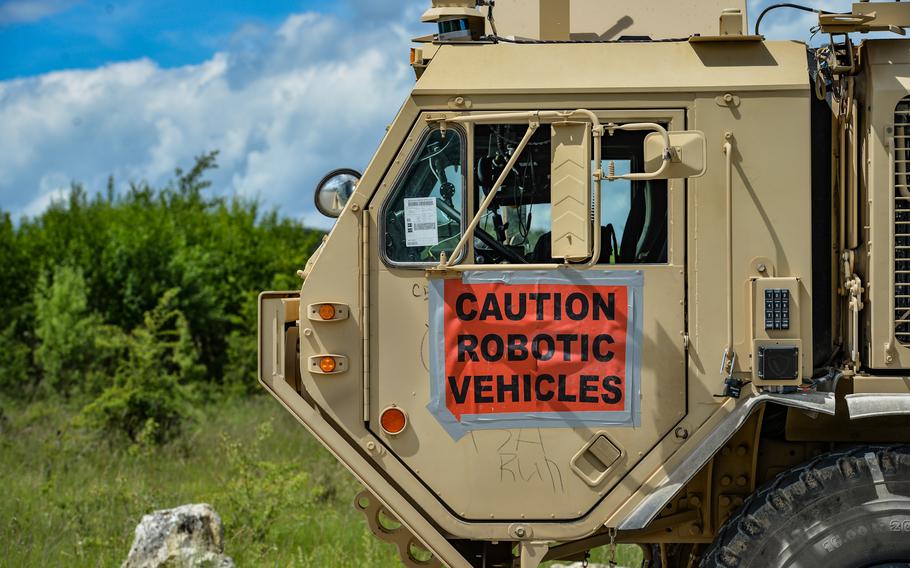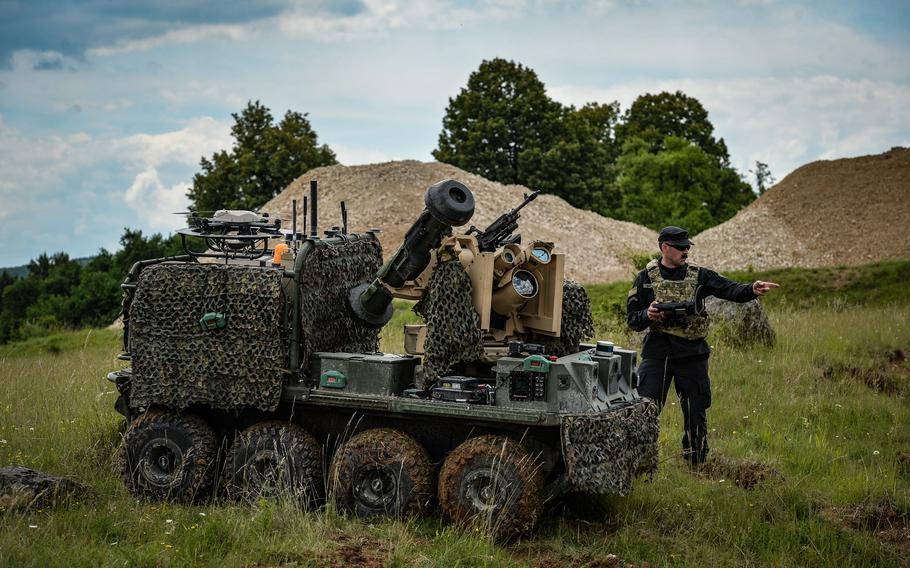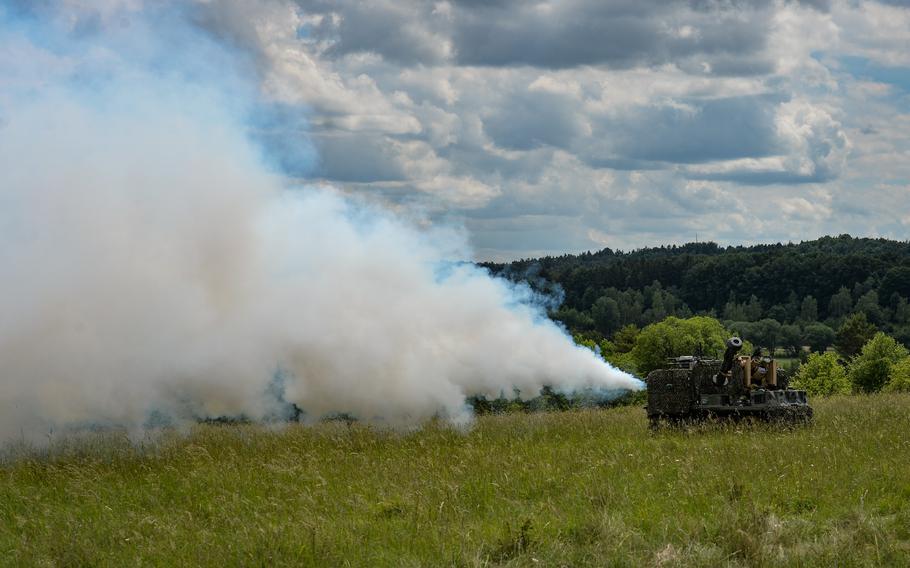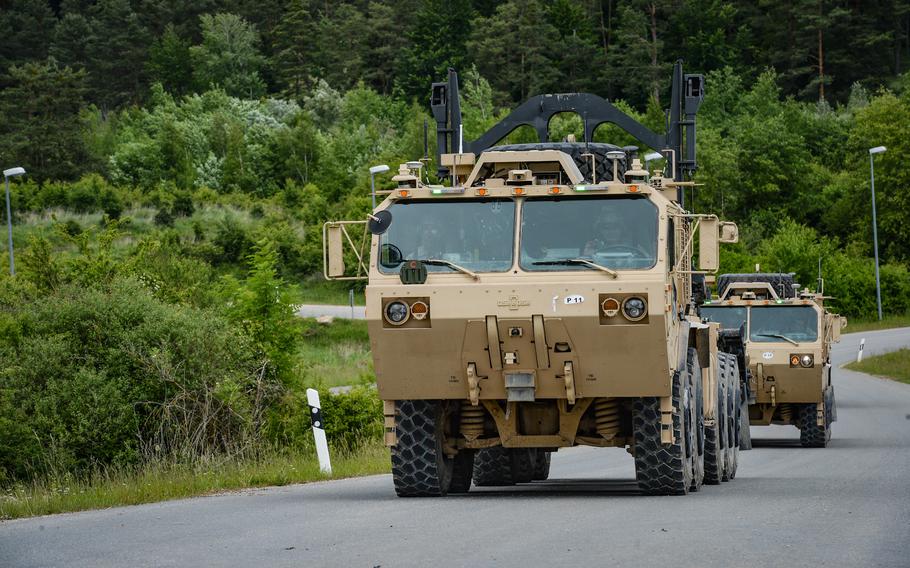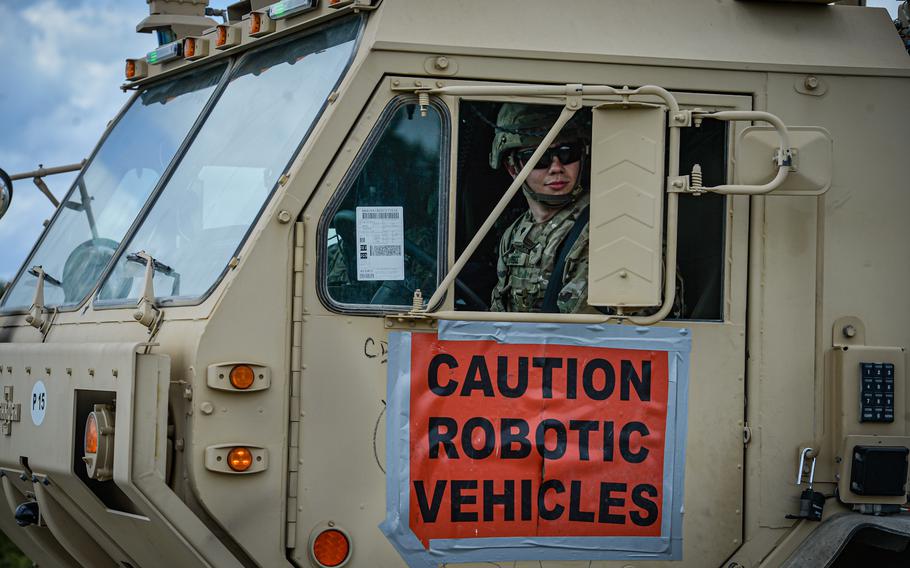 ---
---
---
---