Marine and Army gunners in Australia practice techniques for deterring warships
By
Stars and Stripes
July 20, 2021
---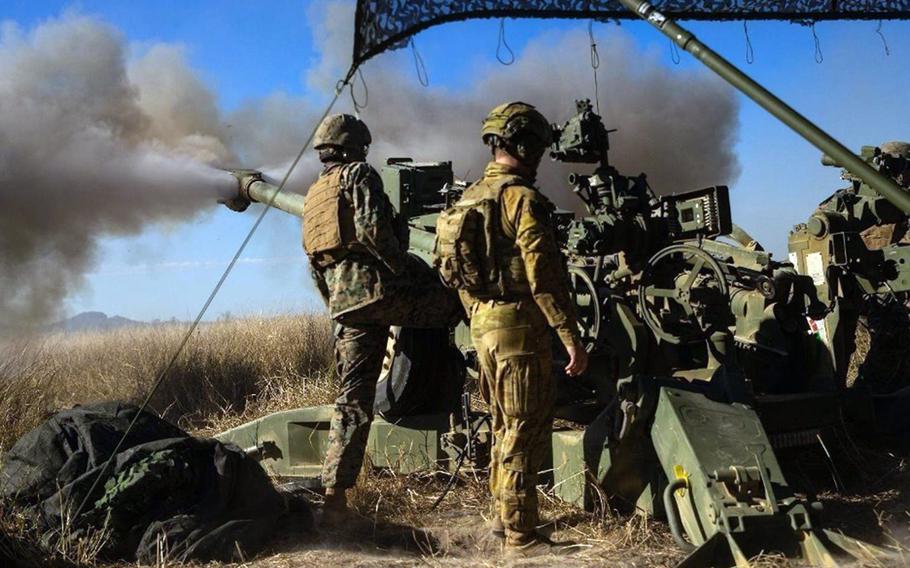 U.S. Marines and soldiers are in the Australian state of Queensland practicing skills that could deny enemy warships access to Pacific waters in a conflict.
A task force of gunners, led by the Okinawa-based 3rd Battalion, 12th Marine Regiment, is providing fire support to 17,000 U.S., Australian, New Zealand, Japanese, South Korean and British troops during the biennial Talisman Sabre exercise in Australia this month.
The task force includes Marine Corps and Army High Mobility Artillery Rocket Systems, or HIMARS, and Marine Corps and Australian Army M777 towed howitzers, battalion commander Lt. Col. Roe Lemons said by phone Tuesday from Bundaberg, Australia.
The gunners can fire on targets up to 155 miles from their positions but cover an even larger area thanks to a Royal Australian Air Force C-17 Globemaster II and a pair of Marine Corps C-130J Super Hercules aircraft from the 1st Marine Aircraft Wing on Okinawa, Lemons said.
The planes are shuttling the U.S. and Australian guns and troops between remote bases throughout Queensland, he said, adding that the gunners' operations area stretches across a coastline as long as the state of Florida, Lemons said.
Expeditionary base operations, in which Marines stand up and operate from outposts far from established facilities, are something the Marines have been practicing for a year, he said.
"On Okinawa we are in the adversary's weapons engagement zone," Lemons said.
As recently as 2017, the North Koreans fired a ballistic missile over northern Japan and tested an intercontinental ballistic missile that experts believed to be capable of striking the U.S. mainland.
The same year, Google Earth images revealed that China, which has a vast arsenal of missiles, was firing them at targets configured to look like U.S. bases in Japan.
"We are working on establishing small expeditionary bases where we can utilize our assets like the HIMARS to do sea denial and sea control," Lemons said.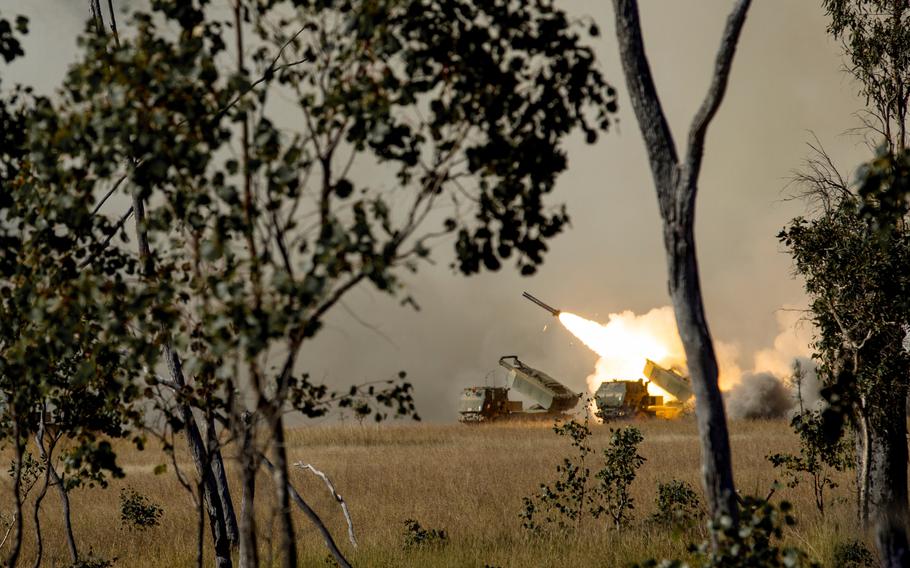 The U.S. and Australian troops are gearing up to defend against any Chinese effort to invade the chain of islands that runs from Japan to Taiwan and the Philippines, according to Ross Babbage, a former Australian assistant defense secretary.
The allies' artillery can target vessels at sea and can be coordinated with aircraft and ships to make sure the optimal weapon engages any given target, he said in a telephone interview Tuesday.
Units of fewer than 150 Marines at hidden bases will be hard for the Chinese to find, Babbage said.
The Marines in Australia camouflage their equipment and operate with a minimal electronic signature to make it harder for an opposing force, played by the Australian Army, to find them, Lemons said.
On Sunday, the task force demonstrated its firepower at Queensland's Shoalwater Bay Training Area, shooting numerous rounds from the HIMARS and howitzers in coordination with naval gunfire from the guided-missile destroyer USS Rafael Peralta, Royal Australian Air Force F/A-18 Super Hornet jets dropping 1000-pound bombs and Marine Corps Huey and Cobra helicopters blasting cannons and rockets, Lemons said.
On Monday, the Marines fired a GPS-guided rocket at an offshore island with the impact observed using an Australian Shadow drone aircraft, he said.
---
---
---
---