Army raising service commitment for future aviators to 10 years
---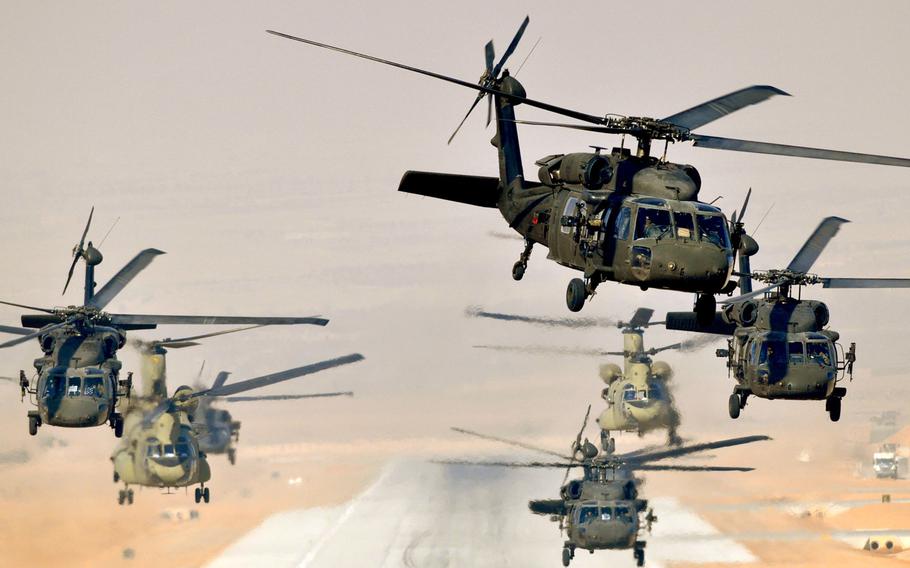 Soldiers who want to fly Army helicopters and fixed-wing aircraft will be required to serve at least a decade, the same active-duty service commitment expected of Air Force fighter pilots and four more years than the current policy.
The 10-year service obligation kicks in after graduation from flight training and does not apply to personnel currently in training, Army officials said this week.
The policy takes effect in October and also applies to part-time Army Reserve and National Guard personnel, Chief Warrant Officer 5 William S. Kearns, aviation and officer policy integrator for the Army's personnel office, said in a statement.
Army Secretary Ryan McCarthy announced the new policy in June and the Army issued guidance this month, saying the longer service obligation will give pilots the time they need to "become a technical and tactical expert."
The increase "will also allow the Army to benefit from the expertise and retain the talent required for the operational force," a service memo published Aug. 12 said.
The new policy comes amid a pilot shortage among all branches in the military. Last year, the Army's pilot attrition rate grew to a record 10% of its force, due largely to aging aviators and competition from commercial airlines.
The Army in January said it would pay up to $1,000 a month in aviation incentives, the first increases it had offered in two decades.
But the global coronavirus pandemic has dried up some commercial opportunities as lower air travel demand has forced airlines to cut flights and lay off pilots.
The Army said the policy comes as the costs and requirements for flight hours, maintenance and training have risen.
"In the end, it's the Army getting a good return on the investments," Kearns said.
However, some people questioned whether the new policy turns away prospective pilots who don't want to commit a decade to the Army after at least a year of flight training.
"I thought there was an aviation shortage? The trick is to coax people with longer service commitments? Interesting," said one post on the U.S. Army Human Resources Command Facebook page this week, which posted a story about the policy change.
Increasing the active-duty service obligation will no doubt increase pilot retention, said Army Capt. Brennan Randel, "but at what cost?"
"If pilots today are so unhappy that they are leaving in numbers higher than expected, why would prospective pilots accept a much longer service obligation for that same experience?" Randel wrote in an article for the Modern War Institute at West Point in June.
But the Army is touting its benefits, particularly for warrant officers, who comprise about 70% of the service's aviators.
"It's a great time to apply to become a pilot," Kearns said. "We want as many people as we can get to apply and [soldiers] can get in with a high school degree."
svan.jennifer@stripes.com Twitter: @stripesktown
---
---
---
---