Senator asks AF leaders to consider firing general in Wilkerson case
by
Nancy Montgomery
March 6, 2013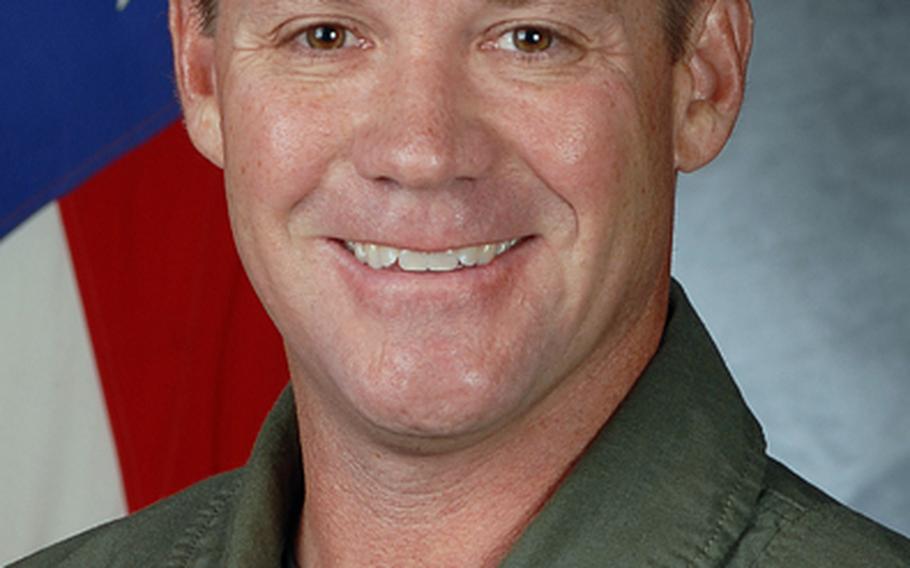 A U.S. senator is calling for the possible firing of the Air Force lieutenant general who set aside a jury's guilty verdict in a sexual assault case and re-instated the convicted fighter pilot to full-duty status.
Sen. Claire McCaskill, a Missouri Democrat, wrote to the secretary and chief of staff of the Air Force to ask them to review the decision by Lt. Gen. Craig Franklin to exonerate Lt. Col. James Wilkerson.
Wilkerson, who was accused of groping a sleeping houseguest in March last year at his home near Aviano Air Base, Italy, had been convicted in November of aggravated sexual assault by a jury of four colonels and a lieutenant colonel.
"As the Air Force and other military organizations are redoubling efforts to erase a culture that has often turned a blind eye on sexual assault, Lt. Gen. Franklin's conduct undermines this important shift," McCaskill wrote in the letter to Air Force Secretary Michael B. Donley and Chief of Staff Gen. Mark A. Welsh III. A copy of the letter was posted on her website.
"His decision shows ignorance, at best, and malfeasance, at worst. I strongly urge you to undertake an immediate review of his conduct and consider removing him from his leadership position."
McCaskill is the fourth lawmaker to express outrage over the case and the third senator to call on Defense Department leaders to investigate the matter and take action.
Sens. Barbara Boxer, D-Calif., and Jeanne Shaheen, D-N.H., on Monday sent a letter to Defense Secretary Chuck Hagel. That letter asked Hagel to find out why Franklin had made his Feb. 26 decision, whether it could be overturned, and to work with them on removing commanders' discretion in sexual assault case dispositions.
Wilkerson had been sentenced to dismissal, pay and retirement forfeiture and a year in jail. The decision by Franklin, commander of the Third Air Force who convened Wilkerson's court-martial, freed Wilkerson from a South Carolina brig and possibly paved the way for his promotion to full colonel. The Air Force has not said whether Wilkerson's promotion has taken place or where he would be assigned. He had previously been the 31st Fighter Wing inspector general at Aviano.
All three senators, as well as Rep. Jackie Speier, a California Democrat, have either sought to pass legislation to change the Uniform Code of Military Justice regarding commander discretion in sexual assault cases, or said, in light of the Wilkerson case, would consider doing so. They've said that the system is rife with bias and conflict of interest, continues to harm victims and embolden offenders.
The Wilkerson case, both Speier and McCaskill said, could be the "tipping point."
McCaskill's letter came after she questioned the commander of Central Command, Marine Gen. James Mattis, during a Senate Armed Services Committee hearing Tuesday about the Wilkerson case.
McCaskill, a former county prosecutor and a senior member of the Senate Armed Services Committee, said Franklin's decision was "arbitrary" and conveyed that "that jury's decision didn't matter."
Should one person "be able to say, 'Never mind?" she asked Mattis.
"Let me assure the senator … justice is overwhelmingly served by the current Uniform Code of Military Justice," said Mattis, who had been discussing the outlook in Afghanistan. "Commanders — including women commanders — have this authority for a reason," Mattis said, suggesting she look beyond one case.
McCaskill responded that she could cite a lot of instances where cases were not brought or victims not taken seriously.
"There's a culture issue that's going to have to be addressed here," she said. "And what this decision did was — all it did was underline and put an exclamation point behind the notion that, if you are sexually assaulted in the military — good luck."