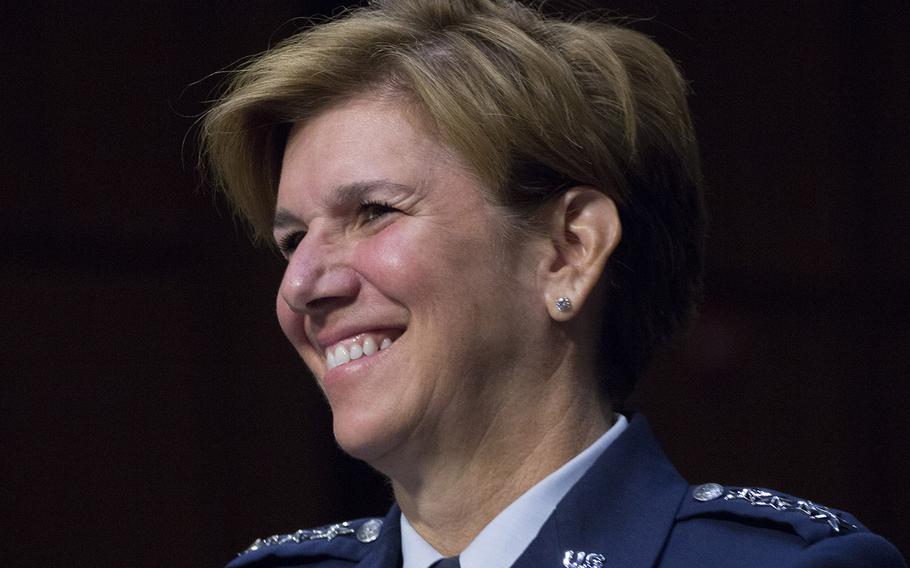 WASHINGTON — Air Force Gen. Lori Robinson became the military's first female combatant commander as she assumed responsibility for U.S. Northern Command and North American Aerospace Defense in a ceremony Friday in Colorado.
Robinson replaced outgoing Adm. William Gortney to lead the two commands. North American Aerospace Defense, or NORAD, is a joint U.S.-Canada operation tasked with detecting and tracking potential missile threats. U.S. Northern Command is responsible for the defense of the continental United States, but its area of operation also includes Mexico, Canada, the Gulf of Mexico and parts of the Caribbean.
In an emotional speech, Robinson thanked her family and the airmen with whom she has served. Robinson noted she started her career as an air-battle manager for the E-3 Sentry, or AWACS as it is commonly known, an aircraft that provides early watch and warning to the United States of potential attacks. Her new command fittingly carries the same responsibility, she said.
"The world is more dangerous and North America is increasingly more vulnerable," Robinson said after taking command. "I accept the watch."
Defense Secretary Ash Carter praised Robinson, particularly her role as the first female to lead the nations' combat air power at U.S. Pacific Air Forces, a role that she has served in since 2014. The command has a high pace of operations given security challenges posed by North Korea and China, Carter has said previously.
"She has a remarkable, complete set of proven experience," Carter said at the ceremony. "These abilities will serve our nation well."
Robinson's rise follows recent gains by women in the military to serve in combat roles and opens the door to a future chairwoman of the Joint Chiefs of Staff.
U.S. law requires any nominee to lead the Joint Chiefs of Staff must have served as the top chief in any of the military branches, such as commandant of the Marine Corps or chief of naval operations, as a vice chairperson of the joint chiefs, or as a combatant commander.
A woman first rose to the rank of a four-star general in 2008, when now retired Gen. Ann Dunwoody was picked to lead U.S. Army Materiel Command in 2008. There are two other females with the rank of four stars, including Gen. Ellen M. Pawlikowski, who is the commander of Air Force Materiel Command, and Navy Adm. Michelle Howard, who is the vice chief of naval operations.
Robinson joined the Air Force in 1982 through the ROTC program at the University of New Hampshire. She has served as vice commander of the 405th Air Expeditionary Wing in 2003 at the beginning of Operation Iraqi Freedom; commander of the 17th Training Wing at Goodfellow Air Force Base in San Angelo, Texas; a deputy commander for U.S. Air Forces Central Command in 2013, and vice commander of Air Combat Command in 2014.
copp.tara@stripes.com Twitter:@TaraCopp
---
---
---
---