Pregnant airmen can now fly without medical waiver, new rule says
by
Brian Ferguson
September 24, 2019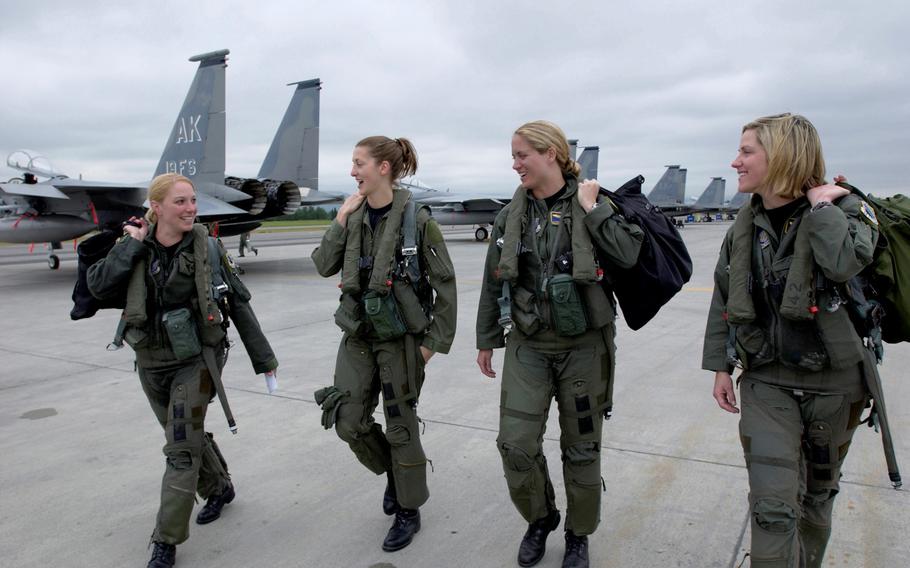 Pregnant aircrew and missileers can now perform their assigned duties during pregnancy without a medical waiver, the Air Force said in a statement Monday.
The policy, which takes effect immediately, gives certain fully qualified pilots, remotely piloted aircrew and missile operations duty crews the option to continue doing their jobs while pregnant.
It expands the time qualified airmen can fly during pregnancy, and means airmen with uncomplicated pregnancies will no longer need a waiver to be able to return to flight, the statement said.
"We're focused on eliminating barriers in our existing policies that signal to female airmen and potential recruits that becoming a parent and being an aviator, controller or missile operator in our service are incompatible," said Lt. Gen. Jacqueline D. Van Ovost, Air Force director of staff.
The new policy replaces a standardized pregnancy regulation that placed all pregnant airmen under the same umbrella with one "that's fully informed by the member's individual situation and the advice of her professional medical team," the statement said.
"We recognize that each pregnancy is as unique as our professional female aviators we trust to operate our weapon systems," said Air Force Surgeon General Lt. Gen. Dorothy Hogg.
"We're empowering women to work closely with their obstetrician and flight medicine providers to pick a path that is tailored to their individual needs, while ensuring we're doing everything to support them throughout their pregnancy."
Airmen will not be forced to fly while pregnant, Hogg said, and those who have pregnancies without complications and choose to continue to fly may change their mind at any time.
The policy change minimizes time out of the air, which will help airmen to "preserve their individual skills and readiness, and retains the Air Force's significant investment in them," said Lt. Col. Jammie Jamieson, the first operationally qualified female F-22 Raptor pilot assigned to a combat coded unit – and also a mother of three.
The change is one of several in recent months intended to remove some of the obstacles female airmen face.
A new policy released in August, for example, requires units to provide nursing mothers access to a lactation room, and provides guidance for lactation breaks.
"Women shouldn't feel like they must choose between serving and being a mother," Christy Nolta, deputy assistant secretary of the Air Force for reserve affairs and airman readiness, said at the time. "A small policy tweak can actually make a difference to our airmen. It adds up, improves quality of life and supports retention efforts across the service."
The Air Force is also reviewing if it can allow pregnant aviators to perform flight duties on all its platforms, but worldwide mobility restrictions will continue to apply to all airmen during pregnancy.
ferguson.brian@stripes.com Twitter: @BrianFerg57