Month-old falcon introduced as Air Force Academy's new mascot
by
Karin Zeitvogel
June 24, 2020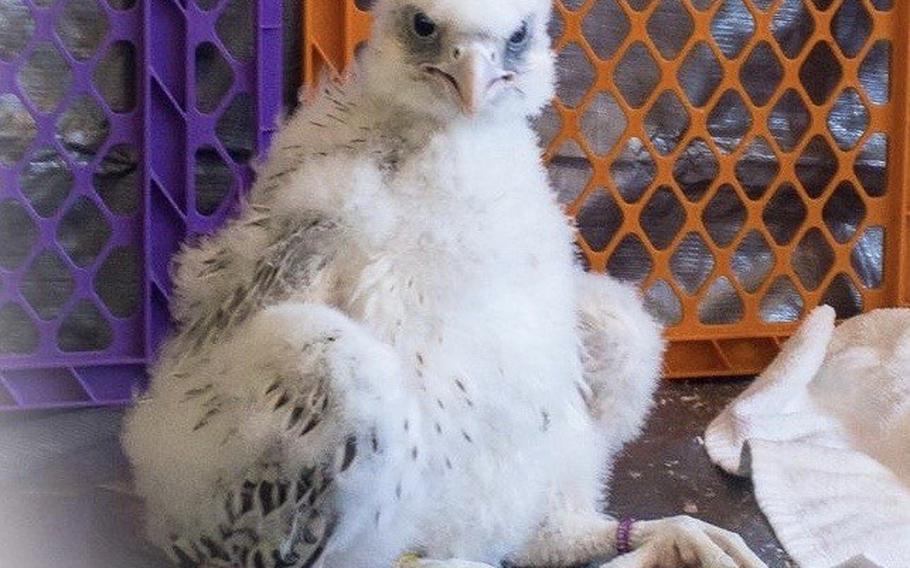 A downy "fluff ball" has been chosen by the Air Force Academy to replace its longest-serving falcon mascot, Aurora, who died last year at the age of 23.
The new mascot, a month-old gyrfalcon, "is still learning how to walk" and "as of right now … does not have a name," the academy's falconry team said Wednesday on its Instagram page.
Cadets will choose a name for the female falcon in an online vote later in the academic year, they said.
But suggestions were already being posted on social media, including calling the bird Kage, in honor of 2017 academy graduate 1st Lt. Kenneth "Kage" Allen, who died earlier this month when his F-15 crashed in the North Sea, or Rox after 2006 graduate 1st Lt. Roslyn "Roz" Schulte, the first alumna to be killed by enemy action.
Other suggestions included Borealis, a nod to the fact that the chick comes after Aurora; Athena, the Greek goddess of wisdom and war; or more humorous names like Birdy McBirdface and Feather Locklear.
The new mascot was introduced on social media days before around 1,000 new cadets arrived Thursday at the campus north of Colorado Springs, Colo., for basic training, which this year will be conducted under strict anti-coronavirus measures.
Upperclassmen were quarantined when they returned to campus two weeks ago, and only released after testing negative twice for the virus.
The falconry club hasn't trained together since March, when most cadets were dismissed and sent home to prevent the spread of the virus.
All of the academy's falcons are trained and handled by cadets and often appear at sports and other events.
The new mascot will, like Aurora, travel to away games with Air Force teams, once she's old enough and has been trained.
On one trip last year, Aurora was injured when West Point cadets kidnapped her before the annual Air Force vs. Army football game. The U.S. Military Academy apologized for what it called an "unfortunate incident" and Aurora was back up and flying around her pen within days of returning to Colorado.
Aurora's successor hatched in May and isn't flying at all yet. Still too young to live with the other falcons at the academy, she is currently under the care of the academy's master falconer, the academy said.
zeitvogel.karin@stripes.com Twitter: @StripesZeit