2020 VISION
In response to alarming Air Force suicide rates, commanders focus on connecting with airmen
by
Jennifer H. Svan
January 13, 2020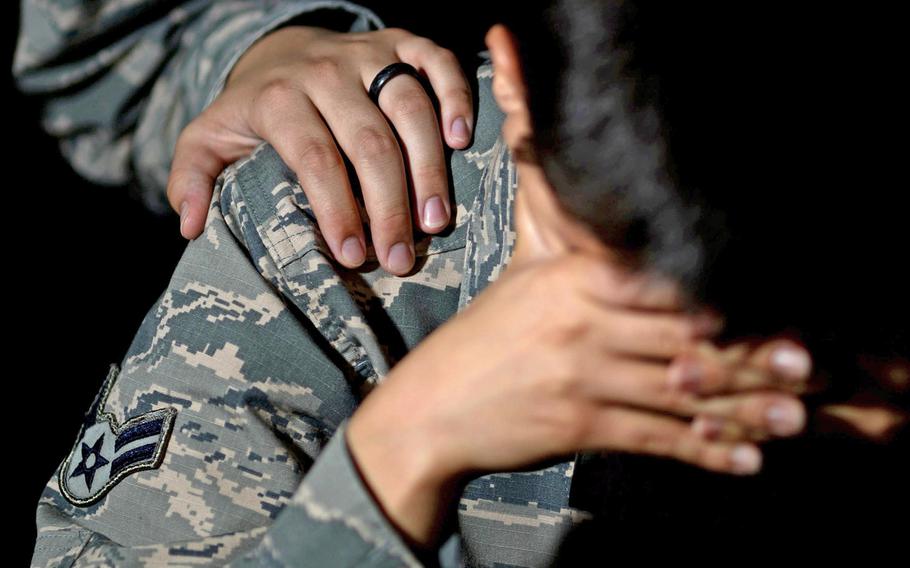 This story is part of a Stars and Stripes special report on what's ahead for the U.S. military as a new decade begins. See all the stories here.
The numbers set off alarms as early as February.
In the first four weeks of 2019, 11 airmen and Air Force civilians died by suicide.
Air Force senior leaders in a letter alerted commanders, urging them to "act now" to reduce suicides.
But the numbers continued to climb.
By the end of September, 100 airmen had taken their lives, surpassing last year's total of 80 and putting the Air Force on course to set a record hardly worth celebrating and one that mirrors a similar trend across the military.
If the alarming suicide epidemic in the Air Force drives any change in 2020, it could be a grassroots effort that starts at the unit level, with commanders communicating more on a personal level with their airmen and knowing more about them and the struggles they face. And airmen are also reaching out to each other more on social media, a trend that likely will continue.
Air Force Chief of Staff Gen. David Goldfein is underscoring that approach as the Air Force turns the page on a tough year.
Goldfein doesn't plan to mandate Air Force-wide programs or push for new regulations to address suicide.
The effort has to be more personal, he said, and it starts with commanders reaching out to and getting to know their airmen.
Some of that took place during a stand-downs last fall, he said.
"Those sessions where leaders showed a little bit of vulnerability and talked about the challenges they faced, really opened up meaningful dialogue," he said.
"I think where wing commanders and local, squadron, group and flight commanders truly make it personal is probably where we're going to have the most impact."
In a message posted on his official Facebook page Dec. 8, Goldfein told airmen, "Let's take care of each other and preserve the connections and community that makes our profession special."
The message was linked to a six-minute video featuring Susan Deal, who lost her husband, Staff Sgt. Michael Deal, a former special tactics airman, to suicide in 2012.
Someone commented that the video "was tough to watch but needed," adding that the Air Force has improved and continues to ensure there are accessible resources for airmen.
"We are improving but unfortunately we are also experiencing the worst year in decades," Goldfein said.
The total number of suicides for the year was still being tallied as of late December, Air Force officials said.
The suicide epidemic has spurred airmen to reach out across social media to help one another. A Facebook page created in the fall called "AF Wingman Outreach" says the group wants to help reduce Air Force suicides by opening "a means of communication that has never existed before." Membership reached more than 37,500 this month.
Other efforts that some commands are using to reduce suicide mid-December and underscore personal connections might gain traction in 2020, officials said.
One is Operation GRIT, an effort that U.S. Air Forces in Europe — Air Forces Africa began in 2018 to strengthen personal and professional development and bonds among airmen.
Feedback from more than 1,500 airmen in 2019 shows the effort has been successful, but more data is needed to know whether it's "creating the long-term, durable culture change we seek," said Krystal Shiver, USAFE-AFAFRICA Integrated Resilience Division Chief.
Mentoring and feedback forums led by command teams and supervisors are key to the effort. Conversations with airmen are included in daily routines, such as staff meetings, roll calls, physical fitness sessions and shift turnovers, Shiver said.
Headquarters Air Force recently highlighted the initiative to all wing commanders as an optional resiliency tool to consider adopting, Shiver said.
Other programs being rolled out across the Pentagon to address suicide in all branches could reach some airmen in 2020.
The National Guard in the fiscal year 2020 National Defense Authorization Act received the green light to expand a Tennessee National Guard program that allows members to receive immediate assistance from mental health professionals through a smartphone app.
The defense bill also requires the Pentagon to develop a comprehensive policy on providing mental health care to service members and a strategy on how to recruit and retain mental health providers.
The Center for Deployment Psychology at the Uniformed Services University says the most common factors for military suicides and attempts are relationship problems, legal issues and workplace difficulties.
The Air Force, Goldfein said, hasn't been able to pin down the reason for the recent suicide numbers.
"I don't know that we have data that tells us exactly what's causing the spike in suicides," Goldfein said. "I'm not willing to accept an answer that says this is a societal problem because this is our Air Force and these are our airmen … who are entrusted to our care. We're not going to take our foot off the gas until we get to zero."