Four B-1B Lancer bombers, 200 airmen return to Texas after monthlong Pacific deployment
by
Wyatt Olson
June 5, 2020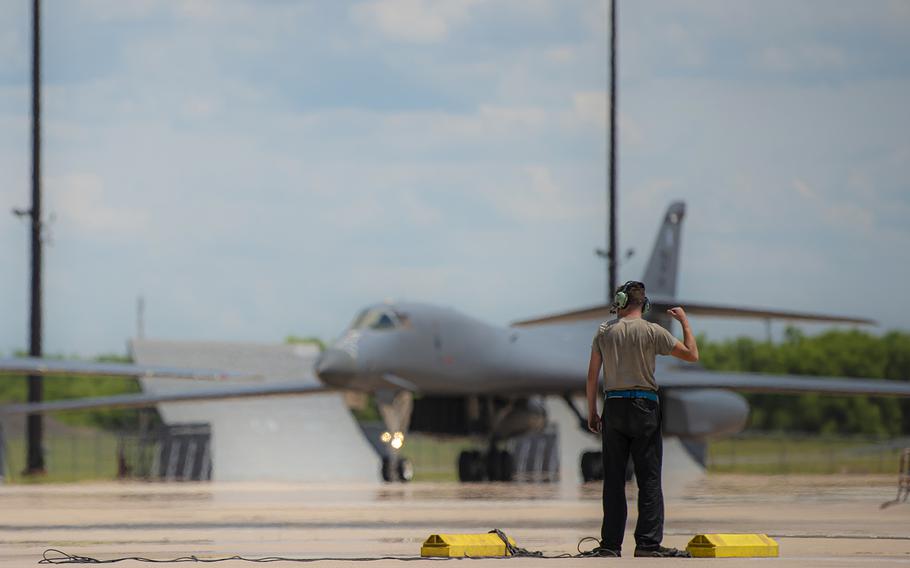 Four B-1B Lancers recently flew home to Texas after wrapping up a month of training in a bomber task force at Andersen Air Force Base, Guam.
The bombers and about 200 airmen arrived at Dyess Air Force Base, near Abilene, on Sunday after completing a deployment that began May 1, the Air Force said. The contingent had been sent to Guam to conduct training and operations with allies and partners.
The Lancers and airmen are with the 9th Expeditionary Bomb Squadron, 7th Bomb Wing, at Dyess.
They were deployed to support Pacific Air Forces' effort to reinforce the "rules-based international order" in the Indo-Pacific region through strategic deterrence missions, the Air Force said when they were deployed.
The bombers arrived in Guam two weeks after the Air Force had abruptly ended its longtime practice of rotating bombers through Andersen for set six-month intervals, opting instead for a less predictable means of deploying the aircraft throughout the globe.
The new model aligns with the U.S. National Defense Strategy's objectives of "strategic predictability and operational unpredictability," the Air Force said. It enables strategic bombers to operate forward in the Indo-Pacific region from a wider array of spots in the United States and overseas.
On May 21, two of the B-1B bombers completed a 24-hour training sprint that spanned the Pacific from Alaska to Japan.
In Alaska, the bombers were joined by F-22 and F-16 fighter jets to conduct a large force exercise over the vast Joint Pacific Alaska Range Complex. The bombers then flew to Japan where they integrated with the aircraft carrier USS Ronald Reagan and a P-9 Poseidon surveillance plane for anti-ship missile training. They then returned to Guam.
"These missions demonstrate our ability to hold any target at risk, anytime, and anywhere," Lt. Col. Ryan Stallsworth, commander of the 9th Bomb Squadron, said in a news release after the flight.
"These missions make the DoD more ready, more lethal, and flat out stronger," he said. "Our aviators are getting the chance to coordinate and practice time-sensitive target drills in the Pacific."
olson.wyatt@stripes.com Twitter: @WyattWOlson