F-22s intercept Russian military aircraft off Alaskan coast for fifth time this month
by
Corey Dickstein
June 25, 2020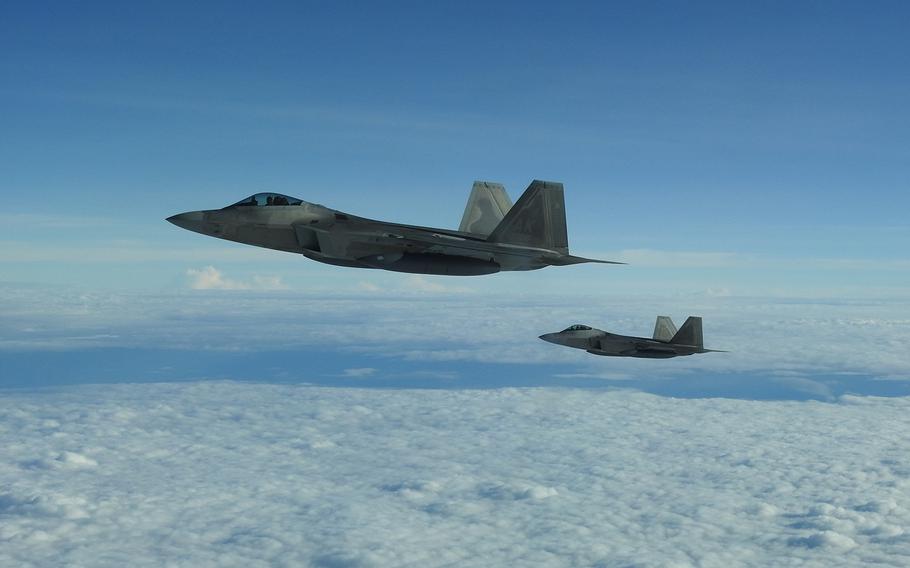 WASHINGTON — U.S. F-22 Raptor stealth fighter aircraft were scrambled to intercept two Russian military planes off Alaska's coast late Wednesday in the fifth such incident U.S. military officials have reported this month.
The F-22s intercepted two Russian IL-38 Dolphin maritime patrol aircraft, which flew within about 50 miles of Unimak Island, according to a statement Thursday from the North American Aerospace Defense Command, which guard's U.S. and Canadian airspace. The island is one of Alaska's Aleutian Islands, which form the large archipelago off the southwestern part of the state into the Bering Sea.
NORAD said the Russian aircraft, turbo-prop planes used for surveillance and anti-submarine warfare, never entered U.S. airspace, which extends 12 nautical miles from American shores. The aircraft remained in the Alaskan Air Defense Identification Zone for about four hours. The zone is a stretch of mostly international airspace some 200 nautical miles off the Alaskan coast where American officials expect aircraft to identify themselves in the interest of national security.
The intercept marked the ninth such incident in 2020 and the fifth in June, according to NORAD.
Air Force Gen. Terrence J. O'Shaughnessy, who commands NORAD and U.S. Northern Command, has warned since the beginning of the coronavirus pandemic that Russian aircraft would likely test the ability of the United States to defend its airspace.
"The mission-assurance measures we are taking to protect our people ensure we are meeting the challenges and operating through the [coronavirus] environment to defend our nations, just as NORAD forces have for more than 60 years," O'Shaughnessy said in a statement.
U.S. officials have not reported any unsafe actions by Russian pilots during any of the recent intercepts, and all of the Russian aircraft remained in international airspace.
Russian aircraft flying close to American territory is not unusual, though it is rare for intercepts to occur so frequently in one month. The U.S. military, too, routinely flies aircraft near Russian borders, which are typically intercepted by Russian fighters.
Dickstein.corey@stripes.com Twitter: @CDicksteinDC