Drone F-16 takes flight, closer to becoming aerial target
By
Toshio Suzuki suzuki.toshio@stripes.com
September 25, 2013
---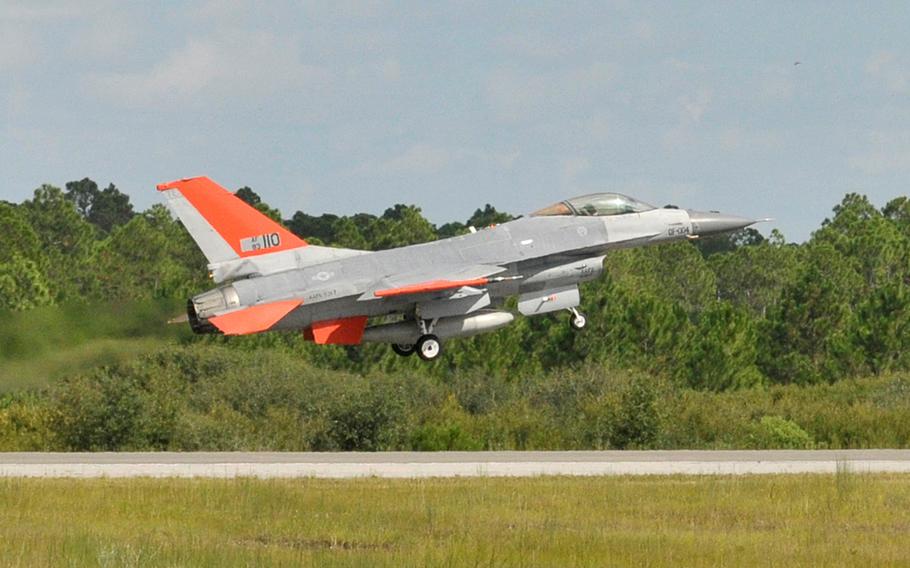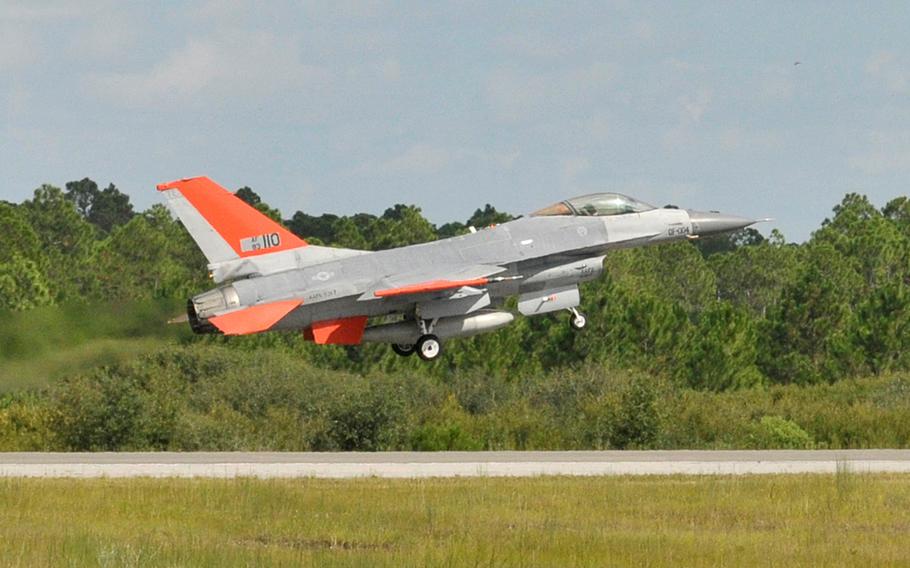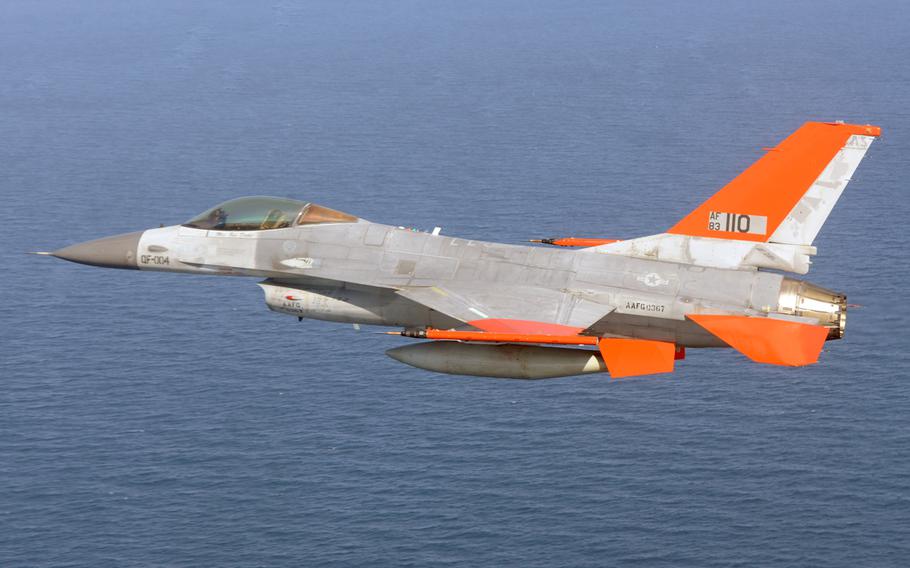 A retired F-16 took off, went supersonic and landed without anyone in the cockpit earlier this month, bringing a new era of sophisticated target practice closer for U.S. Air Force fighter pilots.
Actually, once modified by Boeing engineers to be a drone, the aircraft is called the QF-16.
There are six QF-16s so far, all taken from the Air Force's salvage yard in Arizona and retrofitted with control boxes where the gun used to be, according to a release from Boeing.
The first-of-its-kind test on Sept. 19 initially appeared like a normal F-16 takeoff, with a pilot in the cockpit conducting preflight checks. Then, with engine raring to go, the proximal pilot exited the cockpit and two remote Air Force pilots executed the flawless takeoff.
"It was a little different to see an F-16 take off without anyone in it, but it was a great flight all the way around," said Lt. Col. Ryan Inman, commander of the 82nd Aerial Targets Squadron, in a Boeing release.
From takeoff at Tyndall Air Force Base, Fla., the QF-16 was sent out over the Gulf of Mexico, where it reached 40,000 feet and even did a few barrel rolls at 7Gs during its hour-long test flight.
The QF-16 is meant to provide a target practice drone that is capable of real world speeds and maneuvers, replacing the QF-4 drone, which is a modification of the Vietnam-era F-4 jet.
In July, an unmanned QF-4 crashed during takeoff at Tyndall AB, causing the temporary closure of a nearby Florida Panhandle highway.
In an Air Force release, Inman said he expects the QF-16 to replace the QF-4 for the next 10 or 20 years.
The QF-16 test flight video shows a normal looking jet, with the name of a previous pilot inscribed in cursive still visible. The drone jet used for the inaugural flight was 15 years into retirement when plucked by Boeing engineers from Davis-Monthan Air Force Base in Arizona.
Once testing is complete in Florida, the QF-16s will be moved to Holloman Air Force Base, N.M., where live fire testing will begin.
For Jason Clements, a former F-16 flier and current Boeing test pilot, that concept is still a little tough to handle.
"I love the F-16 and brag about it a lot—and now to get something ready to take off on its own, so somebody else can shoot it down, makes it a little bittersweet in my eyes," said Clements in the Boeing video.
suzuki.toshio@stripes.com Twitter: @toshjohn
---
---
---
---