Dialogue on race: Air Force leaders urge tolerance, education during virtual town hall
by
Joseph Ditzler
June 4, 2020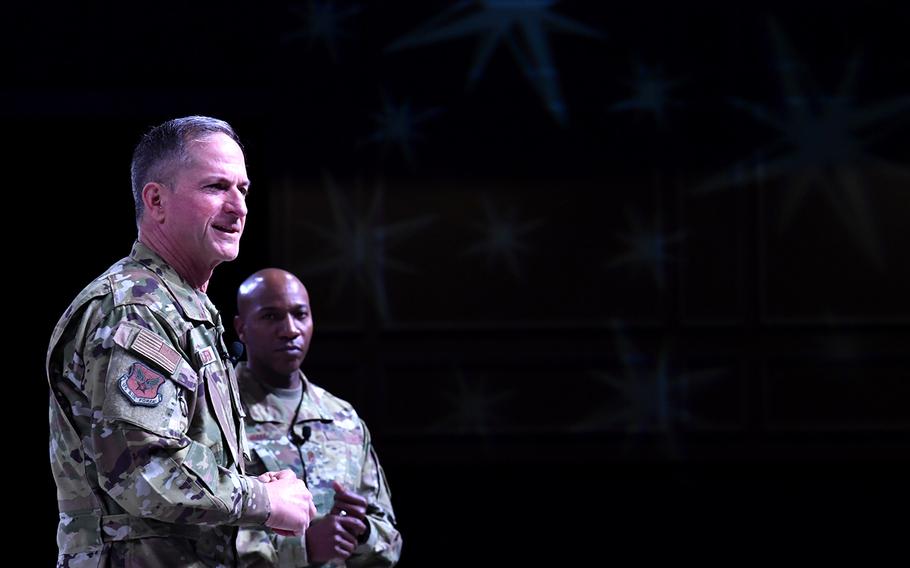 Thousands turned to Facebook on Wednesday to hear two top leaders in the Air Force talking openly about racism in the ranks and curbing its influence.
A black enlisted man, Chief Master Sgt. of the Air Force Kaleth O. Wright, and a white officer, Air Force Chief of Staff Gen. David Goldfein, answered questions from their audience for close to two hours while streaming live online.
Their talk took place as President Donald Trump evoked the military to rein in a week's worth of civil unrest across the nation. Riots and protests gripped the country following the May 25 killing of an unarmed black man, George Floyd, by police in Minneapolis.
Meanwhile, three other members of the Joint Chiefs of Staff issued their own statements in the wake of events the past week.
By Wednesday evening, Chief of Naval Operations Mike Gilday, Commandant of the Marine Corps David Berger, Secretary of the Army Ryan McCarthy and Army Chief of Staff Gen. James McConville had all weighed in with remarks posted on social media that touched on common themes: eliminating division, condemning racism, taking time to listen. Their senior enlisted leaders signed onto those statements or like Wright issued their own.
Among the first questions pitched to Wright and Goldfein: How do I find the right thing to say?
"For airmen who might be feeling some kind of way about this and who need to express how they feel, just be honest. Say what's on your mind; say what you feel," Wright said as the session opened.
To leaders, Wright said: "You have to create the environment where they feel like they can do it."
Goldfein seconded Wright: "Part of creating a safe space, I think, is sharing a little bit of vulnerability as a leader."
To Wright, he said: "You and I grew up with different life experiences. Almost every room I've ever walked into has been full of 'me,' people that look like me, people that sound like me.
"Most of the systems in our Air Force have been designed by people like me, for people like me. So therefore, I got blinders that are going to keep me from seeing what others in a different life experience and background are going to see immediately."
The town hall session followed statements published by Wright and Goldfein on social media decrying violence as rioters looted and rampaged in cities from New York to Los Angeles.
Their statements in videos posted to Facebook and Twitter acknowledged legitimate grievances expressed by thousands of protesting Americans.
Wright expressed a visceral connection to African American men killed by police and related his own fear at seeing a police cruiser's flashing lights in his rear-view mirror. Goldfein, among the first heads of a U.S. military branch to do so, on Tuesday released his own statement, circulated internally the day before, expressing his outrage at Floyd's killing.
The general said he recognized some airmen are "weary of the battle against racial prejudice" and pledged to address disparities in military justice.
Goldfein and Wright promised a long fight against discrimination while pouring out advice, suggestions and recommended reading. They also counseled patience.
"These discussions we need to have are going to be most effective at the smallest unit. This is flight-team work, this is command-team work to make sure we create the spaces for this discussion and really be aggressive listeners," Goldfein said. "It's absolutely OK to walk into a conversation and not have the answers."
He referenced lessons he learned from a recent round of stand-downs, pauses in day-to-day Air Force routines to talk about the problem of suicide in the service.
Air Force leaders, Goldfein said, should exhibit open-mindedness, patience and be "aggressive listeners." Take time to learn about their airmen by asking about their background, experience and motivation when the opportunity allows, he said.
Wright pitched in: "Don't look past the source, don't look past, if you work with, minority airmen. Ask them. Ask them how they see the world, ask them how they feel, ask them what happens when they go outside the gate, ask them how they get treated when they go in stores, ask them if they feel like they're part of the organization, if they've dealt with racism or exclusion."
'Can't imagine the pain' Also Wednesday, Gilday posted his own, self-recorded video statement to Facebook and Twitter in which he described "a very sad time for our country — a confusing time."
Gilday referred to the "murder of George Floyd and the events that we have all watched on TV for the last several nights."
Like Goldfein, Gilday expressed a lack of knowledge about life as a person of color in America.
"I will never walk in the shoes of a black American or any other minority," he said. "I will never know what it feels like when you watch that video of Mr. Floyd's murder. And I can't imagine the pain and the disappointment and the anger that many of you felt when you saw that. Because it's not the first time, it's happened time and time again in our country."
Gilday also urged listening as a response to national turmoil and treating people with dignity and respect, even when they exhibit racism.
"Racism happens a lot and it happens with people that we don't normally expect. It happens with people who are friendly, generous and kind as well," he said. "So, when that happens, I want you to think about approaching that person …. Think about having a private conversation — an honest conversation in educating them."
ditzler.joseph@stripes.com Twitter: @JosephDitzler