Coronavirus limits premiere Air Force exercise but leaves newbie F-35 squadron flying high
by
Wyatt Olson
August 13, 2020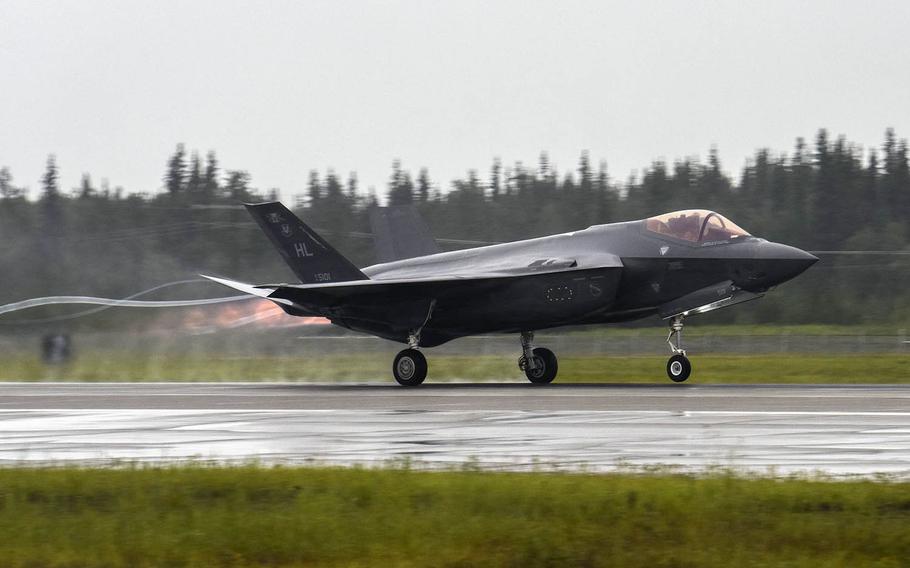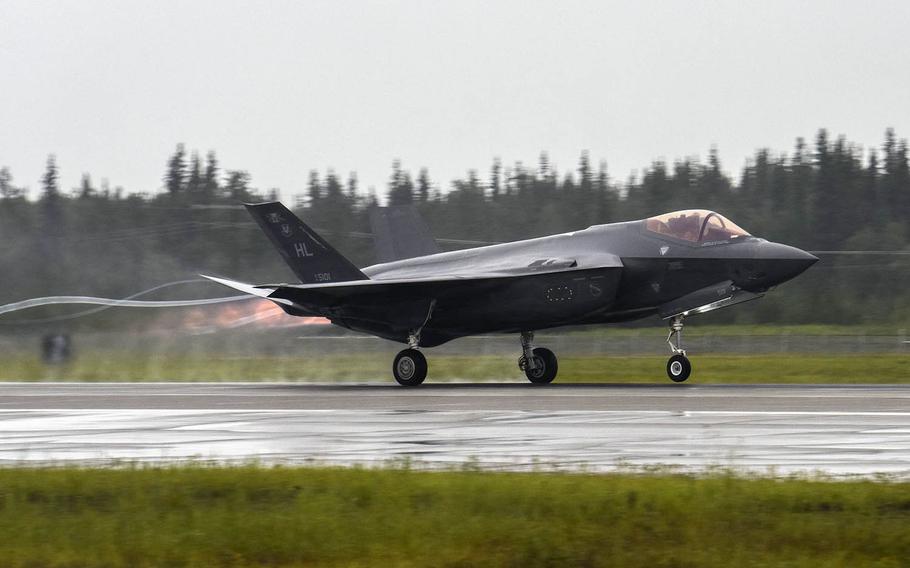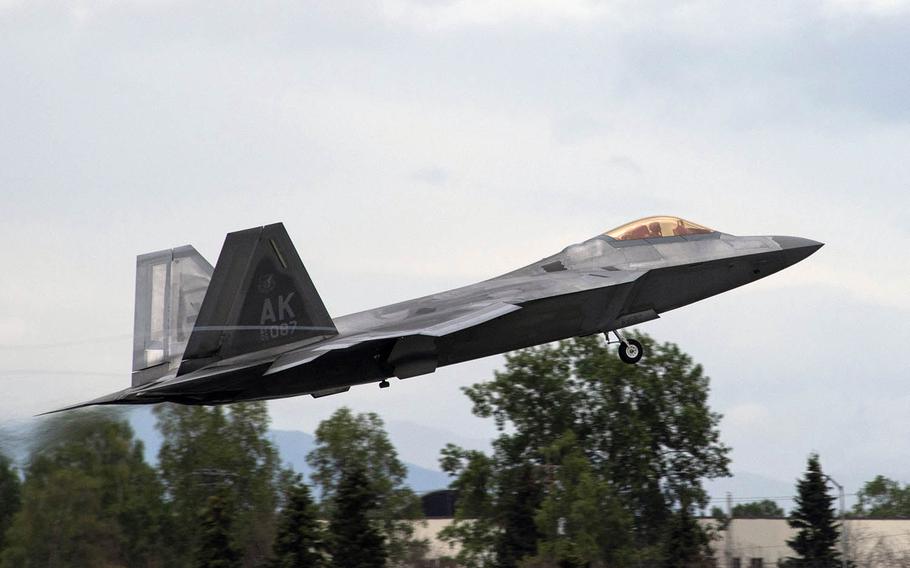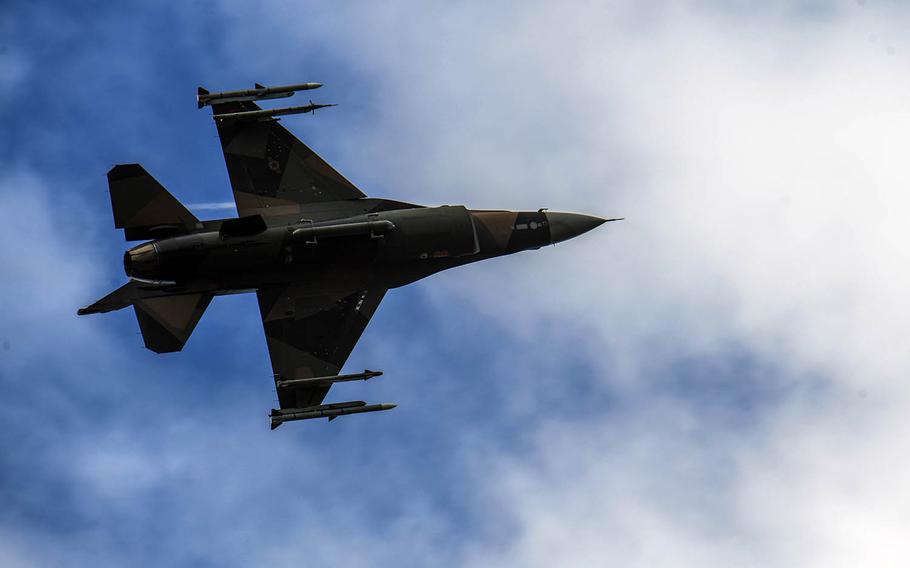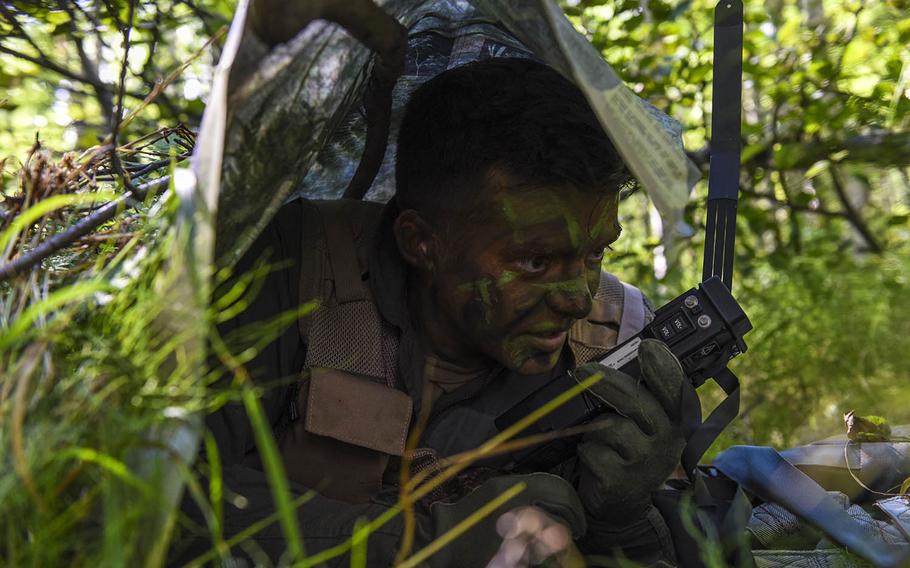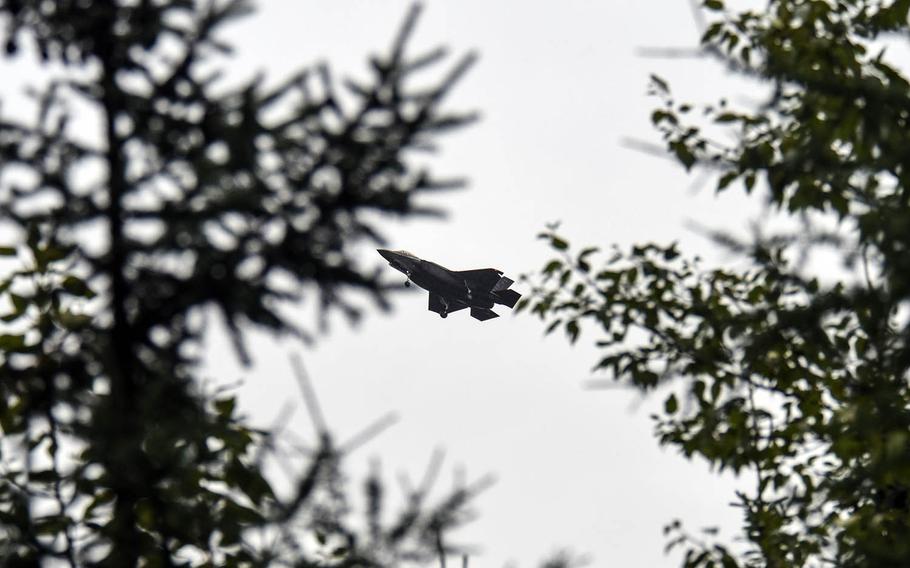 Stars and Stripes is making stories on the coronavirus pandemic available free of charge. See other free reports here. Sign up for our daily coronavirus newsletter here. Please support our journalism with a subscription.
The coronavirus pandemic forced postponement of the first two phases of the Air Force's Red Flag-Alaska exercise earlier this summer, but the crisis has turned out to be a bust-out occasion for the budding squadron of F-35 fighter jets at Eielson Air Force Base.
The pandemic fortuitously thrust those F-35s into a central role during the two-week Red Flag 3, which ends Friday.
The 356th Fighter Squadron was reactivated last fall to become the first F-35 squadron in the Indo-Pacific theater. As of the beginning of August, the squadron had received 11 F-35s, with the final 13 scheduled to arrive before the end of next year.
"Our plan was to begin doing Red Flag training after we've gotten more airplanes and pilots, which would have been in October," said Lt. Col. James Christensen, commander of the 356th.
With coronavirus restrictions in place, however, the number of units able to participate in Red Flag 3 was limited, he said, and as a result, the 356th was invited to fly in it.
They have been joined by 12 F-35s from Hill Air Force Base in Utah and 20 F-22 fighters from Joint Base Elmendorf-Richardson in Anchorage. Eighteen F-16s from Eielson's 18th Aggressor Squadron pose as the "bad guys" in training scenarios.
Roughly 900 personnel stationed at Eielson and Elmendorf-Richardson are participating in the drills, with another 300 out-of-state personnel temporarily stationed at Eielson.
It is the first Red Flag to focus training solely on F-35s and F-22s, so-called fifth-generation fighter jets, which are defined by stealth, advanced avionics and a highly integrated computer systems for battlespace awareness.
Red Flag Alaska is a premiere air combat training exercise for the Air Force, Christensen said. It is always held at the vast Joint Pacific Alaska Range Complex, which provides a realistic training environment.
Pilots have been flying about 50 sorties each day, he said.
"The whole purpose of Red Flag is to give pilots their first taste of a combat-representative mission," he said. "When we do daily training in a squadron, we typically only train against maybe one other adversary or within the squadron. Occasionally we'll have another unit come in."
Red Flag "expands that playlist" to include ground forces, surface-to-air missile threat simulations, bombers, air refueling, reconnaissance and intelligence gathering, he said.
"As that list gets bigger and bigger and bigger, we are now representing the way the United States Air Force would go to war, and how we would integrate with our partners in the Pacific," he said.
Australia, South Korea and Japan all fly F-35s. Allied and partner nations did not participate in Red Flag 3.
Every person arriving in Alaska for the exercise was required to test negative for the coronavirus within 72 hours of travel, said Lt. Col. Bettina Watkins, the 18th Aggressor Squadron flight surgeon who oversaw most of the health precautions. Those personnel were then placed on restricted movement upon arrival in Alaska.
For the first 14 days, they could work but were restricted from leaving base or using base facilities. Tents were erected as makeshift dining halls for the visitors so that they did not mix with the Eielson community, she said.
"Thankfully, we have done very well," Watkins said Tuesday regarding COVID-19, the disease caused by the virus. "Eielson continues to have no community spread. As well, we've had no cases of COVID within the visiting community."
The effects of the pandemic on Red Flag also inadvertently dovetailed with the U.S. Indo-Pacific Command's shift to "distributed command and control," whereby missions can be accomplished without planners being centrally located, Christensen said.
"We already knew we wanted to look towards distributed operations," he said. "There's a concept of agile combat employment, and it just means we have the capability of maneuvering our forces around the [region] to get the force lay-down to be more dynamic and not so static.
"It wasn't intended this way, but because of COVID, we have adapted and then learned, one, how to execute a flag-level exercise, even while trying to maintain all of our public health precautions. But, two, we've gotten to practice how we would execute if we weren't able to be all in the same location and planning in the same rooms. So, we've learned lessons about integration."
olson.wyatt@stripes.com Twitter: @WyattWOlson