Air Force's new service pistol is put to the test at Aviano
by
Norman Llamas
July 16, 2020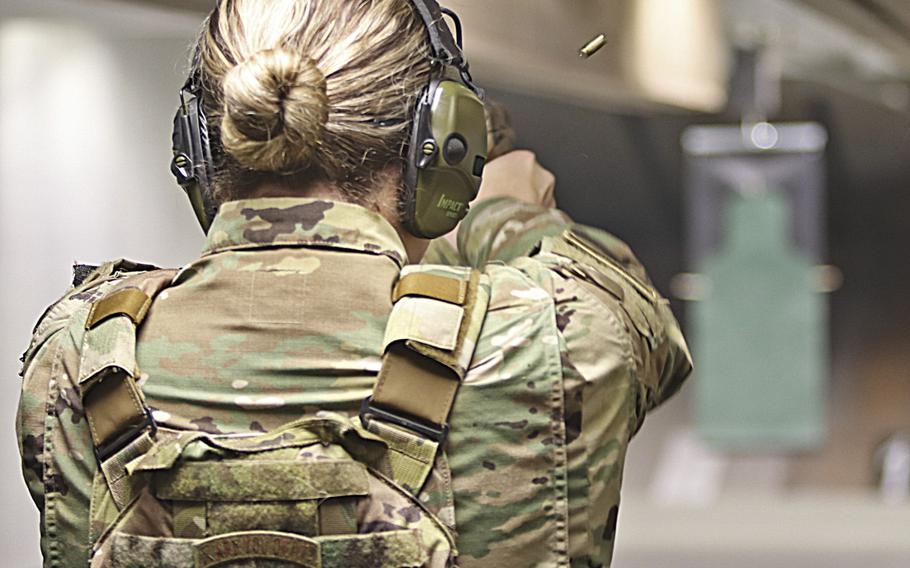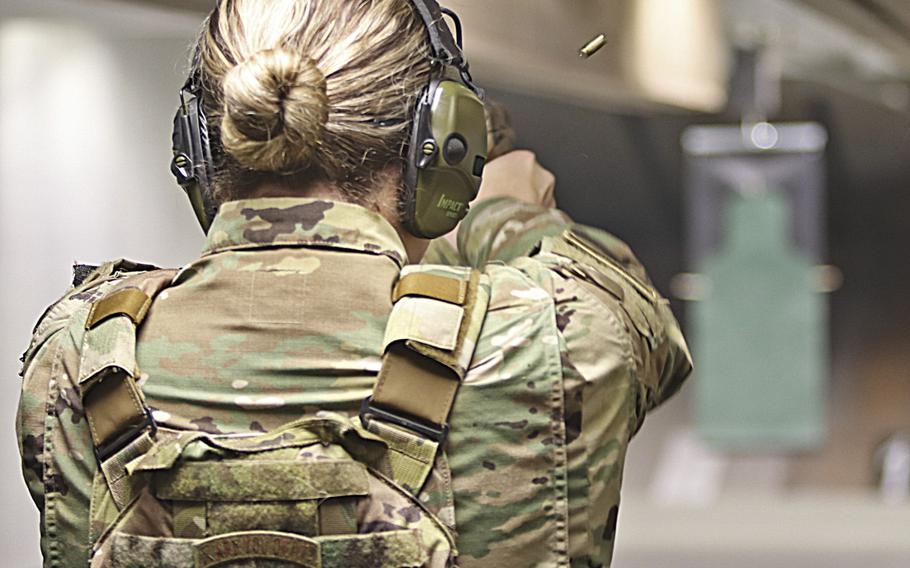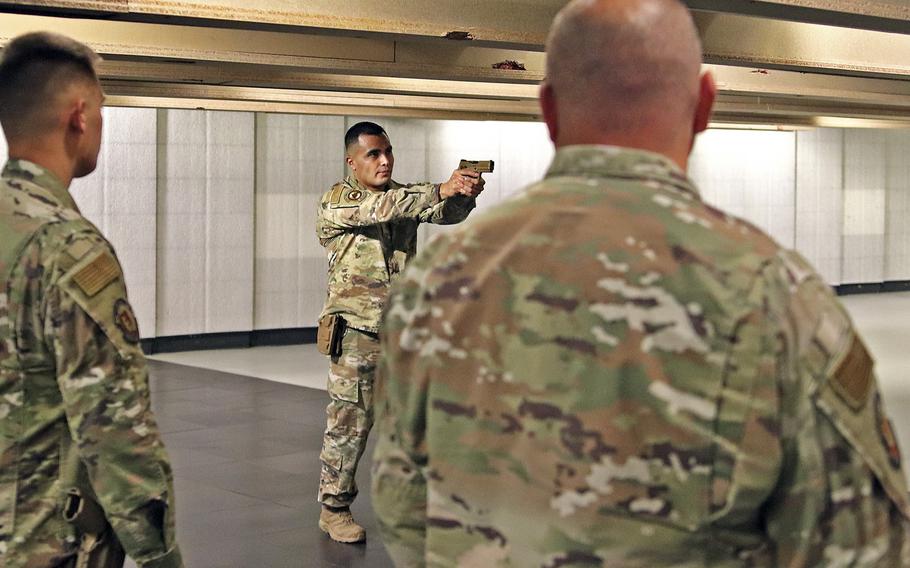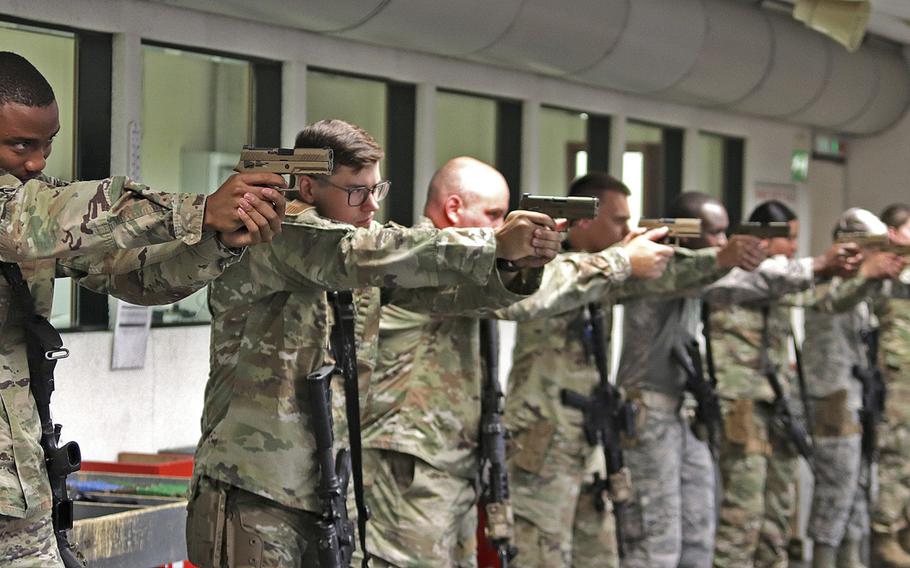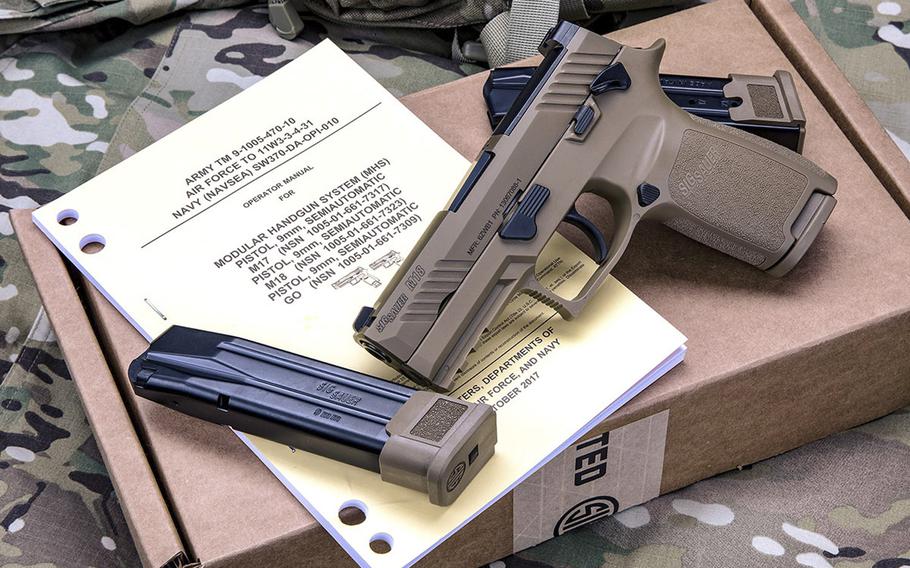 AVIANO AIR BASE, Italy — Airmen gave high marks to the Air Force's new service pistol, the SIG Sauer M18, which they've been training with at this base in northern Italy since last month.
The M18 is "more modern, easier to use and easier to understand for an inexperienced shooter" than the M9 Beretta, which has been in service for 30 years, said Capt. Taylor Buraczewski, officer in charge of supply and logistics for the 31st Security Forces Squadron.
It also has "a much lighter and crisper trigger and … balances much better than the old M9," Buraczewski said, calling the 9 mm M18 "an amazing evolution for us as a career field."
The M18 was chosen as the Air Force's new service pistol as part of the Reconstitute Defender Initiative, a program that aims to modernize and improve weapons systems, according to previous reports from the Air Force Small Arms Program Office.
With small, medium or large handgrips, the M18 can be customized to individual shooters, and because it's made of polymer, not metal, it's lighter than the M9.
"I really like it," said Senior Airman Jaclyn R. Edwards, a monitoring facility operator assigned to the 31st SFS. "It fires … much smoother than the M9, maybe due to the fact that the M18 lacks a double safety pull."
Staff Sgt. Brandee Hahn, a combat arms instructor assigned to the 31st SFS, said the pistol "fits better in airmen's hands, it's more tactical and it just fits our needs better than the M9."
Although many airmen at Aviano were full of praise for the M18, the Pentagon had some reservations before fielding the weapon.
Testing conducted in 2017 found that the M18 could fire accidentally if dropped and sometimes ejected a live round along with a spent cartridge case during normal use, said a report released in January 2018 by the Pentagon's Office of the Director, Operational Test and Evaluation.
SIG Sauer fixed the problems before shipping the guns to the military, media reports said.
Airmen training with the pistol identified other issues, including that the M18 lacks a visual aid on the safety lever, to let users know if it's "on safe or in the fire position," said Staff Sgt. Enrique Salas, a combat arms instructor with the 31st SFS.
Its predecessor, the M9, indicated this using a red marker on the safety, but "with the M18, you have to remember that 'up' is safe and 'down' is to fire," he said.
The M18 also "tends to pull a little to the left," he added, but overall he rated it as "way better than the M9, and it's easier to teach how to fire it."
The Army was the first service to use the M18 and its sister handgun, the M17, starting in 2017. Today, each U.S. military service uses the pistols.
llamas.norman@stripes.com Twitter: @normanllamas