Air Force raises enlistee age limit from 27 to 39
---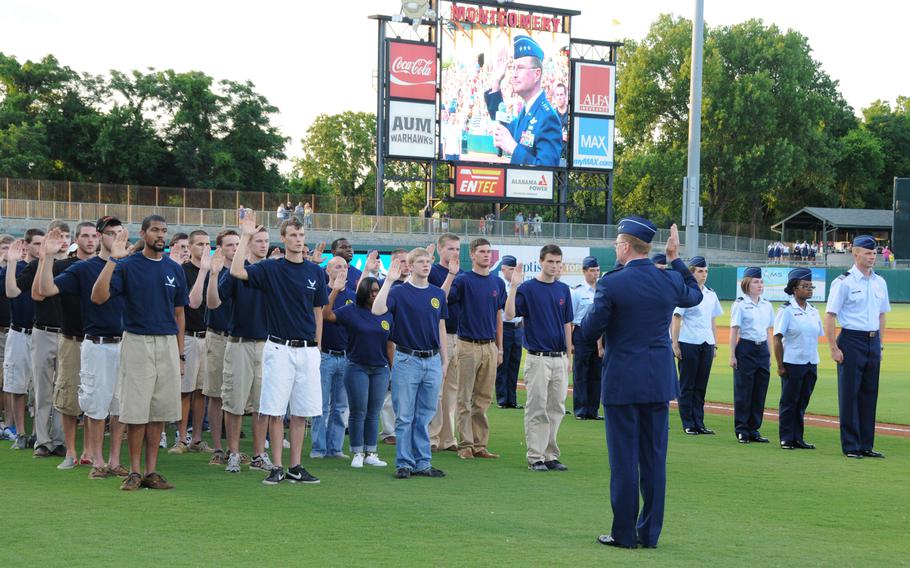 WASHINGTON — Thanks to a new Air Force policy announced Tuesday, enlisted recruits can now experience the joys of basic training in their late 30s.
The Air Force raised the maximum age for enlisted accession from 27 to 39, meaning it may now be the best choice for those who feel the call to military service later in life.
The maximum age for Army enlisted recruits is 35, while the Navy and Marines cap recruit ages at 34 and 28, respectively.
Under federal law, the oldest recruit any military branch can enlist is 42, although each service sets its own policy within that limit.
Annette Crawford, a spokeswoman for the Air Force Recruiting Service at Joint Base San Antonio-Randolph, Texas, said officials would be watching to see whether the aches and pains of approaching middle age are too much for older recruits.
"With the change, if we see a higher initial training attrition or increased physical injuries … the Air Force recruiting commander can set a more restrictive age if necessary," she said.
The increased maximum age is for all Air Force enlisted occupations rather than being targeted at increasing accessions in certain areas, she said.
The new policy comes at a time of a declining defense budget, a shrinking military and falling recruiting goals, however. From 2009 to 2013, the number of recruits dropped from nearly 32,000 to just over 26,000. While recruiting goals for 2014 are still being finalized, they're likely to fall again.
Nevertheless, potential recruits were happy when the announcement was posted late Tuesday to Facebook.
"I was feeling completely out of luck because when I first looked into joining the AF, I was already 28 and the age limit was 27," wrote a poster identified as Hugo Ricardo Roca. "Now all I need is to get back in shape and just join in."
carroll.chris@stripes.com Twitter: @ChrisCarroll_
---
---
---
---