Air Force expects report into mishandled Texas shooter information by next week
by
Corey Dickstein
November 9, 2017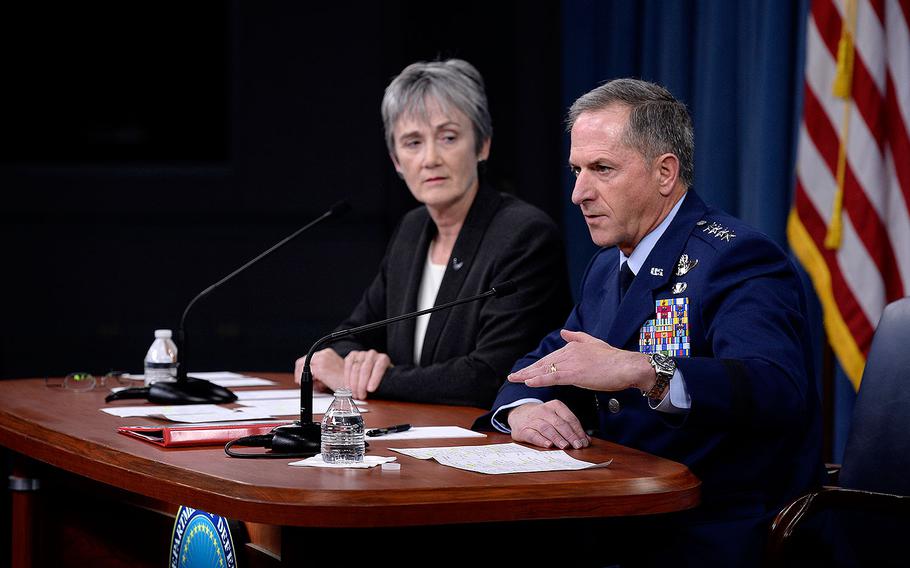 WASHINGTON – Air Force investigators have interviewed about 100 people about the failure to inform federal officials that the shooter responsible for killing rural Texas churchgoers Sunday was ineligible to own firearms, the service's top civilian said Thursday.
Air Force officials anticipate completing a preliminary report into the circumstances that allowed Devin P. Kelley to purchase the semi-automatic rifle he used to attack a church in Sutherland Springs, just outside San Antonio. His 2012 court-martial conviction of assault against his wife and stepson should have barred him from owning any guns, said Heather Wilson, the secretary of the Air Force. Kelley, who died Sunday, was dismissed from the service with a bad conduct discharge and sentenced to one year of confinement for the assault conviction.
Wilson said the Air Force is also conducting a broader review to determine to how many other cases like Kelley's exist.
"If we have problems that we find we will fix them," Wilson told reporters at the Pentagon.
She said the initial review will look at all military convictions since 2002, when the service shifted from submitting paper fingerprint sheets to an electronic fingerprint database. A subsequent review will analyze cases dating back to 1996.
Defense Secretary Jim Mattis this week also directed the Pentagon inspector general to review Kelley's case and "define what the problem is." The other military services have launched their own internal probes, defense officials said.
Convictions that bar individuals from gun ownership are collected in an FBI database known as the National Instant Criminal Background Check System. Convictions must be reported to the FBI by individual jurisdictions to be included in the system. In Kelley's case, his conviction was never recorded in the database.
The broader review will comb three separate Air Force databases to determine how many other similar cases exist and correct the service's information it provides to the FBI, Wilson said. She declined to provide an estimate when that probe might be completed, saying it would take a considerable amount of time.
"We are working, actually, 24-7 operations to go through the entire dataset," she said.
Problems with reporting military convictions to the FBI have long existed. A 1997 Pentagon inspector general report found that fingerprint cards were not submitted to the FBI in more than 80 percent of Army and Navy cases and in 38 percent of Air Force cases.
Similarly, the Army failed to report to the FBI the results of courts-martial 79 percent of the time, that report found. The Air Force failed to report those outcomes about 50 percent of the time and the Navy failed 94 percent of the time, the report stated.
Wilson and Gen. David Goldfein, the Air Force chief of staff, denied on Thursday knowing such a reporting problem existed before the massacre Sunday.
"We're doing this review to find out whether we have other cases where it was not properly recorded," she said. "No, I did not know of this issue before this instance."
dickstein.corey@stripes.com Twitter: @CDicksteinDC