Allied fighter formations show resolve in wake of North Korean missile tests
By
Stars and Stripes
June 7, 2022
---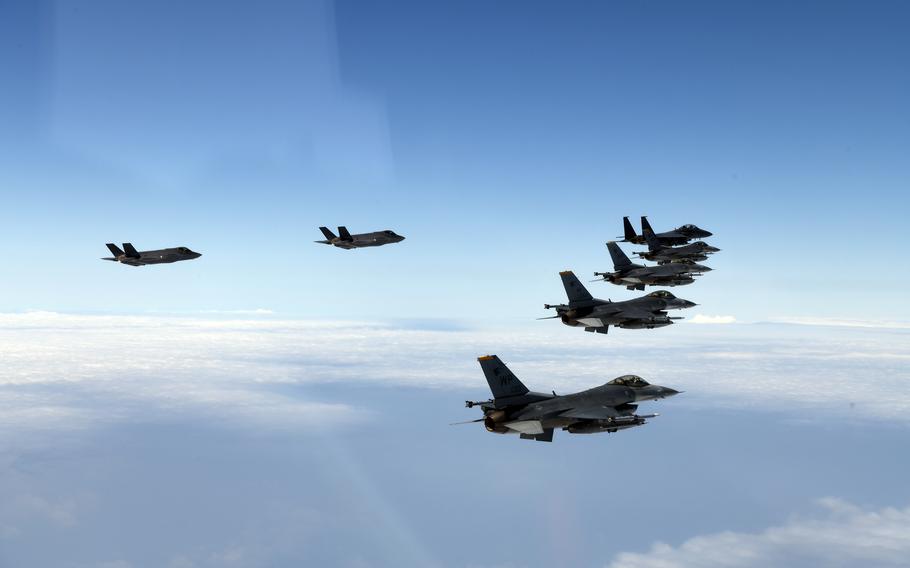 CAMP HUMPHREYS, South Korea — U.S. and South Korean fighter jets flew together Tuesday in a display of force two days after an unprecedented missile barrage by North Korea.
Sixteen aircraft, including the F-35A Lightning II, F-15K Slam Eagle and KF-16, showcased South Korea's "strong capabilities and will to launch precision and prompt strikes in response to any [North Korean] provocations," according to a South Korean Defense Ministry news release.
Four F-16 Fighting Falcons from the U.S. Air Force took part in the drills, the release said.
Aircraft formations armed with precision-guided weapons flew over the West Sea, also known as the Yellow Sea, according to the ministry.
"The fighters executed flying to respond to the enemy's threats overwhelmingly in an attack flight formation in airspace over the West Sea," the news release said.
At least four F-35A fighters were part of the exercise, according to video footage released by the ministry.
"Our troops are currently tracking and monitoring relevant moves in preparation for additional [North Korean] provocation, cooperating closely with the U.S. side and maintaining their firm readiness posture," the release said.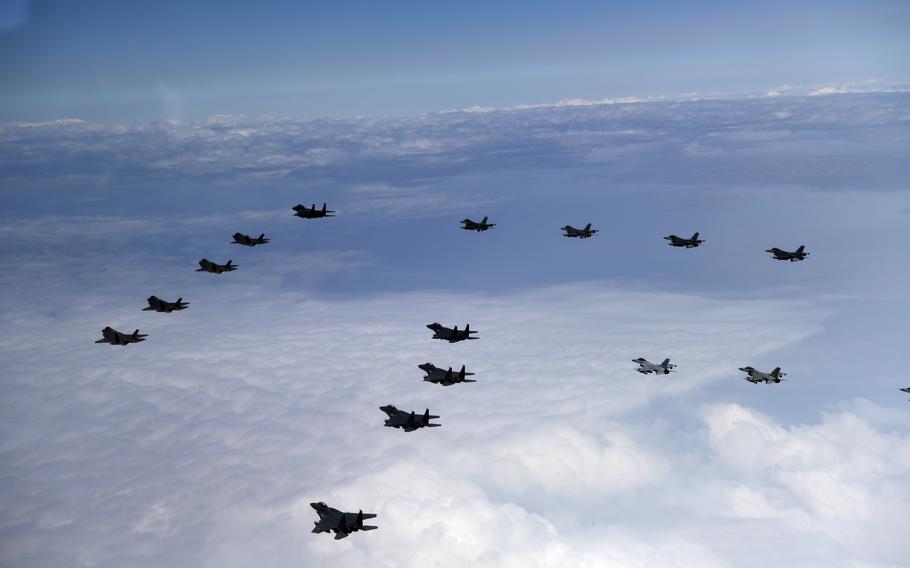 The show of force comes after North Korea fired eight short-range ballistic missiles toward the East Sea, also known as the Sea of Japan, on Sunday morning. The South Korean military estimated the missiles flew between 68 and 416 miles at altitudes of 16 to 56 miles.
The North has fired a record 28 missiles in 17 rounds of tests so far this year.
U.S. Forces Korea and the South Korean army responded on Monday by launching eight missiles of their own.
The U.S. Army fired one and South Korea launched seven missiles "to demonstrate the ability of the combined [U.S.-South Korean] force to respond quickly to crisis events," according to statements from USFK and the Defense Ministry.
The allies said the missile exercise demonstrated their ability to strike back at North Korea's "origin of provocation."
Joint military drills in response to the North's missile tests were muted under the previous South Korean president, Moon Jae-in.
However, during the final weeks of Moon's administration in March, the South Korean military fired several missiles and dropped Joint Direct Attack Munition bombs roughly two hours after North Korea fired an intercontinental ballistic missile.
South Korean President Yoon Suk Yeol, who was inaugurated two months later, vowed to bolster the U.S.-South Korean alliance and signaled he would respond to the North's provocations with the military's strength.
---
---
---
---