Boeing delivers first of four Pegasus aerial refuelers to Japan
by
Jonathan Snyder
Stars and Stripes
November 3, 2021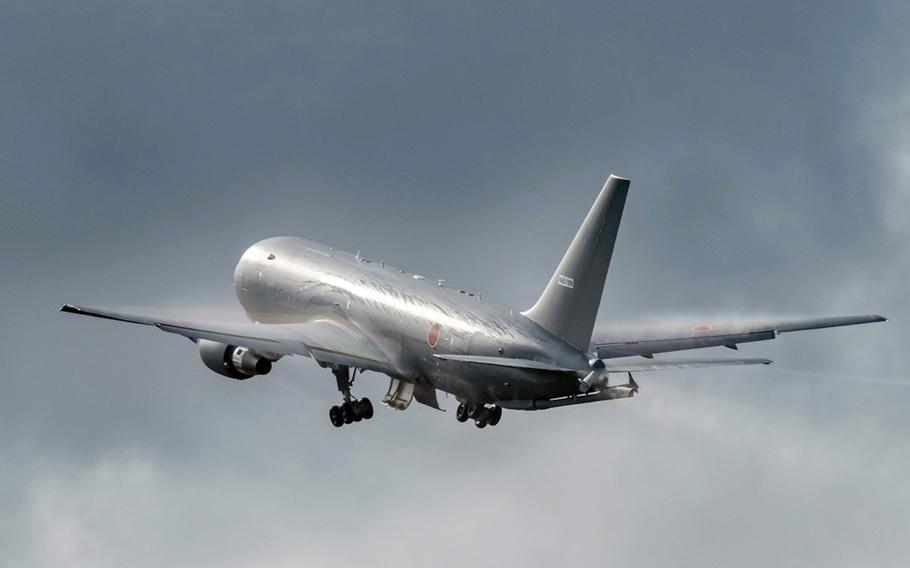 Boeing has delivered the first of four KC-46A Pegasus aerial refuelers to the Japan Air Self-Defense Force, the U.S. aerospace giant announced this week.
Japan is the first country outside the United States to take delivery of the latest generation of U.S.-made military refuelers. It arrived Friday at the 403rd Tactical Airlift Squadron at Miho Air Base 370 miles east of Tokyo, after a flight from Seattle, according to DefenseNews.com.
"This is an exciting and historic moment for the Japan Air Self-Defense Force and Boeing as Japan joins the United States with the world's most advanced, proven and safe multi-mission combat aerial refueling capability," Boeing vice president James Burgess said in a company news release Sunday.
The Pegasus is the replacement for the KC-135 Stratotanker, still in service after more than 60 years, according to an Air Force factsheet. Boeing in January reached $5 billion in cost overruns in the 10-year-old Pegasus program, surpassing the original $4.9 billion contract award, Air Force Magazine reported at the time.
The Air Force took delivery of its first KC-46 in January 2019. The Pentagon ordered 179 tankers, which are capable of hauling cargo and evacuating casualties, with two more batches to come, according to the Air Force and a Reuters report from June.
Boeing attributed the overruns in part to production inefficiencies that resulted from the coronavirus pandemic. The company is responsible for costs over the contract amount, according to the magazine.
The KC-46A can refuel most fixed-wing aircraft capable of mid-flight refueling, such as the F-35 Lightning II joint strike fighter.
Japan's Defense Ministry in August requested $709 million next fiscal year to purchase another 12 F-35s to add to its growing stealth aircraft fleet. Japan has increased its overall defense spending over the past nine years, citing rising challenges from China and North Korea.
The KC-46A is equipped with a refueling boom driven by a fly-by-wire control system, according to Boeing. The Pegasus can pump fuel at the rates needed to refuel large, thirsty aircraft. It is equipped with a hose-and-drogue refueling system independent of a refueling boom, according to the Air Force.
The Air Force and Self-Defense Force awarded Boeing a Foreign Military Sale contract for the KC-46A in December 2017 and exercised an option for a second in December 2018.
The third and fourth KC-46As were ordered in October 2020 under a $342 million contract, according to Defense News.
The Japan KC-46A is capable of refueling its own aircraft as well as those of the Air Force, Navy and Marine Corps.
The KC-46A joins the existing Japan Air Self-Defense Force tanker fleet of KC-767 and KC-130H aircraft.
---
---
---