Australia investing $715 million in northern port that hosts US Navy warships
by
Seth Robson
December 12, 2019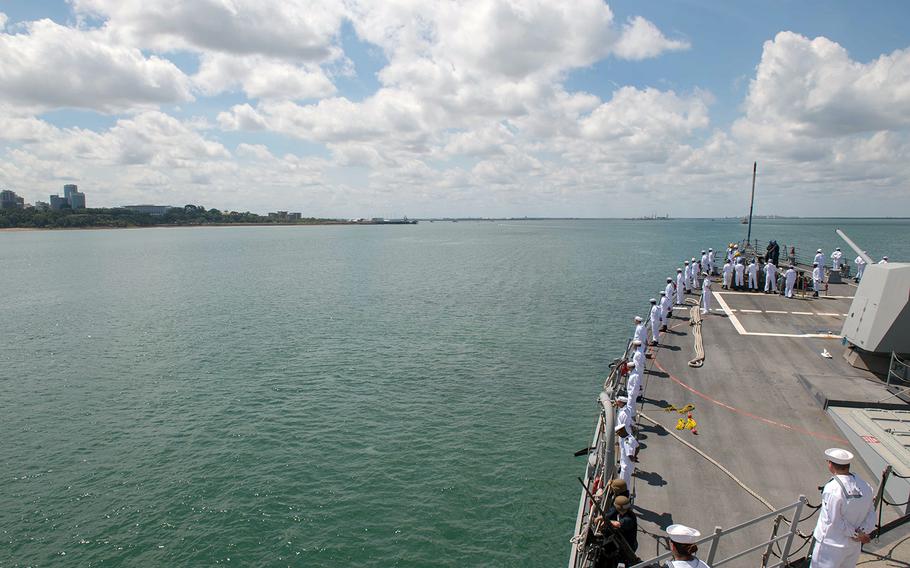 Upgrades worth $715 million to naval facilities in Australia's Northern Territory will mean more support for visiting U.S. warships, according to an Australian defense expert.
The improvements are being made to an Australian naval base, HMAS Coonawarra, and the Larrakeyah Defence Precinct in Darwin, the Australian Department of Defence said in a Dec. 11 email.
The enhancements are designed to support new Australian vessels used for border protection, but they will also be useful for visiting Navy ships, former Australian assistant defense secretary Ross Babbage said Wednesday in a telephone interview.
A number of American warships have called on Darwin this year, including the guided-missile destroyer USS Stockdale, the mine countermeasures ship USS Patriot and the submarine tender USS Emory S. Land, U.S. 7th Fleet news releases show.
The port has been a focus of a rebalance of U.S. military forces to the Pacific, begun under the Obama administration and seen as a reaction to China's rapidly growing military. The Marine Corps, which deployed a rotational force there for the first time in 2012, sent an air-ground task force of 2,500 Marines to Darwin for six months this summer.
Air bases in the Northern Territory are also being upgraded. At the Royal Australian Air Force base at Darwin, for example, $88.65 million worth of projects have been awarded to build fuel tanks, expand the airfield and erect maintenance facilities. Upgrades at nearby Tindal air base are also planned.
Australia's Defence Department, in an earlier email, said the naval upgrades at Darwin include $272 million for a new outer wharf to support major surface combatant ships, with associated fuel storage and refuelling facilities by 2023.
Upgrades of the inner harbor at Coonawarra will support the homeporting of six out of 12 new Arafura-class offshore patrol vessels being introduced into the Royal Australian Navy over the next decade, the department said.
"Around $220 million of proposed works includes dredging the inner basin, upgrades to the existing wharves to accommodate the significantly larger new vessels," the department said.
The funding will also pay for logistics, maintenance and other work areas with construction due for completion by mid-2026. Another $223 million will upgrade infrastructure at the Larrakeyah Defence Precinct to support growth for the next 25 years, the department said.
"Beyond these projects there are no plans for further investment in new naval basing capabilities in the Northern Territory," the department said.
However, Babbage predicted there will be ongoing development of naval facilities in the Northern Territory.
"The details are still being sorted out, but you will see quite a bit more in the next three to four years," he said.
robson.seth@stripes.com Twitter: @SethRobson1
---
---
---
---