Army veterans blame health problems on asbestos removal at South Korean base
---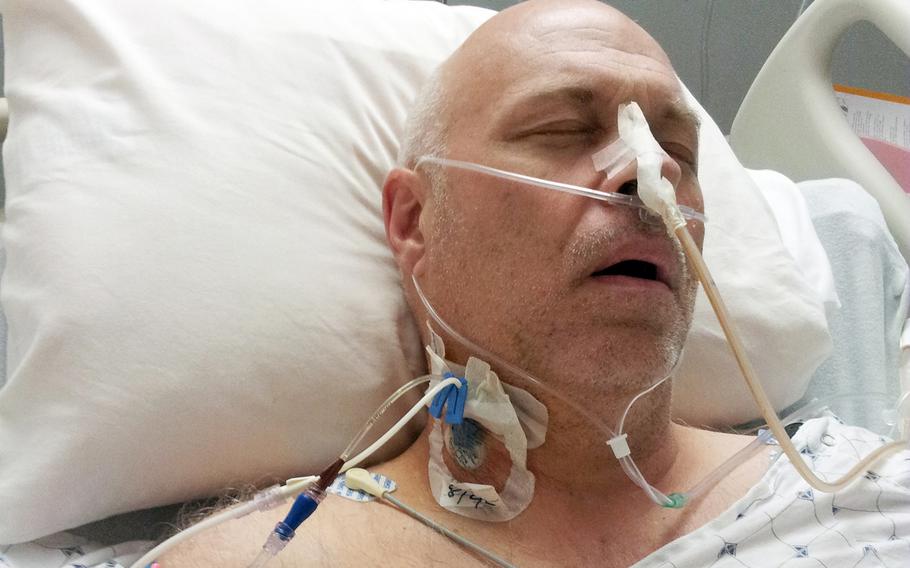 Former soldiers who say they were sickened by a botched asbestos remediation project in South Korea two decades ago want the Army to find and warn others who may have been exposed to the carcinogen.
A 1996 inspection of U.S. bases on the peninsula found asbestos in 200 buildings.
"Experts say dozens of buildings on bases across South Korea might be contaminated with broken pieces of asbestos resulting in crushed, airborne fragments that can be deadly if inhaled," said a Stars and Stripes report published May 28, 2000.
Twenty years later, veterans who worked in a building at Camp Walker, where the Army removed asbestos, believe they may have been exposed to toxic dust.
David Sewell, 59, worked in the building as a noncommissioned officer with the 36th Signal Battalion from 1994-2000 and was still working there as a network security civilian contractor when the asbestos was removed, he said.
Sewell said he was diagnosed with mesothelioma from asbestos exposure in 2013.
"I'm lucky I am not dead," he said in a telephone interview last month.
Treatment for the disease involved removal of his gall bladder and about 450 tumors from his stomach and liver, eight chemotherapy sessions and a month in hospital, said the disabled retiree living in Cumming, Ga.
Sewell believes he was exposed to asbestos during the Camp Walker remediation work. He said the Army should reach out to U.S. and South Korean personnel who were working in the building during the asbestos removal.
"All the people who worked in that building need to know they were exposed to asbestos and be checked," he said.
The asbestos abatement happened from October 2000 to May 2001, said U.S. Army Garrison Daegu spokesman Cameron Porter.
"Prior to being contacted by Stars and Stripes, we were not aware of any individuals who were expressing specific health concerns related to that project," he said in an email Jan. 16.
"We take the well-being of our Soldiers very seriously and would recommend any former service members who believe their health has been affected by their time in service to contact their local U.S. Department of Veterans Affairs health center or benefits representative who can assist with medical claims and determining factors related to the claim."
Sewell said between 60 and 70 U.S. and South Korean workers were still in the building, which included a large room full of computers and communications equipment known as the Theater Network Operations Support Center, when workers started to remove the asbestos.
"There was white powder all over the floor and desks," he said. "Halfway through the project they moved employees from the back of the building into a tent because we complained that we couldn't breathe."
The asbestos was stacked in front of the building after it was removed, Sewell said.
"Dust blew across the base into family housing," he said. "It's pretty scary stuff."
Carl Turnbow, 61, of Sweetwater, Texas, who did several tours of duty in South Korea between 1980 and 2000 as an Army NCO was working for a contractor in the Camp Walker building when the asbestos was removed.
The signals personnel found themselves surrounded by plastic sheeting, but their workspaces were full of dust from the work, he recalled.
"We were sitting there coughing," he said.
Partway through the work the staff moved to a tent beside the building, Turnbow said.
Turnbow, who still works in the Camp Walker signals building, has had his own health issues, although it's not clear whether they were caused by asbestos exposure. He's had a kidney removed and several cases of skin cancer in recent years, he said, and doctors have also found nodules on his lungs.
Turnbow agrees with Sewell that the Army needs to find those who worked in the support center building during the asbestos removal.
"I think they should make a concerted effort to contact these people and get them tested," he said. "There are probably a lot of people walking around who don't know there's anything wrong."
robson.seth@stripes.com Twitter: @SethRobson1
---
---
---
---